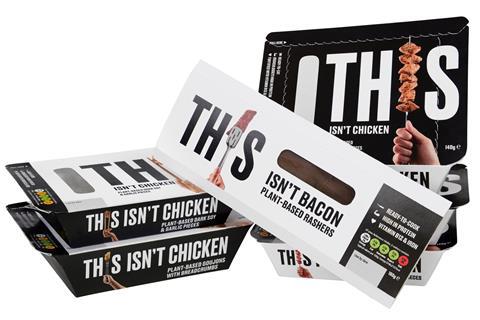 Plant-based startup This has unveiled a vegan alternative to bacon that it claims can "fool carnivores".
Its soy and pea-based bacon alternative is set to roll out into Holland & Barrett chillers and Patty & Bun restaurants in the first week of June (rsp: £2.95).
The brand will also roll out two chicken alternatives – ready-to-cook sea salt & black pepper pieces (rsp: £4.55) and snack-ready tikka pieces (rsp: £2.95) – into Holland & Barrett at the same time.
The rest of its range comprises ready-to-cook pieces, soy & garlic pieces, breaded goujons and rosemary breaded goujons (all rsp: £4.55), in addition to ready-to-eat barbecue pieces and rotisserie pieces (rsp: £2.95), all manufactured in Europe.
Backed by venture capitalists, former restaurateur duo Andy Shovel and Pete Sharman founded This two years ago, in a bid to capitalise on their experience in the food industry while taking advantage of the booming market for plant-based foods.
Since then, the pair have partnered with texture scientists and flavourists to create next generation plant-based products it hopes will stand out among the glut of NPD in meat alternatives.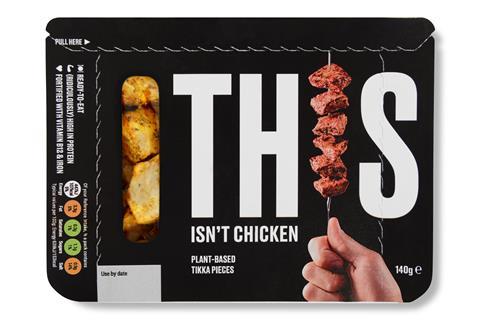 "Our acid test for all our products is that they must be able to fool meat eaters. That's why we've spent so long developing the recipes," said Shovel.
"We're divorcing ourselves from tofu and traditional vegan foods to create something meat eaters will love."
All its products feature high protein claims, packing 20g to 25g per 100g and are fortified with vitamin B12 and iron.