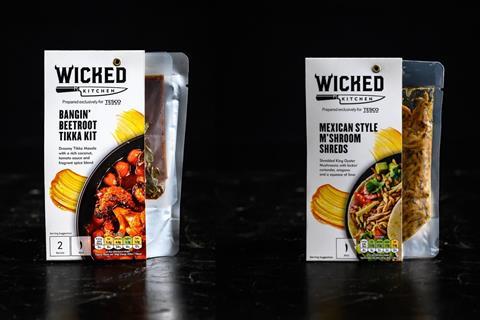 Tesco is expanding its Wicked Kitchen vegan lineup with a range of meal kits.
The retailer is adding an eight-strong range of meal kits, some of which feature the brand's "much-anticipated newest innovation" – shredded king oyster mushrooms, which the team had "been working on for years", Tesco director of plant-based innovation Derek Sarno revealed in a LinkedIn post this week.
The range comprises: Punchy Pumpkin Laksa Kit, Bangin' Beetroot Tikka Kit, Crackin' Coconut Korma Kit, Vindaloo Vibe Kit, Shiitake Ramen Broth Kit, Mexican Style M'shroom Shreds, Korean Style M'shroom Shreds and M'shroom Shawarma Style Shreds.
The ambient kits began rolling out at Tesco stores last week.
The Wicked Kitchen range launched into Tesco in January 2018 with a 20-strong range of vegan ready meals, pizzas and food-to-go options. It has since expanded into pastry products, cakes and desserts, as well as building on its initial meal offerings.
Sarno said the range helped "make choosing and cooking plant-based easier than ever".
The Grocer has approached Tesco for further comment.