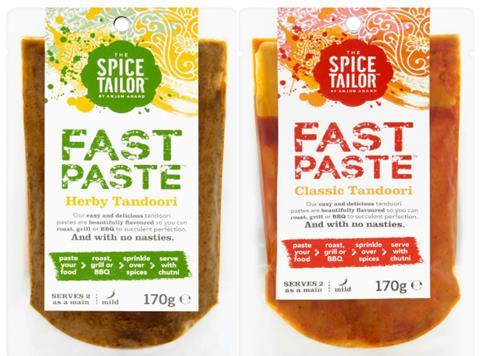 The Spice Tailor, the Indian food brand founded by TV chef and cookery writer Anjum Anand, is targeting peak barbecue season with Fast Paste, a new range of sauce kits meant as a "simple and quick alternative to a marinade".
Created for "any protein or vegetable", the four-strong lineup comprises Classic Tandoori, Creamy Tandoori, Spicy Tandoori and Herby Tandoori (rsp: £2.49/170g).
They contain a 'fast marinade', tandoori seasoning and a chutney to serve with the finished dish – allowing shoppers to "pack your meal with flavour" without the need to first leave it "for hours on end while the flavours develop". Each pack serves two and includes no artificial preservatives, colours or flavourings.
Fast Paste was created in response to the growing popularity of the world food category "and to address consumer demand for more convenient solutions, in line with healthier lifestyles and demands for taste and quality" said The Spice Tailor.
It was long past time "to show people how they can introduce authentic Indian tastes and flavours to dishes beyond just curries" according to Anand. The launch of Fast Paste meant "not only can consumers tailor the spice and flavour of their dish to their own taste, but they can use any number of main ingredients and introduce the flavour to any type of cooking".