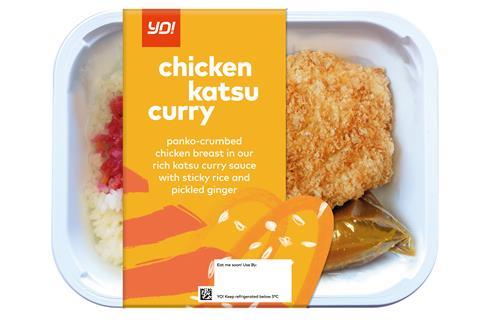 Restaurant chain Yo has partnered with Kerry Foods to launch a range of chilled ready meals into Tesco.
The seven-strong range comprises three mains, four starters and sides. The are: chicken katsu curry, Japanese style fried chicken, duck udon noodles, teriyaki beef, chicken gyoza, Korean-style fried chicken and panko pumpkin.
The SKUs will roll into 424 Tesco stores from Monday 7 June.
It marks an expansion of Yo's existing relationship with Tesco: Yo currently supplies the retailer with food-to-go lines for its front-of-store fridges as well as branded marinades, mayos and seasonings, and runs kiosks in 52 stores.
Yo retail MD David Hampton said Yo was "really excited about moving into another category" and the move marked "another important step in our diversification strategy" which "reflects the increasingly multi-channel nature of the brand".
Yo was "a very strong brand in a cuisine which is growing fast", added Kerry Foods chilled meal solutions category lead Louise Stone, adding Kerry saw the move as "a huge opportunity to attract younger foodies currently less engaged in our category".
Indeed, it's the latest in a series of retail plays for Yo, which in April begun supplying its food-to-go products to WH Smith stores.
However it hasn't been smooth sailing for the brand over the course of the pandemic: its restaurant arm was closed for much of 2020 and underwent a CVA, while its latest financials revealed its retail sales had been hurt by Covid restrictions.
"Like all businesses, we saw an initial impact at the start of the pandemic in Spring of last year. Our retail partners naturally prioritised ensuring food was on shelves and available to customers, meaning that the launch of some new key contracts were delayed," said Hampton.
However, he added: "As we have pursued our multi-channel strategy over the months that followed, we have been pleased with the strong performance of our retail business in the latter part of 2020 and first six months of 2021."
"This has included the launch of new contracts with Co-op, Tesco, WH Smith, David Lloyd Clubs and the extension of our Panku kiosk estate in Asda stores."