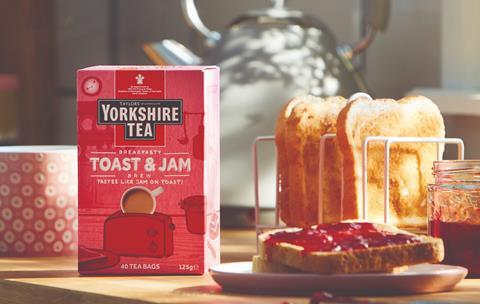 Yorkshire Tea has launched a new blend it claims tastes like toast and jam.
The new tea, called Toast & Jam Brew, is said to have jammy, toasty notes that "bring breakfast to life".
It is billed as being "perfect for mornings", comprising a strong breakfast tea blend with "all the loveliness of jam on toast without the crumbs", said Yorkshire Tea tea innovation manager Kate Halloran, who came up with the drink.
She added Yorkshire Tea wanted to create a blend that would "send people into their day with a spring in their step and a smile in their soul".
It will launch exclusively at Asda on 24 September (rsp: £2.29/40-pack) before rolling out to other supermarkets later in the year.
It joins Yorkshire Tea's range of speciality brews including the decaf Bedtime Brew and malty Biscuit Brew.