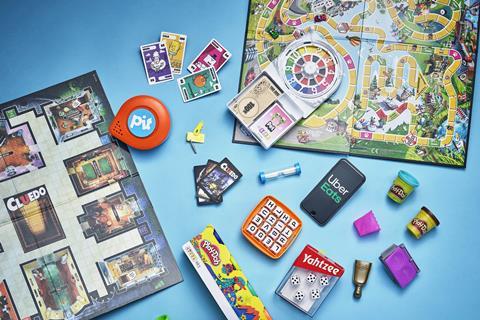 Uber Eats has partnered with toy-maker Hasbro to launch a dedicated games store on the platform. It is the first time Uber Eats has listed a non-food standalone store, and understood to be a UK-first for a food courier service.
The 'Hasbro Toy Store' launches today and is offering a selection of seven products for free, with purchasers only paying for the cost of delivery.
The promotion – which runs until February 20 – comes ahead of the half-term holidays and is designed to help parents "on the hunt for new ways to keep their kids entertained in lockdown".
The products – which are available for delivery within 30 minutes to customers in areas of London and Manchester – are Cluedo, The Game of Life, Pit, Boggle, Yahtzee and two Play-Doh packs. With each order, customers will also receive an activity sheet to help their children spend time away from their screens.
"Play is hugely important for children's development, striking that vital balance between learning and fun. The half-term holidays are no different, so we want to make sure children and parents get the break they desperately deserve during these difficult times," said Anne Leonhardi, marketing director North Europe at Hasbro.
A survey by Hasbro found 56% of parents said they are concerned at the thought of spending a half-term holiday with fewer activities to entertain children, and half had "run out of things to do".
Read more:
"Being a parent is tougher than ever at the moment, so we wanted to do our bit to help bring families together and keep the children entertained while opportunities for days out are more limited," said Toussaint Wattinne, general manager of Uber Eats, UK and Ireland.
While a limited range of non-takeaway or food items are available on courier apps – such as cleaning products and toiletries from supermarkets – the platforms haven't until now launched dedicated non-food stores.
Uber Eats does list toys and pet suppliers and florists in other regions. The new approach for the UK "should be seen as the start of a deepening retail offer" said Dr Kris Hamer, VP Research at Retail Insight.
"With overall Q4 revenue for Uber down 16% year on year, the pressure is on the delivery business to grow even faster than the 128% recently reported, to offset the 47% decline in its rides business," Hamer said.
Uber Eats has, according to Takealytics, seen close to 30% growth in the number of grocery and convenience outlets featured on its platform in the past three months – up from 1,886 in November to 2,447 in February.
"That growth will continue and the non-food range will likely increase. Uber Eats and other delivery platforms are ultimately in the business of selling convenience – and the brand may well stretch that beyond food to toys or office consumables for home workers," said Takealytics sales director David Beech.
The store-within-a-store concept is a familiar feature of physical supermarkets, where clothing ranges are common. Asda late last year ramped up its store-within-a-store programme, in October forming an exclusive partnership with The Entertainer to turn the toy categories in five Asda stores into branded concessions.