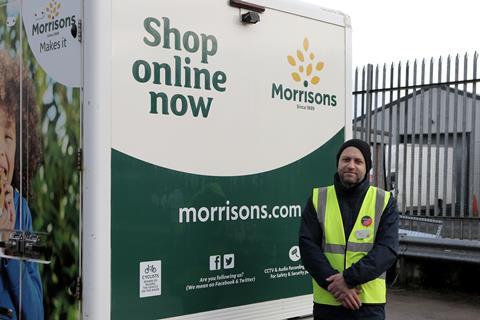 Driver name: Kevin Hunter
Picking store: Glenrothes
Delivery date: 16 January
Shopper location: St Andrews
When did you join Morrisons? I became a Morrisons delivery driver in October. An accident and subsequent back operation meant I was unable to work for a while, but Morrisons got me back in work.
Has the workload stepped up since new restrictions came into force after Christmas? It can be very busy, especially over weekends. But we are a well-oiled machine. It's a fantastic team.
Have you noticed any big trends for food orders in January? Customers are definitely buying more fresh produce. I've seen a lot of kale, spinach and rocket. Customers look like they are eating healthily and many look like they're cooking more from scratch at home. I know I definitely am.
Are people giving up the booze in January as much as normal? No – but they're being sensible. It's a little pleasure for many people I deliver to. They can't go out to pubs and restaurants, so they are enjoying a glass of wine at home. I think we do a good range of offers which customers are appreciating.
How do you combine the personal touch and observing social distancing measures? It's about treating people how you want to be treated. Many people I deliver to may not have seen anyone else that day, so I always ask them how they are and how their day has been. You can brighten up their day by asking – I always allow five minutes for a chat. My wife and daughter both work for the NHS, so I know how easily Covid can be caught. The simple things are most effective. Always keep your distance, wear a mask, sanitise your hands and don't touch anything. I even give customers doorbells a tap with my elbow rather then my hand.
What is the most important piece of technology you rely on? My handheld device. It's a lifesaver. It locates everything in your van, maps all of your routes and shows you your maps. I always ensure I have a paper back-up, mind you!
What has been the most moving experience during lockdown? It was seeing an older couple. They were socially isolating and had been struggling to get an online delivery. But they got a slot with Morrisons. I had turned up early and the lady was very moved. She was so thankful. I was just doing a normal everyday job of delivering shopping, but it was their lifeline.
Have you seen a change in the sort of people you are delivering to because? Yes. As I drive to deliver shopping to a customer, their neighbours see my van. And they must then think "Morrisons delivers up my lane". Sometimes neighbours even come out of their homes to shout and ask. So I'm starting to deliver to little communities in rural areas in Fife. We're adding new morrisons.com slots all of the time.
There's been some icy conditions in Fife of late. What's the worst weather you've worked in? Our family used to own a rally car when I was young. So I use some of the tricks from racing to keep me and my van on the road in harsh conditions. I've got lots of experience of driving in snow. Always drive gently, use your gears to slow you down, and use the highest possible gear to avoid spinning your wheels.
What is your best memory of being a driver? Fife is a stunning place to work. The countryside is breathtaking. I see deer and foxes, and we've huge reservoirs where ospreys, buzzards, kestrels live. Closer to the coast at Leven beach you can sometimes see porpoise, seals and dolphins. I'm so lucky to do the job I do.
Online delivery report
Amazon Fresh may have come out on top for price in its first Grocer 33 outing, but it was Morrisons that triumphed in terms of overall performance. The retailer took the Star Order crown with 90 points out of 100.
Our mystery shopper in St Andrews took 34 minutes to complete the order, choosing 31 of the 33 products on our list as well as two suitable substitutions. These were all delivered as requested by a chatty and friendly driver, giving it full marks for availability.
Our runner-up was Sainsbury's. Our shopper had no problems navigating the system or placing her order, which included 32 products from our list and one substitution. Her order arrived without four of the products and three further substitutions, which she described as disappointing.
Our Tesco shopper in Welton, Northamptonshire, had to book for a day later than she wanted, finding all slots for 16 January already taken when she tried to book 10 days before. Tesco delivered 32 items, including one substitution.
The Asda delivery driver in Aberdeenshire didn't have time to chat with our shopper as he was clearly in a rush. Of the 32 items ordered, only 30 were provided, with a further two changes.
Waitrose and Amazon Fresh were tied for last place with 67. Our shopper found Amazon easy to use but availability was the biggest issue, as she only found 23 of the items on our list.
Waitrose only managed to deliver 30 items to our shopper in Poole, Dorset, with a further three substitutions, with which he was not happy.