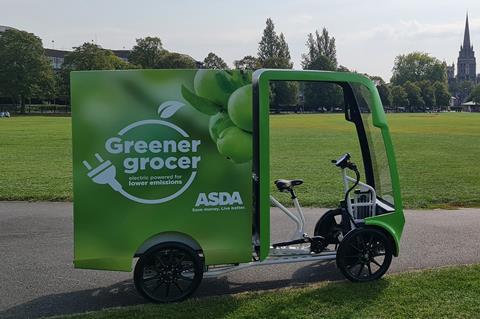 Asda is trialling an electric-assisted, pedal-powered vehicle to make online deliveries to customers from its Cambridge superstore with 'zero carbon emissions'.
The vehicle – developed by Oxfordshire-based company Electric Assisted Vehicles – is both road legal and permitted to travel in cycle lanes.
It weighs just 150kg, thanks to its ultra-lightweight chassis made of a bio-recyclable flax and carbon composite, and can reach speeds of up to 15mph. Drivers can use the vehicle's 'hold' button to maintain a speed of 6mph without pedalling.
The pod on the vehicles has capacity to carry 10 full totes of shopping – the equivalent of two typical customer orders.
"It was great to see the reaction to the e-bike when we took it out on the road – it was really well received and definitely was a talking point at the store and with our customers," said Simon Gregg, VP of online grocery at Asda.
The two-week trial comes as the supermarket seeks ways to reach online customers who live in proposed pedestrianised areas and zero emission zones, where future access for traditional delivery vehicles could be limited.
Cambridgeshire County Council introduced a raft of measures earlier this year to encourage pedestrian and cycle travel, including vehicle restrictions on several roads. Authorities in Sheffield and Bristol have introduced pedestrian-only areas of their cities in recent weeks.
"As we look to the future of retail we have to consider new and innovative ways to continue to offer great service to our customers whilst navigating things like low-emission zones and pedestrianised areas," said Gregg. "A solution such as this would allow us to get into town and cities where access is limited, using either roads or cycle lanes."
Asda said customers were unlikely to see "widespread" use of the vehicles in the "immediate future".
Founder and CEO of Electric Assisted Vehicles Adam Barmby said the e-cargo vehicles had been proven to be more efficient than any type of van in an urban setting.
"Working with Asda to reduce the environmental impact of grocery, and to make those deliveries more accessible in towns and cities, has been a great test for our new vehicle and one we've been really keen to participate in," he said.
In May, Asda introduced a fleet of nearly 50 electric vehicles used to ferry orders from stores to click & ­collect points, freeing up standard vans for home deliveries.