Ocado gets back CFC space, Morrisons can sign new deals. So is it really a better deal all round?
Ever since David Potts took over the hot seat at Morrisons in 2015 there has been speculation about whether its 25-year deal with Ocado, signed two years earlier, would last.

But it took a calamitous fire that destroyed Ocado's warehouse in Andover in February - and perhaps an equally incendiary deal between Ocado and M&S the same month - before the cracks started to show.

Last week Potts announced Morrisons would no longer be Ocado's exclusive digital partner, and would seek deals with a "whole range" of "last mile" delivery partners, whilst extending its relationship with online giant Amazon. Meanwhile, Morrisons agreed to hand back distribution space at a shared giant customer fulfilment centre (CFC) in Erith until January 2021, to allow Ocado to rebuild capacity lost in the ashes of Andover.

But who loses most from the deal - or as both partners insist, is this a "win-win"?

In the short term Morrisons saves what analysts tell The Grocer is close to £10m, as the new deal frees it from start-up or running costs at Erith.

But the loss in capacity, just as Morrisons is seeking to expand its online delivery coverage (currently around 80% of the country), poses problems.

This week The Grocer revealed Morrisons was taking the extreme measure of delivering food by lorry from the other Ocado CFC it uses, in Dordon, Warwickshire, to feed a fleet of vans at Erith to carry out the last leg of deliveries.

Yet without such a drastic move, the consequences would have been worse, with Erith previously fulfilling 10,000 Morrisons orders a week, and allowing the supermarket to reach two million addresses in South London, Surrey and Kent.

"No sensible retailer would be in the habit of driving lorries nearly 150 miles down the M1 from Warwickshire if it didn't have to," says one retailer source. "But Morrisons has had to do this to keep deliveries going."
Store picking
The situation exposes a lack of store picking capacity at Morrisons compared to its rivals, with just 24 branches across the country doing it. It is now urgently addressing that with a rapid expansion of picking stores, but in the meantime The Grocer has learned there will be a reduction in the number of slots available - although Morrisons insists its overall coverage area will not be affected.

"This will not impact on the coverage of our existing home delivery services," says Matt Kelleher, its online/digital director and CTO.

"There will be a short-term impact on capacity, so we will look to quickly deliver extra capacity from some of our stores, which will help us sustain slot availability."

Morrisons can also now form new partnerships, potentially bringing the supermarket new customers and growth opportunities. While Ocado entered the on-demand market this year from its Zoom fulfilment centre in west London, Morrisons has yet to do so.

Potts said last week talks were planned with a host of on-demand last-mile partners, with Just Eat, Uber and Deliveroo among companies mooted.

"The challenge is that consumers are changing, and we need to change with them," says Kelleher.

"We need to serve customers who want something to eat tonight, or who may want it in an hour or two, or who might want food with a DVD or a book they've ordered."

Kelleher also says Morrisons plans a "very different" relationship with Amazon, which has been rumoured as a potential buyer for the retailer, admitting that until now it has been limited to a wholesale partner.

One retail source adds: "Currently, Amazon's marketplace sells Morrisons products to Amazon customers [including via Amazon Fresh]. Morrisons wants to make that a much closer relationship."

It's easy to see why Morrisons should look to the on-demand market for growth.

Kantar Consulting senior VP of retail insights, Ray Gaul, says the plateauing of household penetration rates for scheduled deliveries means the only way for Morrisons to gain new customers through Erith and Dordon is by tempting them directly from competitors such as Tesco, with incentives like first-time discounts. That's a "highly unprofitable approach to winning shoppers".

On the other hand, Gaul thinks Morrisons could find new customers and growth opportunities from rapid on-demand delivery partners using "the same amount of capital they had in the all-eggs-in-one-basket approach with Ocado".

Morrisons' existing store-pick solution relies on Ocado's software, which it uses to drive Morrisons' website and app, while its store staff do the physical picking also using Ocado systems.

But new on-demand partners, says Gaul, could potentially do the picking using gig economy workers, making a rapid rollout easier and bringing "zero operating expenses".

As for Ocado, an element of necessity drove the new deal. It may lose Morrisons' contribution to Erith's costs, for now, but a source admits it simply needed to regain vital capacity lost at Andover in order to return to expected growth levels.

Sales growth was 11.2% in Ocado's latest quarterly results in March, but the capacity loss had wiped 1.2 percentage points off the rise.
Ocado
It means Morrisons' exit from Erith "is quite important", says the source. "In Q1 I think a lot of people were surprised by the resiliency within the business.

"But it does make it harder to grow," the source adds. "So we do need to take more capacity out of Erith."

Having only opened last summer, Erith is still a long way from optimum capacity, currently processing around 37,000 orders a week in total, with a potential of 200,000, of which Morrisons was entitled to 30%.

As a result of Morrisons' exit Ocado has both "the existing capacity they use of 10,000 orders per week, and the growing capacity which [Morrisons] would be entitled to between now and the beginning of 2021". Which, as total capacity continues to ramp up, "should more or less compensate for the capacity we lost at Andover".

And it's not just Morrisons that was growing frustrated with the exclusivity, which from Ocado's side ruled out deals with Tesco, Sainsbury's, Asda, Aldi and Lidl.

"While Ocado has developed its Solutions business into an imposing international operator, its exclusivity agreement with Morrisons had hindered it from developing further UK partnerships," says GlobalData retail analyst Thomas Brereton. The new deal "allows Ocado greater scope to reach out to other grocers struggling with the online problem."

That could mean big opportunities. "We are of course focused on the new joint venture with M&S," says our source. "We're not looking to do a deal with Tesco tomorrow - but in 10 years' time, having a bit more flexibility, that optionality, will that be a benefit to us? It could well be. In that sense it's win-win."

There are of course short-term uncertainties, not least for Morrisons, as it grapples with the immediate logistical ­challenges of maintaining ­service and growth. But in the long run, it seems this really could be a win for both. If they play their cards right.
How much does Erith CFC cost?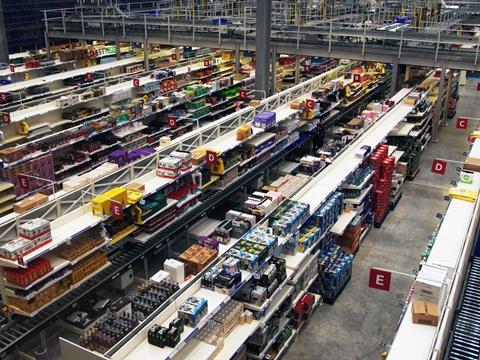 Cost of facility: £100m
Morrisons liability: £30m
Annual cost to Morrisons (over five years): £6m
Additional running costs: 4% management fee plus added facility and equipment fees
Morrisons' estimated saving during absence: Around £10m
Source: Estimates from Kantar Consulting senior VP of retail insights Ray Gaul