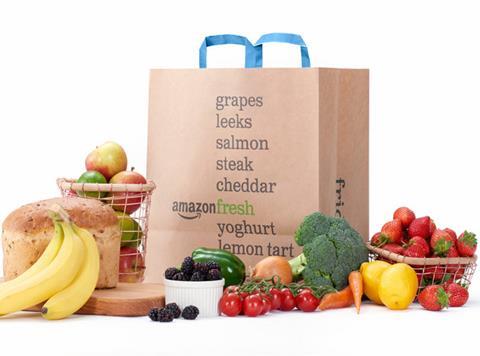 The much-anticipated arrival of Amazon Fresh delivered another hammer blow to Ocado's share price. Mere rumours over its launch last July sent Ocado's stock into a tailspin. And, sure enough, its stock sunk to 217p - the lowest level since 2013 - just five days after Amazon's London rollout. So just how much of a threat is Amazon to Ocado and how does it compare on the key metrics?

Round 1: Customer appeal

Amazon may be a late entrant to grocery but it already has a large, loyal customer base. Around 85% of UK shoppers have used Amazon in the past six months, says Alastair Lockhart, insight director at market research company Savvy. "Amazon is a brand they trust and has massive availability and a fantastic delivery mechanism."

Kantar Retail believes a wider rollout of the Amazon service could therefore dent Ocado's "strong success" in attracting new customers. "Amazon is making it more attractive for the customer to shop in one place," says analyst Alvaro Morilla Villanueva.

On the flipside, Ocado's reputation for service is unparalleled within online grocery. It may have a smaller range - 47,000 SKUs vs Amazon's 130,000 - but the selection isn't exactly limited.

Who wins? Draw

Round 2: Price

The upfront costs for Fresh may be offputting. With Ocado, customers can get free delivery on orders over £75 without any need for a subscription, paying between £2.99 and £6.99 for smaller baskets. Those who want to take out a subscription can acquire an annual smart pass, which includes free deliveries and further discounts on brands, at a cost of £109.

But at Amazon, the service is only available to Prime customers paying an annual £79 fee. Put that together with the additional £6.99 a month flat fee for delivery, and a year's subscription would cost over £160. Morilla Villanueva believes take-up will therefore be largely limited to existing Prime members, albeit that Amazon says it has "millions" in the UK.

The other factor to consider is the price of the groceries themselves. And our initial analysis, using recent Grocer 33 surveys, suggests Amazon Fresh will be cheaper overall than all the major multiples, including Tesco, the benchmark for Ocado's price match scheme. It's possible Ocado may choose to benchmark in future against Amazon's prices - Ocado marketing director Lawrence Hene says it will "react to anything that's required". But it seems unlikely as Tesco - by far the UK's biggest online grocery retailer - will provide Ocado with its stiffest competition. Besides, the difference between Ocado's prices and those on Amazon Fresh is marginal.

Who wins? Draw

Round 3: Range

Amazon has selected a quirky range of external suppliers for its 130,000-strong range, forging partnerships with London producers such as Holland Park butchers C Lidgate and artisan bakery Gail's. It also stocks "thousands" of Morrisons lines (potentially putting further pressure on Ocado's relationship with Morrisons). But as Planet Retail analyst David Gray notes, Ocado offers a superb range (including Gail's breads and organic meat from Daylesford butchers). It can also call on its partnership with Waitrose for own label, and it has developed a complementary own-label range of its own - whereas Amazon's own-label plans are still very much at the drawing board stage.

Who wins? Ocado

Round 4: Delivery

Ocado has offered same-day delivery for years, so Amazon has not exactly broken the mould with its pre-1pm order service. But same-day slots are difficult to come by at Ocado and if Amazon can offer this speed more readily, it could prove a key advantage: 89% of customers who expressed an interest in Amazon Fresh in a Savvy survey in May said they would use the same-day service.

And Amazon charges no extra fee for speedy delivery. "This forces shoppers to reconsider the total value equation, where Amazon Fresh may begin to appear cheaper, easier, and faster," says Morilla Villanueva.

Who wins? Amazon

Round 5: Reach

Ocado covers huge swathes of the country, with two more DCs in the pipeline to extend its reach further.

By contrast, Amazon's reach is currently confined to deliveries to Central and East London from its 142,000 sq ft Bromley-by-Bow DC. Our calculations suggest, with sales of £70m-£80m at full capacity, the online retailer would need 15-20 such centres just to reach Ocado's £1.3bn annual sales. To match Ocado's estimated £150m growth rate would require Amazon to completely fill two DCs every year. And Planet Retail's Gray warns these centres require "vast amounts of capital".

Who wins? Ocado

Round 6: Business model

Waste could prove a sizeable chink in Amazon's business model. A typical Tesco dark store of the same size as Amazon's DC stocks 20,000 SKUs. The greater the number of lines, the higher the waste, so if Amazon keeps even a third of its promised 130,000 lines it will need very clever algorithms to offer good shelf life and availability without astronomical waste, especially before it reaches capacity. With net margins of 30% in grocery, a 10% waste figure on sales of £70m-£80m would make the DCs inherently unprofitable.

Ocado has issues of its own with its model, notably its commitment to nationwide distribution. And Amazon may choose to limit Fresh to major cities. But operating from much larger sheds, Ocado's waste levels are less than 1%.

Who wins? Draw

As a new player, Amazon will take a long time to emerge as a credible nationwide rival. Which leaves Ocado with plenty of time to up its game. In other words, there's all to play for.