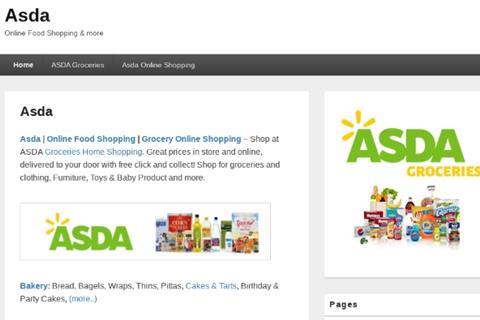 Online con-artists secure a domain name similar to a legitimate grocery website and create 'lookalike' pages

The pages are designed to trick users into giving away their personal information

Mimecast has discovered more than 60,000 spoof websites since January, with the retail sector hardest hit by the fraud
Cybercriminals are capitalising on the boom in online grocery shopping by setting up spoof websites to harvest consumer data and card details, according to research by cybersecurity firm Mimecast.
Mimecast found 30 spoofed Tesco websites, 11 for Asda and 10 for Amazon in its most recent analysis of the activity.
"These extremely popular brands provide hackers with a way to cast their net wide," said Elad Schulman, VP of brand protection at Mimecast.
The online con-artists secure a domain name similar to a legitimate grocery website and create 'lookalike' pages that fool unwitting shoppers into giving away their personal information.
"Impersonating brands online is a boon for hackers: there are no rules preventing anyone from registering an online domain that looks just like a legitimate brand's domain name and creating a lookalike that resembles the original," Schulman said.
"Subtle differences can easily go unnoticed, fooling unsuspecting customers who will simply enter their credentials as usual. In addition, brands often have no idea their name and likeness has been exploited by a copycat; and even when they do, it only takes minutes for criminals to take down their own spoofed websites and create another one elsewhere," he added.
The spoofed grocery sites are among more than 60,000 fake business sites that have been discovered by Mimecast since January this year. The retail sector was the hardest hit by the fraud.
The fake sites vary in how convincing they are, but the cybercriminals typically "keep brand font and tone consistent with the real branding" so they are plausible.
Consumers end up on the sites by simply typing in the wrong address into a browser or clicking on a fake ad on social media or on search engines.
"Sometimes, cybercriminals will also direct a customer to the fake website via phishing scams conducted through emails and SMS," Schulman told The Grocer.
The rise in spoof sites comes during a huge rise in the use of online grocery shopping by UK consumers. Kantar figures show online shopping now accounts for 11.5% of all grocery sales, "attracting more new shoppers in 2020 than the channel has in the previous five years".
The pandemic has "witnessed an avalanche of scams drop on UK consumers" said Chartered Trading Standards Institute (CTSI) lead officer Katherine Hart.
"We have seen so much heroism and good nature displayed during these testing times; however, we are reminded that there are always those ready to pounce upon others' misery," she said.
The CTSI said it had received evidence of scam emails "offering money-off shopping vouchers to aid during lockdown from big-name supermarkets".
"Every single one of these scams has the same goal – getting the target to go to a web address and put in their credit card information. The public must remain extra vigilant at this unprecedented time, and remain extremely cautious," Hart said.