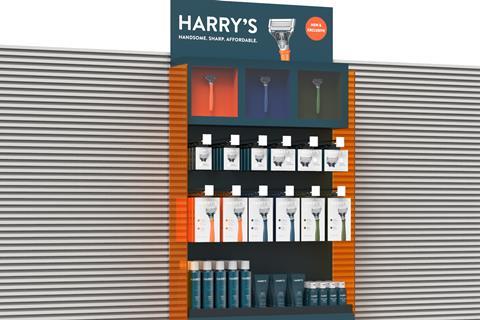 Direct-to-consumer shave club Harry's is to make its major high street debut this week, landing in more than 300 branches of Boots.
The New York brand will roll out 11 SKUs from tomorrow (10 April), becoming the first big-name D2C razor service in the UK to undertake a large-scale expansion from digital to bricks and mortar.
Since kicking off its UK offer online in summer 2017, Harry's products have become physically available in a select few specialist stores, including London's high-end male grooming boutique Beast.
The listing with Boots would fulfil Harry's ambition "to reach as many people as possible" the US brand said. "Retail has always been an important part of the Harry's story. We're excited to continue to challenge the grooming industry and reach guys wherever they prefer to shop."
The expansion onto the UK high street follows successful US launches for Harry's into Target and Walmart. It would attract the "many" British men who preferred to shop in-store, said the shaving brand, which wanted to "resonate with a new audience" that Boots would provide.
With rsps from £5 to £15, the brand's available lines will comprise its signature Truman razor in a choice of three colours, blades, face wash, face lotion and pre and post-shave products.
"Harry's was founded to deliver customers an exceptional grooming experience at a fair price," said UK general manager Matt Hiscock. Having "really got to know" its customers since 2017, the brand had come to understand "that guys would love to buy our product in traditional retail too".
Boots was "an obvious choice for us to partner with" Hiscock added. The retailer had "such a rich heritage of being a trusted destination to find innovative new brands and products. We both want to bring quality items at great prices to lots of people, and look forward to what's to come."