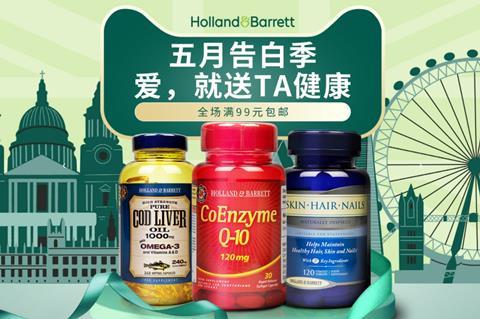 Holland & Barrett has debuted on China's popular e-commerce platform, Tmall.
The health and wellness retailer launched over 40 products on the website today, marking its entry in the Chinese market. Tmall is owned by tech and online retail giant Alibaba Group, China's second-largest company by market capitalisation (around £410bn).
"We chose to launch our flagship store on Tmall Global because of the platform's reach and good alignment to our target customer base," said Holland & Barrett head of international business development Tom Pamment.
"It also means we can leverage the wider Alibaba ecosystem, from payments to logistics. This was a critical factor in our decision to launch with Tmall Global who really helped make sure we had a successful launch on the platform."
Holland & Barrett said it was partnering with local influencers by organising livestream events and sponsoring posts as a way to build brand awareness among potential Chinese customers. The company launched three new channels across the social media platforms Weibo, WeChat, and Red, to boost its online presence.
The Holland & Barrett range on Tmall includes fish oils and collagens, as well as its 'beauty from within' vitamins.
Alibaba said it was "excited" to work with Holland & Barrett in China, where demand for health and wellbeing products had increased throughout the Covid-19 pandemic.
"I believe Holland & Barrett is well placed to meet the demand from this fast-growing consumer base," said Alibaba Group Europe business developer Zarina Kanji.