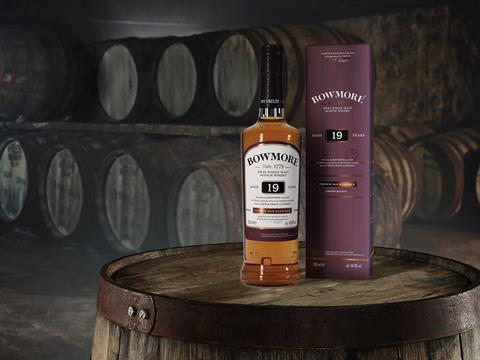 Amazon has mounted a major move into the premium whisky market ahead of the crucial festive period, firing a shot across the bows of prominent online booze retailers.
The e-commerce giant has netted two unique whiskies from major distilleries Bowmore and Highland Park - both owned by Edrington-Beam Suntory - this month. The latest, Highland Park Viking Tribe, rolled out this week.
It's the first time big names in posh whisky such as Bowmore and Highland Park have bottled exclusively for Amazon, and comes weeks after Amazon secured early rights to sell Diageo's recent Johnnie Walker White Walker edition.
It was a "huge development seeing Amazon begin to play in the [premium whisky] space", said James Bagley, CEO of online spirits retailer 31Dover.com. "They clearly see a massive opportunity around whisky. There is no doubt [other retailers] will feel the impact of Amazon being able to offer a broader range and exclusives."
Kantar Consulting SVP retail insights Ray Gaul added: "It is a big challenge to people who have invested in trying to create premium experiences. What Amazon is trying to accomplish here is what is called the 'long tail' of e-commerce, which is individualising their products to include more niches and micro marketing groups."
Both Johnnie Walker, whose White Walker launch Amazon promoted heavily throughout October, and Kraken rum, which launched an exclusive limited edition bottle into Amazon last month, were among Amazon's top 10 bestselling spirits brands for the month, data from e-commerce analysts Profitero reveals.
Amazon would "be able to use their incredible tech capability to position their own bottled products at an extremely low price versus alternative whiskies", added Bagley.
Kristianne Sherry, editor of online whisky merchant Master of Malt, called Amazon's step into premium whisky "an interesting move" that would bolster competition and "keep other retailers sharp".
It would be good for the industry and consumers if other retailers were to "up their game", she suggested. Yet she stressed: "Our razor-sharp focus on drinks means we can engage with our followers and customers using content in ways that Amazon can't, like our cutting-edge virtual reality distillery tour videos and our award-winning blog."
Amazon's approach to content is changing, too, though. It this year introduced new 'A+ Premium' options for suppliers offering a wider range of visual and interactive enhancements to their pages. Hence the listings for both Highland Park and Bowmore's whiskies contain interactive tasting notes and embedded videos.
Tim Gratton, customer account controller at Edrington-Beam Suntory UK, said Amazon's model had allowed EBS to "trial a range of unique innovations and dynamic marketing activities" that could "significantly influence the purchase decision whilst providing the consumer with a deeper and more enjoyable brand experience".
Amazon declined to comment.