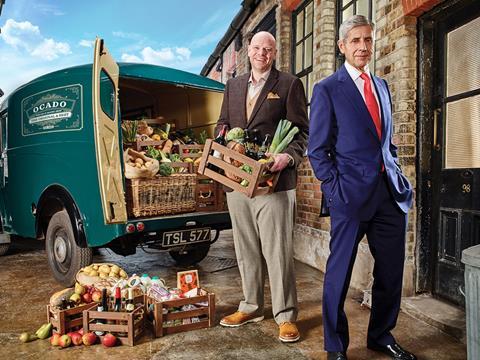 CFO Duncan Tatton-Brown did his best to put a brave face on Ocado's fourth quarter trading update in a call with The Grocer this morning. It's not that the figures were bad (far from it, with sales up 15% to £381.6m – the 13th straight quarter of double-digit growth, they are not far off the growth rates the discounters are achieving) it is what the statement didn't say.
There was no hiding the glaring hole where the big unveiling of the first international partner for the Ocado Smart Platform should have been. Dismayed investors sent Ocado shares into a nosedive – down more than 8% (or 31p) at the time of writing. A note from investment bank Jefferies also estimated that at least a quarter of its equity valuation was tied up in the potential of its technology to deliver riches.
CEO Tim Steiner has been talking up the prospects of a much-vaunted deal to deliver groceries for an overseas player for two years now. And in February, the online grocer said a partnership would be agreed before the year was out. As each quarter passed, Steiner kept his poker face and assured investors, analysts and journalists that news was just around the corner.
On this morning's call with Tatton-Brown, the finance chief admitted it was more likely any announcement would slip into 2016 now, but he played down the significance of timings. "We set ourselves the self-imposed target of signing a deal this year because of our confidence in the strength of the platform," he added. "Clearly there is a greater chance of it slipping into next year – but what has not changed is our confidence. We remain as confident as we did before in signing a deal. What matters is building a business which generates value for us and our partners and we remain confident in that ability."
That word, 'confidence', cropped up several times more. But it raises the question, why did Ocado set off a ticking clock and back itself into a corner in the first place? The business has come under plenty of criticism, scepticism and outright negativity from some quarters of the City – with a large number of analysts holding a 'sell' rating on the stock – and until a deal is signed there will always be a degree of doubt hanging over it.
A big international partnership would be proof of the value of its technology and maybe the management was too keen to over-promise, or too optimistic that signing the right sort of deal would surely happen this year. By putting so much pressure on an international partner, the credibility of that partner has become all-important. Too small a grocer could be a white flag to the bears that Ocado doesn't have what it takes to play in the big league. And the importance of an international partner gives said partner more bargaining power.
The longer the delay goes on, then, the more pressure it puts on its UK grocery business. Even with 15% growth it's a highly challenging market (if you're not either Aldi or Lidl). Total sales for the year to 29 November rose 17.3% to £1.2bn (profits won't be revealed until the full preliminary results next year) and Steiner says Ocado was growing revenues ahead of the online grocery market.
However, long-time Ocado bear Clive Black of Shore Capital points out that "with only 200,000 weekly orders in a country of 65 million folk, we would be seriously concerned if Ocado didn't outperform the online grocery market."
Black has a point: sales may have grown for 13 consecutive quarters but they are slowing and came in 2% to 3% below consensus. Basket value is also shrinking (down 2.3% to £107.16). The model remains very capital-intensive. And there are also long-term doubts with the Waitrose and Morrisons contracts in the UK. All this makes that elusive first international licensing deal all the more important.
And what of Amazon Fresh? Once again Tatton-Brown played down the threat presented by Amazon's expansion across the world, saying it presented opportunities to sell its platform to international grocers looking to stay competitive.
"It is very helpful for our ability to talk to customers internationally. The more Amazon Fresh is seen to be rolling out globally, the more of a threat it is for supermarket operators across the globe, the more they will need to consider how they go online and the greater are our opportunities to sell them a solution," he says.
On balance Amazon Fresh could provide the stimulus for international partnerships. The trouble is the online behemoth is not exactly in a hurry. And crucially it has never set itself a timeframe.