Selling products via livestreams has taken off in China, with major influencers acting as presenters. Could this shopping craze take hold closer to home?
Huang Wei delicately holds a strip of dried persimmon up to the camera and smiles. Better known as Viya to her online viewers, the 35-year-old has teamed up with producers in China's Shanxi province to help them sell packs of their sweet orange fruit online.
She talks quickly and confidently about the product, sales visibly clocking up in the corner of the screen, as a stream of questions and responses from viewers fills the chat box.
Viya handles it all like a pro. Which isn't a surprise, given that last year the presenter successfully sold more than £100m of products just like this – more than the combined annual sales of all Carrefour supermarkets across the country – via her work as a livestreaming anchor on Chinese e-commerce platform Taobao.
Those figures illustrate just how big this market has become. Livestreaming or live shopping – where products are sold directly via live video content – has seen a meteoric rise in China over the past few years. As well as a whole array of foods, including fish, fresh produce and high-end spirits, top livestream presenters like Viya have sold cosmetics, clothes, cars, even Beijing apartments worth millions of yuan via these colourful, fast-paced, almost frantic live shopping events.
Already livestreaming in China is thought to be worth $60bn annually, with an estimated 30% of China's population, roughly 430 million people, tuning into one of the many thousands of livestreaming events taking place each month. They aren't passively watching either. In 2019, goods purchased via livestream in Asia's biggest economy accounted for 4.1% of all e-commerce sales, according to China-based iResearch. By 2025 – fuelled by the pandemic – that's expected to reach 20%.
yesterday Viya did a live stream and Qi'er told them to play ice cream since they were trying to sell it on the live 😂 pic.twitter.com/HxX20o6KOy

— golden adonis (CPOP) (@QingdaoZta0) June 30, 2020
"It was booming pre-Covid, but now it's accelerated beyond comprehension," says Jake Knowles, senior retail consultant at technology consultancy BJSS. "There are absolutely eye-watering figures in terms of the engagement it's getting."
These figures are now capturing the attention of brands all over the world too. Whether as a tool with which to crack the notoriously complex Chinese market, or to engage and excite the growing number of us shopping from our sofas, more and more companies are spotting the potential. But will it work?
The idea of live selling or live shopping isn't a new one. Ever since the 1980s, the likes of QVC have been selling products via TV networks, their groomed presenters trained in the art of selling pretty much any product handed to them. They offer big discounts or limited editions, all only available within the length of the live broadcast, to compel viewers to buy instantly.
"It was booming pre-Covid, but now it's accelerated beyond comprehension"
Contemporary livestreams use many of the same techniques – the time window, the interactivity and the fast pace – but shift the virtual events online and, more often than not, to mobile. That means that, rather than rattling off a telephone number to call every few minutes, viewers can simply click 'Buy' without ever leaving the site (or getting up off the couch).
In this way, "they've combined powerful elements of the past and present", says Melanie Chevalier, CEO at Creative Culture. "It's the evolution of e-commerce, reproducing the discovery of a shopping centre experience that you lack on other e-commerce platforms."
To create this experience, livestreams tend to take one of two approaches. Either brands will recruit a high-profile influencer like Viya, also known as a 'key opinion leader' (KOL) in China, to present the event and leverage their trust with existing followers. Or they'll host the event themselves, using members of their own team to act as anchor. Regardless of the format, the vast majority will host any events on third-party e-commerce platforms such as Taobao or Tmall, both owned by Alibaba – with Taobao Live thought to occupy around 80% of the livestreaming market.
"People love it because they don't need to read 1,000 reviews on a shopping site," adds Young Pham, chief strategy officer at digital consultancy firm CI&T. "People get to see the latest products, see the excitement of people talking about the product and engage with others to see what they really think all from their mobile phone. It's the opposite of shopping by yourself."
Selling food
The strategy has proved itself on pretty much anything and everything. During one event, livestreamers even sold 100 Mini Coopers (at £30k each) in four minutes.
But in the past year, food has proven a key driving force in the growth of the sales channel, says Michelle Huang, a Shanghai-based analyst at Rabobank. It offers a way for remote or rural producers, in particular, to access a bigger market. Taobao, for instance, has offered training to 200,000 farmers on how to operate and host their own livestream event "as an important tool for them to get their fresh produce to consumers".
It's also proved a tool for small domestic food and drink brands looking to gain a foothold, such as ethical dairy brand Adopt a Cow. With the Chinese dairy market – and traditional sales channels – dominated by dairy giants Yili and Mengniu, the startup has used livestreaming as a way to attract attention, regularly showing video footage from its dairy farms to demonstrate the difference in its production methods. On Singles Day in November (China's equivalent to Black Friday) the dairy brand used this approach to outperform both Yili and Mengniu in sales.
Meanwhile, Chinese bubble tea chain Naixue Tea has used livestreams to offset the losses to its cafés as a result of the pandemic. Last year, it launched a range of themed drinks via streaming, and created an exclusive gift box sold only via its live events. It sold 3,000 of these sets in the first second of the broadcast.
This success hasn't gone unnoticed. A growing pool of western brands are looking to experiment with livestreaming too. For now, high-margin, luxury goods are leading the way, with the likes of US jeweller Tiffany and designer Hermès teaming up with influencers to sell goods via livestream in the past year. But there are also food and drink brands entering the fray – be it to sell at home or abroad.
For Rude Health, which launched on Tmall International at the start of this year, livestreaming forms part of its overall strategy to crack the complex Asian market, says head of foodservice Shyrell Hui. "We want to showcase the product and its taste, and integrate it into demonstrations to educate consumers, by making smoothies or maybe even a cake," she explains. "We're working closely with a partner in China to select a KOL we think is suitable for the brand and who we can engage with the product, so they aren't just reading a script. But at a later stage, we also want to host our own livestreams."
There's so much potential to be creative with food via a livestream, says the brand's senior international account manager Max Crean. "But you need the right platform to do it at scale."
And that could prove to be the major stumbling block for brands looking to replicate China's success here. In China, not only is both e-commerce and mobile commerce far more established – with 80% of consumers shopping via mobile, according to research by PwC, compared with 49% globally – but the integration between social media and sales platforms is also much more developed. On the likes of Taobao, messaging, video and content sit seamlessly alongside e-commerce functions, facilitating live shopping on a single site.
"Unlike Asia, [in the UK] there are barriers because the social media platforms aren't as well-equipped to handle the immersive experience," points out Pham. There are moves by social media platforms to facilitate this kind of integration but it's still a far cry from what's already on offer in China.
UK market
Plus, even with these mechanisms in place, brands need to be cautious about simply lifting what works in China and depositing it in the UK, advises Knowles.
Take the greater cynicism that exists around influencers here, compared to the reverence with which KOLs are regarded in China, for example. That requires brands to take even greater care in selecting a presenter, he recommends, rather than simply basing a decision on their profile. "An influencer has to be an accurate portrayal of who you are and what you stand for, as well as drawing in the right volumes of people."
"Make sure you understand the market, the consumers and the cultural background," adds Chevalier. "What applies to one country won't necessarily apply to another."
Companies also need to decide whether livestreams are a tool with which to build revenues or brand awareness, or both. Livestreams often rely on exclusive discounts or deals, which high-margin products such as spirits can offer while "still doing good business". But even for those without these kind of margins, livestreams can act as very effective marketing. "Those brands tend to sell at a loss, but it generates a lot of coverage, enabling them to become profitable outside of those platforms," says Chevalier.
Perhaps not quite so profitable as livestreaming has proved for the likes of Viya, of course, whose net worth has been estimated at $30m. But with the pandemic leaving many customers glued to screens, and craving an element of interactivity beyond the transactional nature of current e-commerce, livestreaming does create an opportunity for food and drink brands to sell in a novel, engaging format. An opportunity of which they can gauge the success (or not) in real time, too.
What tools can UK brands use to host their own live shopping events?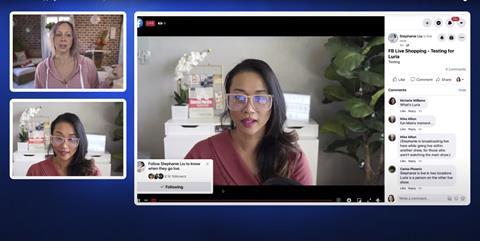 Though social media platforms in the UK are far less integrated with e-commerce than their counterparts in China, there are still a growing number of tools that brands can make use of to facilitate their own live shopping events.
In 2020, for instance, Facebook added to its growing e-commerce toolkit with the Facebook Live Shopping function that allows businesses to host live video content across both mobile and desktop, and integrate links to their products either from a Facebook Shops account, or external uploads.
Instagram also offers a number of e-commerce functions, many added in the past year. From August, for example, it made Instagram Live Shopping available, allowing businesses with an Instagram Checkout account – the tool that lets you buy products within the app itself – to integrate their products into live broadcasts. Then in December, it expanded this to Shopping in Reels. This offers the same ability to buy products straight through the app, this time via short-form videos created using its new Reels function.
Now there's much anticipation for what TikTok will roll out, following more and more moves towards a focus on commerce, including a partnership with Shopify in October.