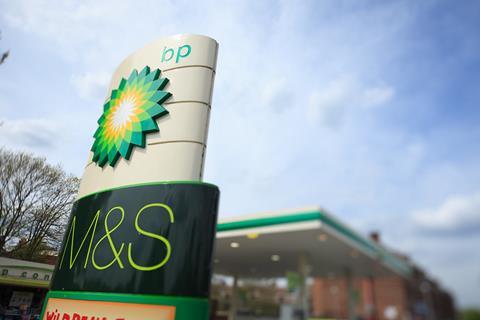 The free delivery service has gone live with 120 stores this morning

Deliveroo is also rolling out a new range of convenience items, called Essentials by Deliveroo
M&S franchise stores at BP petrol stations will be delivering a range of 60 products to customers in their local area via Deliveroo.
Delivery of the items – including milk, bread and juices, as well as pizza and ready meals – will be free of charge.
The move will "help make sure isolated people at home have access to household essentials" Deliveroo said, after going live with 120 stores this morning.
The food delivery service is also rolling out a new range of convenience items, called Essentials by Deliveroo. The range includes cereal, pasta, rice, sweets and biscuits, soft drinks and juices, tinned and canned goods and will "ensure people who are at home, especially the elderly and vulnerable, can receive the items they increasingly need" the company said.
Essentials are available to order on the platform in Cambridge, and will be rolled out across Reading, Brighton, Nottingham, Manchester, Leeds and London over the next two weeks.
The concept will be rolled out globally, Deliveroo said, and be made available in the UAE, France, Spain and Australia.
"At Deliveroo, we want to do everything possible to help people get the food they want and need during this worrying period. We hope we can play a role in supporting people who have to isolate to get the food they need, whether that's household items or restaurant food," said Will Shu, Deliveroo founder and CEO.
BP said it expected the arrangement with Deliveroo to be in place until "at least the end of April".
"This crisis is affecting every part of society and all of us are trying to do what we can to help. It is vital that we support those on whom we all depend, as well as the most vulnerable in our communities," said BP CEO Bernard Looney.
The M&S franchise partnership and Essentials launch comes after Prime Minister Boris Johnson addressed the nation last night to tell them to stay at home during the coronavirus pandemic. Johnson recommended people "use food delivery services where you can".
Deliveroo said it had almost 3,000 restaurants join the platform in the UK in the past month.