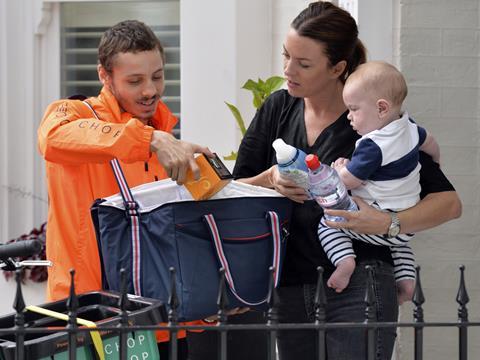 Sainsbury's is set to announce a major expansion of its one-hour delivery service Chop Chop across central London, The Grocer has learned.
The express service, previously available in areas surrounding its Pimlico and Wandsworth stores, will now run from five more stores in zones one and two.
Sainsbury's said Chop Chop would now be accessible to more than 1.7 million customers, giving it "the largest reach of UK retailers offering a one-hour delivery service".
The Chop Chop service started out as a trial at the Sainsbury's Wandsworth branch last June. The one-hour service would pick up and deliver a maximum of 25 items to customers' doors for a fixed fee of £4.99.
In September, Sainsbury's expanded the service to an additional 35,699 London postcodes.
Although Sainsbury's has been tight-lipped about uptake, the latest expansion to 70,000 more postcodes suggests the service is going well.
"We're delighted the trial of our Chop Chop delivery service in Wandsworth and Pimlico has proven to be such a success," said Sainsbury's director of online Clodagh Moriarty.
"It's an exciting time for our customers and we hope to see continued success of Chop Chop within these new boroughs."
Amazon was the first to offer a one-hour grocery service in 2015, when it added grocery items to Prime Now. Sainsbury's was the first retailer to respond with the rollout of Chop Chop in June 2016, and in May this year, Tesco launched its own one-hour delivery service, which is available in London zones one and two.