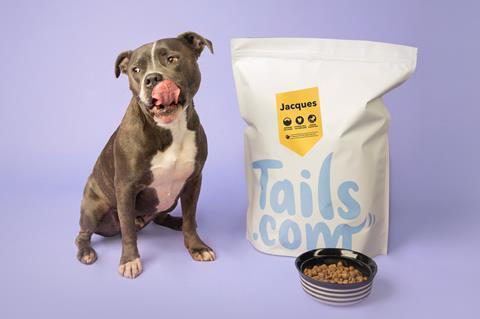 Direct-to-consumer petfood service Tails.com has expanded its overseas operation, launching in six more countries across Europe.
It is now live in Ireland, Sweden, the Netherlands, Denmark, Belgium and Austria – having set up in France in 2019 and in Germany earlier this year. The expansion gives the brand potential access to an extra 5.5 million dog owners.
International growth was "now a significant focus" for Tails.com, which recently marked the second anniversary of Nestlé Purina acquiring a major stake in its business. It offers nutritionally tailored meals for dogs, currently delivering more than nine million meals a month to 200,000 customers.
Despite the Covid-19 pandemic, "high demand for online retail and a growing trend for personalised nutrition has contributed to Tails.com expanding faster than planned" the brand said. Its international focus in coming months would "be on growing its customer base across the additional territories as well as investing in country-specific marketing and team members".
To make its deliveries, Tails is working with different couriers in each territory. It would "work closely with our selected delivery partners in existing and new territories" it added.
The brand's vision had "always been to change the world of petfood for good" said CEO & co-founder James Davidson. "Delivering world-leading personalisation for our customers' dogs has meant that we've built our manufacturing and digital services from the ground up, including capability for international expansion.
"This next phase of growth is testament to the hard work of a passionate and dedicated Tails.com team."
In April, the DTC service kicked off its first partnership with another brand, adding Yakers dog chews to its portfolio.