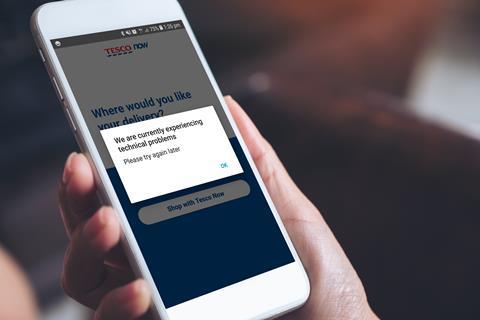 Tesco has quietly canned its one-hour delivery service in London, saying it's focusing on scheduled same-day delivery instead.

Tesco Now launched in May 2017, offering customers in zones one and two 60-minute delivery of orders of up to 20 items.

The orders were placed on a dedicated Tesco Now app and delivered by courier firm Quiqup.

The app can still be downloaded on smartphones but attempting to order leads to the message: 'We are currently experiencing technical problems, please try again later.'

The service was ended in November last year although only customers to have used it in the 12 weeks prior to that were informed, according to Tesco.

Tesco's scheduled service can offer a one-hour delivery slot later the same day, depending on availability, including 7-8pm for orders placed by 1pm.

"Tesco Now was a small trial in central London which ended in November last year," said a spokesman for the supermarket. "We are always looking at ways to enhance the service we offer our customers."

He added that Tesco was "focusing on same-day delivery".
Tesco Now came with no minimum basket value but a £7.99 charge for delivery in an hour, dropping to £5.99 for two hours. A terms and conditions web page remains live.

News of Tesco Now's demise comes amid launches of similar services by rivals. Ocado Zoom, offering one-hour delivery in west London, launched at the start of the month. It uses Ocado's robotic technology to pick orders from a fulfilment centre in Chiswick and despatch them within a 2.5-mile radius for a flat delivery charge of £1.99 on a minimum basket value of £15.

Last week the Co-op launched a two-hour service from a store on King's Road in London's Chelsea, delivering by electric cargo bike. Orders are placed on a dedicated website, shop.coop.co.uk, marking the supermarket's first e-commerce launch. There's a £5 delivery charge and a minimum £15 spend, and the Co-op hopes to roll the service out more widely.

Other supermarkets offering rapid delivery in London trials include Waitrose, who entered the market in September last year, and Sainsbury's, who launched Chop Chop in 2016.