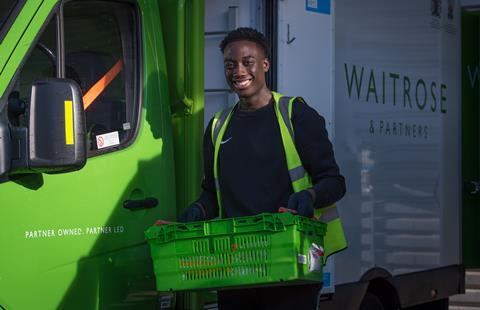 From next week Waitrose will provide priority access to elderly and vulnerable customers on at least a quarter of its online deliveries.
The supermarket said it would begin by contacting vulnerable Waitrose.com customers who have a partnership card and an online account to offer the slots.
The next step will be to contact as many customers who have identified themselves to Waitrose as elderly or vulnerable, and to try and reach those on the list of vulnerable people the government is planning to share with retailers.
While setting up the scheme, Waitrose is asking customers not to contact them, but rather they will reach out to customers.
Waitrose is also rolling out its Rapid service, which launched last year in London and delivers essential items by courier within two hours, to a further 10 stores in the next two weeks. It plans to widen the scheme even further throughout April.
"Over the past month we have delivered to more customers than we have at any point in our history and we know that many of those orders have reached elderly and vulnerable people. Our shops and distribution teams have been working tirelessly on this, adding in additional emergency deliveries to vulnerable people where they possibly can," said Waitrose.com director Ben Stimson.
"We have far more demand than we have capacity but we're trying to reach our most vulnerable customers first to help support them at this difficult time. This is no easy task and while we have to start small to get it right, we are working through these measures as quickly as we can. We'll be getting in touch with elderly and vulnerable customers directly – so they don't need to call us to arrange a slot."