Time is of the essence, especially when it comes to grocery deliveries. Week-long waits for delivery slots lead to ditched baskets and now more agile players are appearing to pick them up.
Fifteen-minute grocery delivery service Weezy launched in London last year and is picking up speed. It raised £14.4m in Series A funding from Left Lane Capital and now has fulfilment centres in London, Bristol and Brighton. With plans to open 40 more by the end of the year, it's time to put it through its paces
Usability
On theme with the speedy delivery promise, the app downloads in seconds, takes your address and then lets you get on with shopping right away. It's really clear, slick and easy to navigate.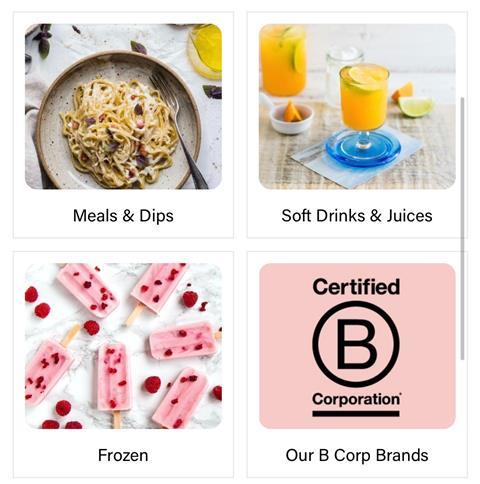 The attractive block menu features the usual category sections, like dairy and eggs, alongside some changeable specials like in-season vegetables and Ramadan. There's also a B Corp brands section, bringing together products from the likes of Propercorn and Innocent in one shoppable list.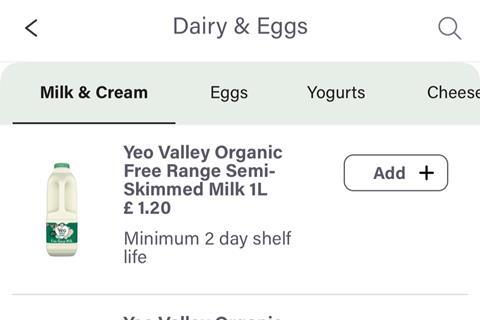 Once you select a category, swiping left will take you to the various subcategories that are listed across the top.
The search function is good too, typing in "butter" will bring up not just dairy butter but plant-based alternatives, spreads and margarines. However, if you enter a spelling mistake, it won't correct it and won't suggest what you might be looking for.
Checkout is simple: it confirms your address, takes your card details (it doesn't offer Apple Pay) and shows you any promo codes that are valid to use on your current order, ranging from free delivery to money off, depending on the value of your basket. Shoppers just select the one they want to use and it will apply it automatically.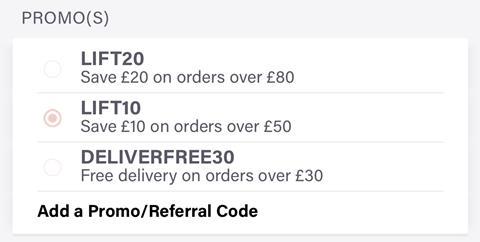 There was no pop-up "missed this?" or "have you seen these offers?" upselling. Swiping along the bottom will confirm the payment and begin the order.
Range and availability
The longest part of the process is likely to be selecting products, simply because there's so much on offer. There are 2,000 products to choose from, says Weezy, and the selection covers a wide range of shopper missions. For example, there's a bigger range of herbs and spices than you'd find in a discounter for moments when you realise you're out of something halfway through a recipe.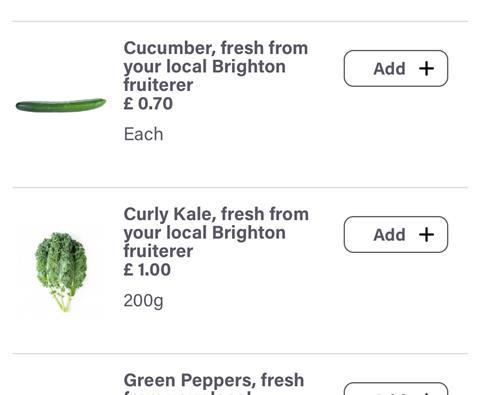 Big brands are out in force, with lines from Birds Eye, Müller, Starbucks, Walkers and more. There's also some regionally specific lines: as we ordered from Brighton we were able to choose products from local Flour Pot Bakery, produce from a "local Brighton fruiterer" and meat from a "local Brighton butcher", both unnamed. Outside the local butcher, most meat is from The Meat Market – a brand from the wholesale arm of Ballymena-based butcher K & G McAtamney.
Also giving it an edge is the range of trending Whole Foods Market-esque brands like Hackney Gelato, Deliciously Ella, Lo Bros Kombucha, Dash and Scrumbles petcare, which you may struggle to find in some of the mults.
Ordering from Brighton did mean we missed out on testing the fresh herbs from its tie-up with vertical farm InFarm, which are only available from its distribution hubs in Fulham, Battersea, London Fields and Lambeth.
A key element, which isn't well-covered by players like Deliveroo, is a strong non-food range.
The pharmacy section covers everything from diarrhoea tablets to hangover rehydration fizzers – which will save shoppers in those moments they really can't face popping to the corner shop. There's a big tobacco and vape range, household cleaners and toiletries, plus random handy household bits like batteries, tape and lighters that you might get caught short without. There's even a Covid-19 essentials section where you can order a rapid test for £16.
In a move that's somehow more post-Covid than the antigen test, there's also a selection of games like Uno, Jenga and even a frisbee on offer – all only a couple of pounds more than they would be if you bought them on Amazon.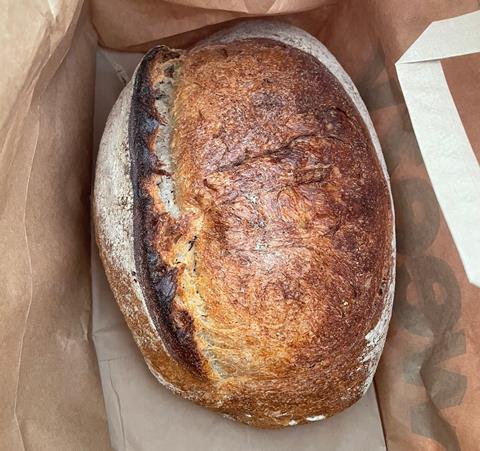 On availability, we only noticed a few of out-of-stocks during the shop, and on most occasions there was an another brand or similar alternative available. We didn't get any out-of-stock notifications after the order went through.
Delivery and service
The delivery process gave us reason to believe Weezy hasn't quite got its address systems up to speed. Despite selecting the pinpoint on the map and giving a full street address, we received a call to say the rider was on the way but that they didn't have the house number. Could we confirm it? A couple of minutes later, we received a second call – this time from the rider, also asking for the street number.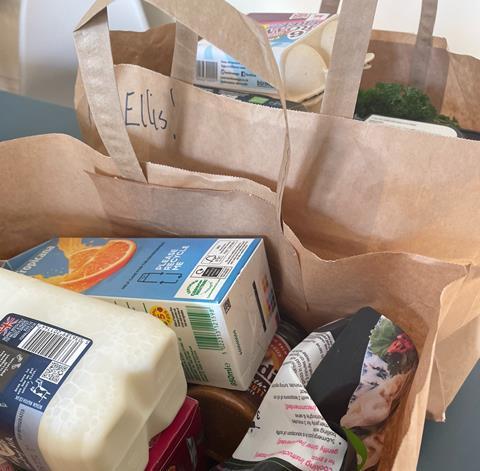 Despite this, Weezy kept its promise and the groceries arrived in under 15 minutes. We got an email to say that Weezy had the order at 8:52 and a text to say it was nearby at 9:05. So no harm done.
The order arrived in paper Weezy-branded bags, not sorted into fresh, frozen and ambient, which is understandable given the time promise. Everything was in perfect condition and nothing was missing.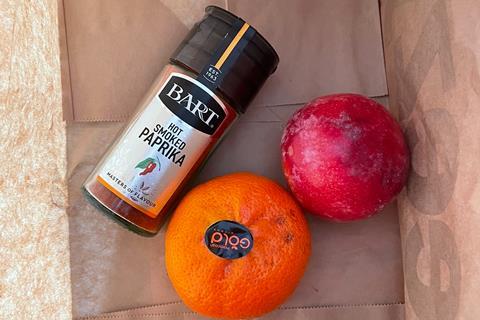 You'd be forgiven for assuming that because the riders are in such a rush they won't be particularly friendly, but that was not the case on our test. Our rider was smiley, chatty and really helpful. On top of this, when they accidentally delivered sweet paprika instead of hot, the same rider arrived about 10 minutes later with the correct item plus some fruit by way of an apology, before we'd even realised it was the wrong item.
Price
Weezy's goods arrive by bike in 15 minutes so there's always going to be a premium. What's surprising is that it isn't outrageously more expensive than the average online shop. When we looked at a comparable basket on Sainsburys.co.uk, excluding discount codes and delivery charges, it came in at around 20% cheaper than Weezy – but, of course, you'd have to wait almost a week to get it. With the promo code offered on checkout, Weezy was only 6% more expensive.
Other than products being generally a bit more expensive on Weezy, there are a few more reasons for the pricier receipt. There's no own-label offer as of yet, which will drive the price of the basket up overall compared with one of the major mults. Weezy also doesn't have much in the way of offers or promotions, when we shopped just one line (Marshfield Farm Ice Cream) was selling at a discount. Delivery is £2.95.
Verdict
Weezy is seriously impressive. If you wanted to pick up the same selection of items in Brighton you'd need to visit at least three different stores, if not more, and it would take about an hour on foot to collect it all. When you look at it that way, the extra cost is a small price to pay to save trekking round butchers and bakers while still being able to get artisanal, local produce and fun brands in under 15 minutes.
It's not going to replace a weekly shop but it's going to come into its own on those shopper occasions where it's difficult or inconvenient to leave the house. Missing ingredients, forgot-to-buy items, medicines, baby and petcare, dinner-for-tonight and essentials are all well covered. While it's never going to present a huge threat to something like Tesco.co.uk, it's certainly a more comprehensive grocery option than what's currently available from Deliveroo, and any other rapid delivery service that only picks from one convenience store. It also manages to make Co-op's delivery service look a bit clunky and inflexible with its two-hour slots.


Ellis looks after the day-to-day running of thegrocer.co.uk and The Grocer's social media channels, alongside creating and co-ordinating digital content.
Ellis joined The Grocer and moved south in 2015 after working as a local news reporter in her home town of Glasgow. Ellis doesn't work on a particular patch, and you'll find her writing about a vast range of topics across the universe of food and drink, but she specialises in own-label, culinary trends and internet food culture.
Follow Ellis on Twitter: @ellishawthorne