Morrisons is sticking to the classics for Christmas 2021.
The retailer says its favourites in its festive range include a Scottish smoked salmon, triple smoked over oak and cask chippings for 14 hours in its kilns in Grimsby and, for something a little different to turkey, its The Best Lamb Guard of Honour is "expertly prepared by our teams and seasoned with a rich and fruity cranberry and sloe gin glaze".
Here's The Grocer's pick of the range
Party food and starters
The Best Mushroom St Jacques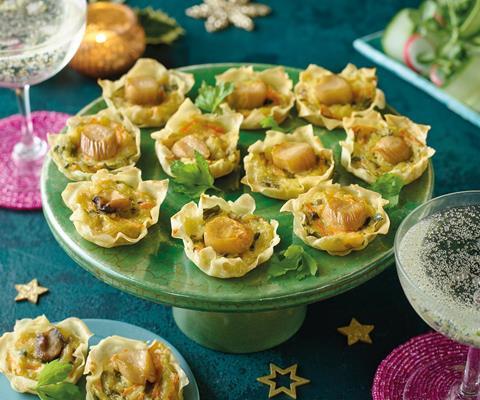 £4/pack of 12 (240g)
A vegan take on a French classic, with king oyster mushrooms encased in crisp filo pastry with a "rich" coconut milk sauce.
The Best Best Sloe Gin Baking Brie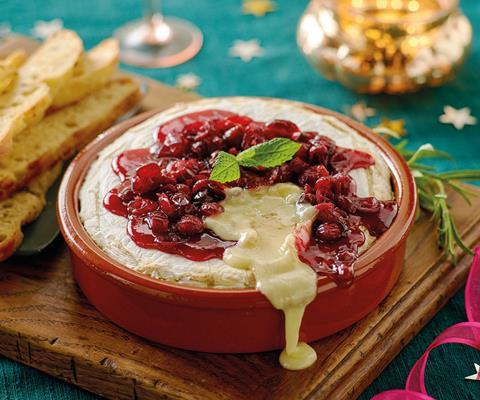 £6/590g
One for the cheese lovers. This vegetarian baking brie from Normandy comes with dried cranberries and a sour cherry and sloe gin glaze. Available from 17 November.
The Best 'Rock Pool' Seafood Medley with Garlic Butter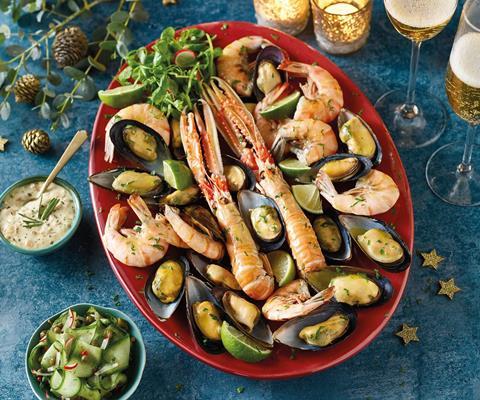 £10/560g
This feast of mussels, king prawns and langoustines serves four, according to Morrisons. The dish is finished with garlic and herb butter for richness and a mellow flavour. It will go on sale from 13 December.
The Best Vegan Smoked Salmon & Cream Cheese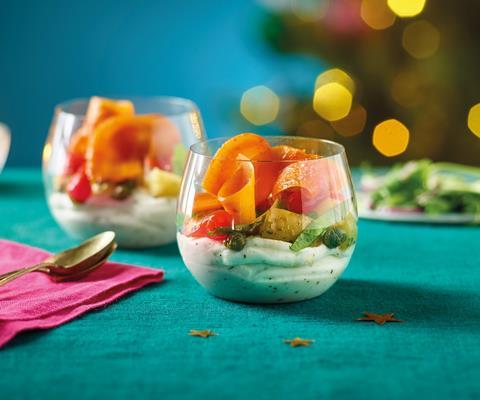 £4/260g
Another vegan twist on a classic. Two portions of BBQ smoked carrot flavoured with nori and marinated in a dressing of rapeseed oil, cider vinegar, mirin and smoked paprika for four days. Layered on a base of coconut based soft cheese, basil, marinated potatoes, leafy spinach, caper berries and sweet drip pepper pearls. It will roll out on 21 December.
Turkey & Stuffing Balls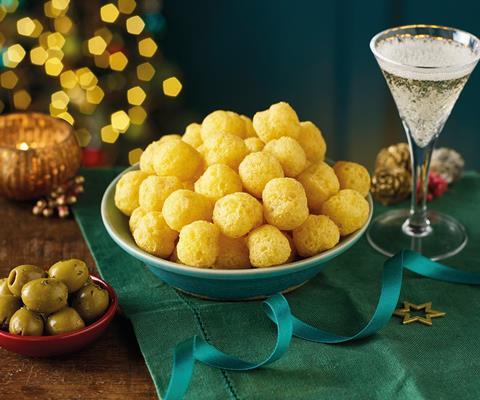 £1.50/300g
Light and crunchy turkey and stuffing flavoured maize and potato balls. The bite-sized balls are coated in a savoury meaty and herby flavouring. Available from 1 November.
Morrisons Paneer Fries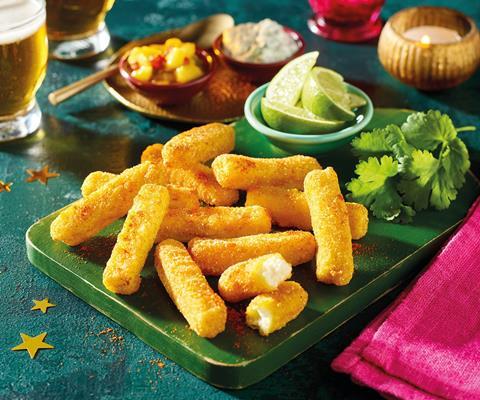 £2/pack of 12 (156g)
Move over halloumi fries. These crispy paneer sticks are dipped in an aromatic pakora spice coating. They go on sale from 4 October, in plenty of time for Christmas gatherings.
The Best Mini Dressed Cornish Crab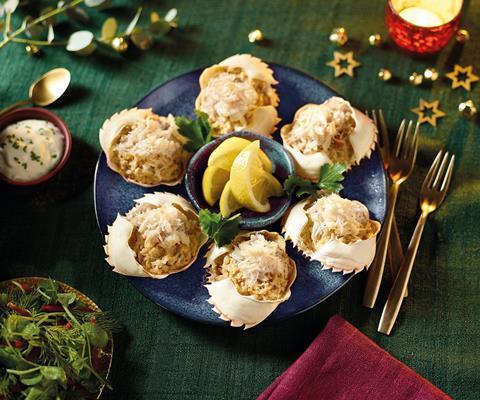 £8/180g
Made with crab pâté and crabmeat mixed with soft cheese and crème fraiche, served in six small shells. Available from 18 December.
Morrisons The Best Triple Smoked Salmon Dressed with Orange Oil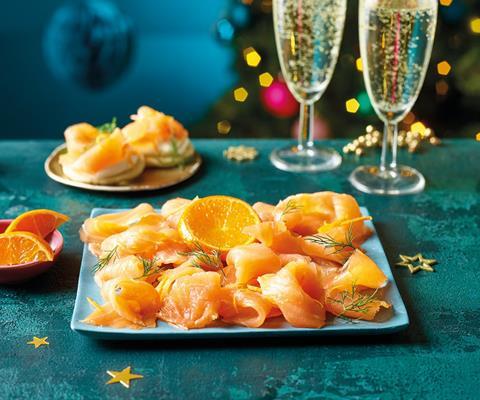 £4/120g
This Scottish salmon has been reared in the cold clear waters of the west coast, Hebrides and Orkney & Shetland. It has been smoked three times over oak wood and cask chippings in Morrisons' own kilns in Grimsby to develop a rich flavour and buttery texture, then marinaded with orange juice and clementine oil and garnished with a dried orange slice for a festive twist, the retailer says. It will be available from 14 December.
The Best Oven Roasted Mushroom Vegan Pâté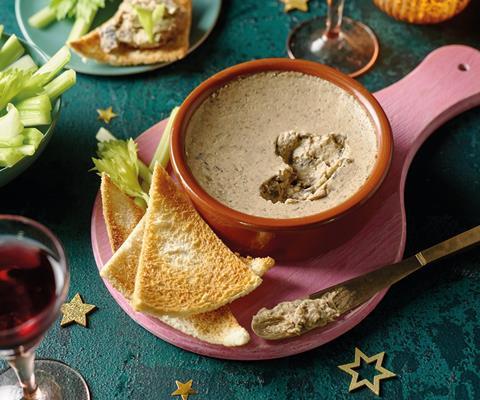 £4/150g
Morrisons describes this dish as an "indulgent" plant-based mushroom pâté made with oven-roasted mushrooms, a vegan alternative to soft cheese, vegan alternative cream and enhanced with garlic, parsley, thyme, porcini mushrooms and smoked paprika. Made to an exacting recipe by expert pâté manufacturers in small batches. It will be available from 21 December.
The Best Pork Taco Cups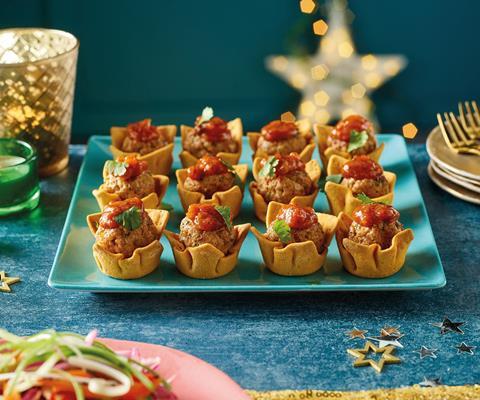 £5/268g
Made using British pork blended with smoky chipotle paste, roast garlic, smoked paprika and coriander. The spicy taco cups deliver a real chilli kick and crispy texture, claims Morrisons. "The succulent meaty pork meatballs are well seasoned with a meaty juicy texture and topped with a rich and smoky tomato salsa that compliments the meatballs perfectly," it says. The party treats go on sale from 15 November.
Christmas dinner centrepieces
The Best Crackling Sweetcured Gammon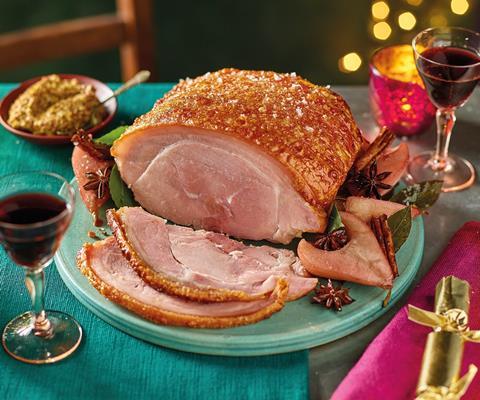 £15/2kg
This hand-scored, sweetcure British gammon joint with succulent crispy crackling serves 10 to 14 people, says the retailer. It will be available from 29 November.
The Best British Lamb Rolled Leg with a Sticky Bourbon and Orange Glaze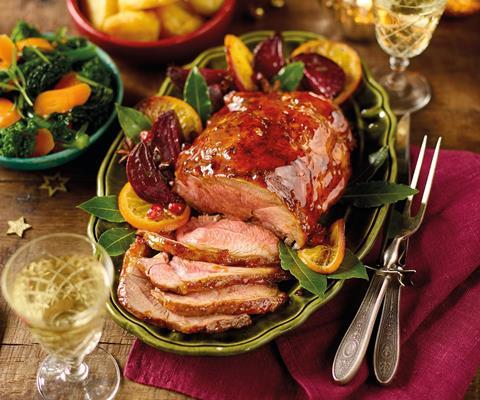 £15/930g
Tender British lamb leg, coated with a sticky bourbon, honey and orange glaze. It serves four and rolls out from 15 December.
The Best Pork Porchetta Sage and Onion Rub with Festive Bramley Apple Spiced Sauce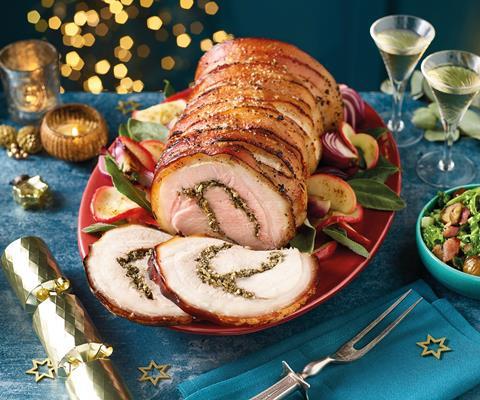 £15/2kg
Morrisons' The Best Porchetta Joint is a loin and belly of pork hand-rolled and stuffed with a traditional sage and onion rub. The porchetta has a hand-scored crackling, which, when cooked, gives the product even more flavour and the perfect crispy characteristic, says the retailer. It is served with a festive spiced bramley apple sauce to complement the traditional flavours of the pork and stuffing. It will go on sale from 15 December.
Vegan Roast Joint with Herb & Onion Stuffing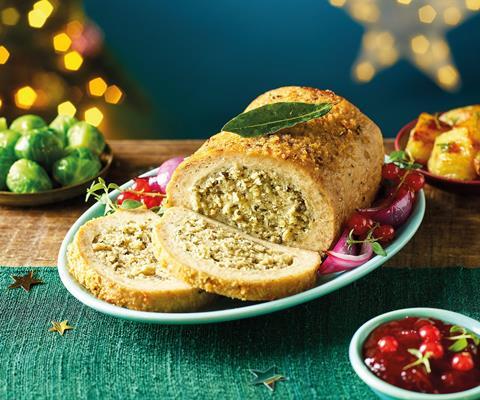 £5/500g
A "succulent" soya joint encases a centre of caramelised onion, parsley, sage and thyme stuffing. Topped with paprika gluten-free bread crumbs and a bay leaf, it serves two and goes on sale from 21 December.
The Best Lamb Guard of Honour with Cranberry & Sloe Gin Glaze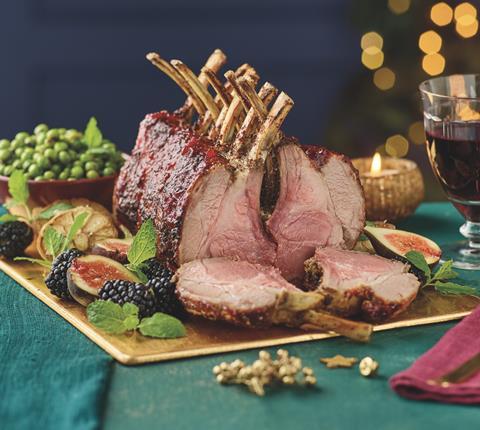 £25/1.12kg
British lamb with a festive orange and juniper crumb and a sweet cranberry and sloe gin glaze. Morrisons has billed it as a festive showstopper for any Christmas occasion. It serves four and hits stores from 15 December.
The Best Pork Loin Joint with Festive Salt and Pepper rub and Basting Butter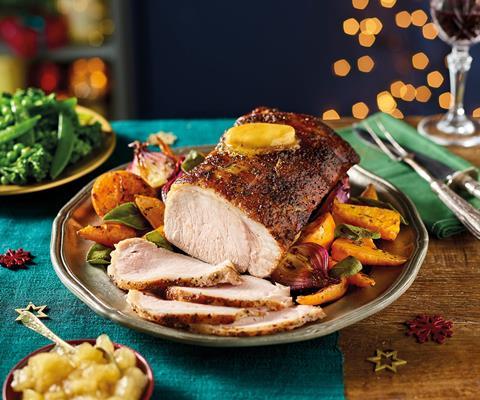 £10/1kg
The Best Pork Loin joint is seasoned with a savoury salt and pepper rub that has been subtly spiced with festive flavours such as cinnamon, clove, ginger and nutmeg. Cooking instructions dictate that towards the end of the cooking time, the basting butters should be added to enhance the savoury flavours of the meat and add to the texture. It rolls out from 15 December.
The Best Easy Carve Duck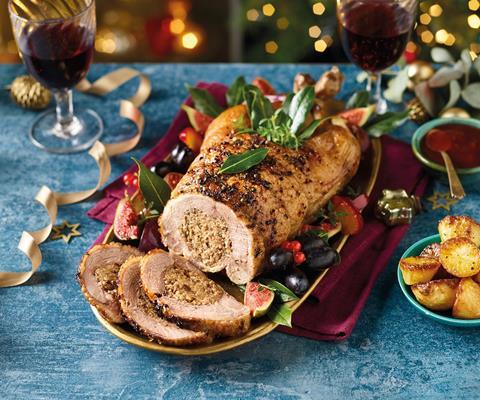 £20/1.39kg
An easy to carve, ready to roast duck with pork and plum stuffing with a plum, caramelised onion and port glaze. It serves from four to six people.
Sides
The Best Honey & Mustard Baby Parsnips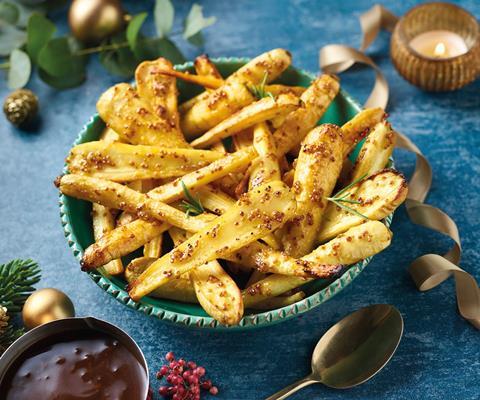 £3/600g
Sticky-sweet parsnips with a honey and mustard coating. The packs serve up to four people and roll out from 15 December.
Morrisons The Best Apple & Cranberry Parcels Wrapped In Bacon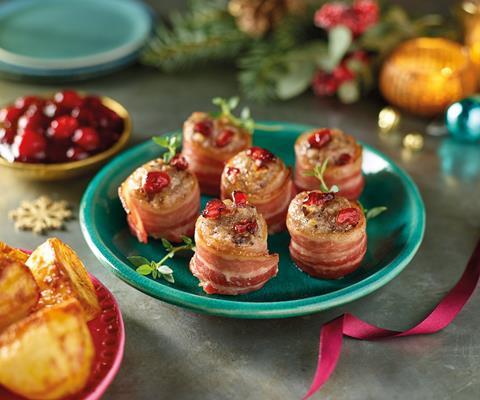 £3/300g
These packs of six pieces of gluten-free pork, apple and cranberry sausagemeat wrapped in smoked bacon go on sale from 29 November.
The Best Sage & Onion Stuffing Balls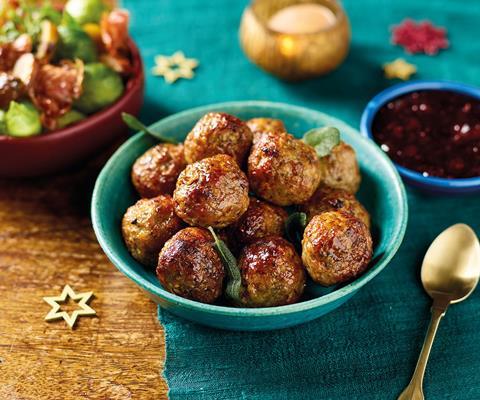 £3/360g
Morrisons says the pork, sage and onion stuffing balls have been "expertly seasoned" for well-balanced flavour, with a "delicious" melt-in-the-mouth texture. They come in packs of 12 and go on sale from 1 December.
Desserts
The Best Salted Caramel Choux Stack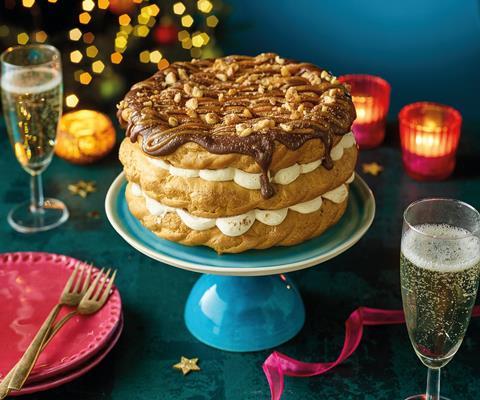 £8/644g
This luxurious dessert is comprised of three layers of crisp choux pastry, filled with a rich and buttery salted caramel sauce and lashings of whipped British salted caramel cream. This is generously topped with Belgian chocolate ganache and hand-piped salted caramel sauce, before being finished with crunchy honeycomb pieces and a light dusting of gold sparkle. It will be available from 4 October.
The Best White Chocolate and Passionfruit Buche
£7/419g
Morrisons calls its buche a "wonderfully rich and fluffy white chocolate mousse", topped with a tangy passionfruit conserve finished with white chocolate shards. Available from 21 December.
The Best Billionaires Cheesecake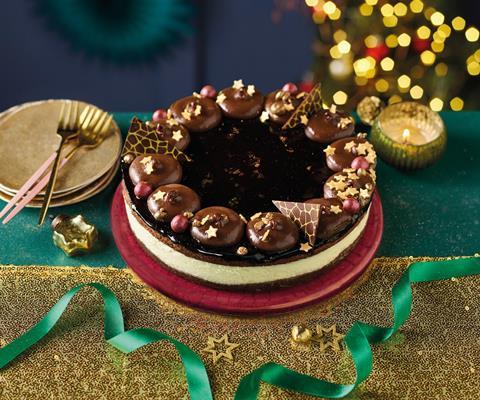 £10/1.13kg
A rich Belgian chocolate sponge, big enough to serve 10 people. It is layered with caramel and finished with crunchy honeycomb pieces and a dark chocolate glaze. Available from 6 December.
The Best Raspberry And Amontillado Sherry Trifle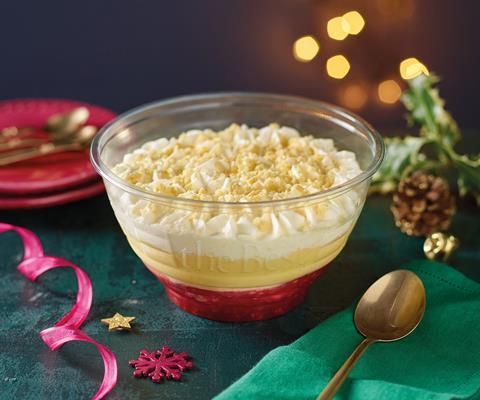 £7/900g
Glittering raspberry sauce, layered with sherry and boudoir biscuits, vanilla custard and British cream, hand-finished with golden shimmer. It serves six and goes on sale from 15 December.