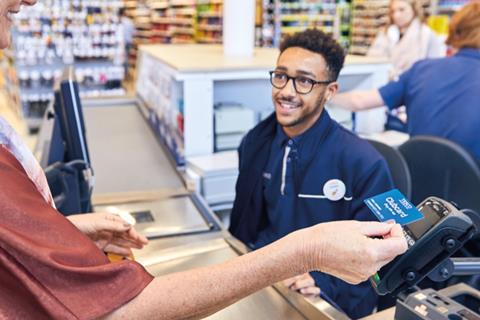 Tesco has announced a two-year pay deal which will see its store and warehouse staff hourly rates raise by 10.45% over the next two years.

The deal, which will put Tesco staff on £9.30 an hour by October 2020, will also mean that from September this year staff will receive the £9/hour Living Wage.

However, Tesco announced the deal would see its colleague bonus plan replaced by the higher hourly rate.

It will mean a 6.9% increase from the existing £8.42/hour on 1 September, then a rise of a further 3.3% from 4 October 2020.
Tesco said the deal would provide more certainty for hourly-paid store and CFC colleagues in their take-home pay and it also stressed it was bucking the trend across the retail sector, by continuing to offer premium payments, in the form of time and a quarter, for Sunday and bank holiday shifts.

"We are delighted we have been able to offer our colleagues a pay increase of over 10%, despite the significant economic challenges and uncertain times many retailers are currently facing," said Tesco UK CEO Jason Tarry. "Together with our other colleague benefits, it makes our total reward package more competitive than ever before."

Usdaw said the announcement was a "significant" increase for Tesco staff.

"Usdaw has negotiated a two-year pay deal with Tesco that amounts to over 10% and will take the basic rate to £9.30 per hour by October next year," said national officer Pauline Foulkes. "This significant increase, which includes the incorporation of the colleague bonus into hourly pay, means the basic rate will be equal to the current real Living Wage rate of £9 per hour by September this year. We continue to work towards a £10 per hour minimum as set out in Usdaw's Time for Better Pay campaign."

Tesco's move means its staff outside of the capital will earn just 10p per hour less than Aldi, which in January raised its store assistants' minimum hourly wages to £10.55 within the M25 and £9.10 elsewhere in the country, up from £10.20 and £8.85 respectively.

Lidl pays £10.55 in the capital, with the rest of the country's staff on £9, but both discounters offer other staff benefits.
How the supermarkets compare on pay
Employer Hourly rate

Aldi £9.10

M&S £8.75

Morrisons £8.70

Asda £8.67

Iceland £8.38

Ikea £8.75

Lidl £9.00

Sainsbury's £9.20

Tesco £8.42 (£9 from 1 September)

Co-op (CEA Agreement) £8.37

Co-op Group £8.57

Waitrose £8.93