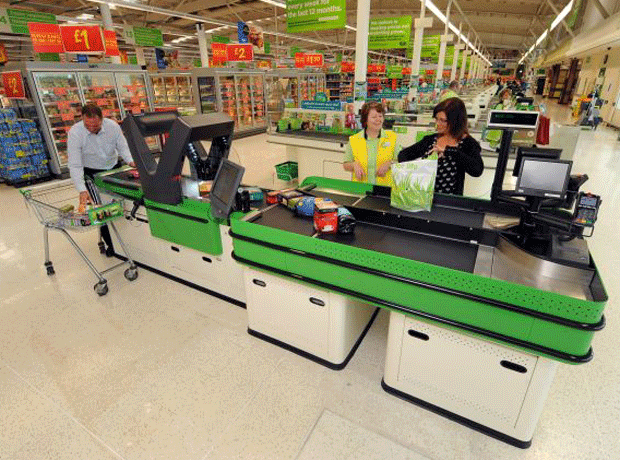 Asda is consulting on the future of 5,000 in-store jobs, in the latest phase of CEO Andy Clarke's project Renewal process.
The retailer said it was considering plans to close down in-store George clothing counters, sell its Photo Centres to a third party and do away with fresh pizza counters in its smaller stores, on top of the proposals revealed by The Grocer earlier this week to scrap all staff canteen facilities.
Staff have been given 45 days to respond to the plans and Asda refused to put a number on the possible redundancies.
"This is a consultation all about making sure our stores are fit for purpose and are working as best they can for customers," said a spokeswoman.
"It's not the same as saying that 5,000 jobs are at risk and we are considering plans including the re-deployment of staff in other roles."
Asda is also planning to remove the position of Selling Champion within stores and remove George desks to reallocate space and introduce increased ranges, following a trial which it said had received positive feedback. It is also planning to cut its in-store pharmacy hours.
Asda said the 'create your own pizza' offer was not being as widely used its supermarkets as it was in its larger stores, with time-pressed customers preferring to buy pre-packed products. It blamed changing market conditions for the planned Photo centre sell-off, with consumers having moved online.
It is the latest development in a bleak week for Asda staff, after 200 lost their jobs on Monday alone in a major restructure of its HQ management, with up to 600 more having been given until Friday to decide whether to accept new roles.
The spokeswoman said: "2015 was a tough year for UK supermarkets and Asda is no exception.
"The structure of UK grocery retailing has permanently changed to reflect the way that customers shop today. We know our customers better than anyone else and we need to make sure that our offer meets their changing needs.
"We have entered into a [45 day] consultation with our store colleagues on proposals which we believe will enable us to react more quickly by becoming a leaner and more agile business. These proposals are designed to make our stores easier to shop in and be more effective in delivering the low prices, quality and good value which customers tell us they want."
Asda added that staff who face losing their canteens would not be left without any facilities, saying there would be provision for colleagues bringing in and making their own food, including fridges and microwaves.