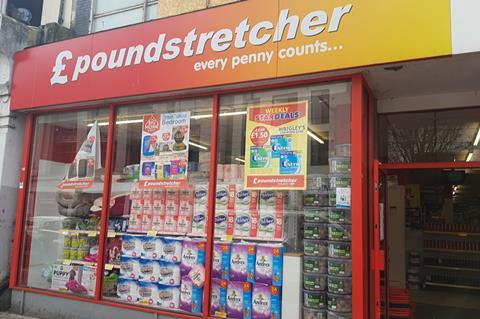 Poundstretcher shed over 1,000 retail staff – about one in five shopworkers – in the year to 31 March 2022, its latest full-year accounts show.
The variety discounter employed on average 3,643 retail staff during the year, down from 4,645 in the previous 12 months.
Including administrative staff, the average number of employees fell from 4,978 to 3,934.
At the same time, the retailer's estate shrank by 17 stores to 354. The majority of the stores closed were loss-making and exited as part of a company voluntary arrangement (CVA) – a restructuring process which Poundstretcher entered into in 2020.
Turnover fell 16%, from £325.3m to £273m, while profit before tax shrank from £88m to £11.7m.
Payroll costs
Alongside the 20% fall in workforce, payroll costs dropped by 14% to £45.1m as Poundstretcher raised wages by 10% for eligible staff in order to keep the rate above the national living wage.
Poundstretcher embarked on sales promising 50% off everything in an increasing number of stores in early 2022, as reported by The Grocer at the time.
A section on post-year-end trading in the accounts notes that "significant promotional activity across the estate" began in the latter weeks of Poundstretcher's full financial year 2021-22 and ran into the first half of the financial year 2022-23, leading to 60% sales growth.
"However, the national challenges around lorry driver shortages and global challenges around container shortages impacted our ability to maintain stock levels, which resulted in a number of stock shortages across the estate," the accounts said.
The stock shortages led to some losses during the first half of 2022-23 and as a result "the company reduced the level of promotional activity and returned to a more normalised margin position".
Profitable
That led to a strong performance in quarters three and four, helping the company remain profitable for the full year 2022-23, albeit at a lower level thanks to the losses in half one, the accounts added.
Poundstretcher completed the CVA – in which it sought rent reductions from landlords of a number of stores – by October 2022.
Poundstretcher did not provide The Grocer with a comment.
Last week it emerged Poundstretcher's latest CEO, Derek Lawlor, had exited the business within 10 months of his appointment, becoming the latest in a string of senior figures to last a year or less with the retailer.
Poundstretcher owner Aziz Tayub put Lawlor's departure down to a difference of opinion.