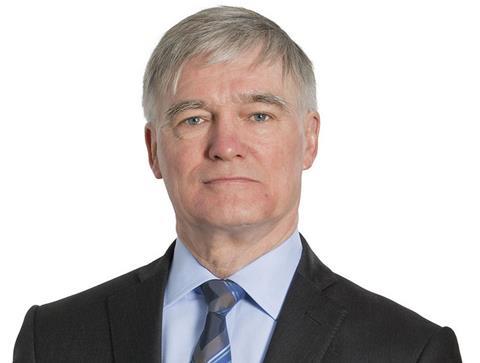 The position of Tesco chairman Sir Richard Broadbent is coming under fierce scrutiny after the latest events to hit the retailer rocked the City.
Following the decision to suspend four senior executives, thought to include UK MD Chris Bush, triggered by the discovery of a £250m profit overstatement, analysts said it was further evidence of mismanagement at board level.
Read more on Tesco.
John Scouler, Tesco's food commercial director, UK finance director Carl Rogberg, and Matt Simister, the head of food sourcing, are also believed to have agreed to stand aside during the investigation, leaving a huge void in Tesco's senior management team.
"We are very critical of the Tesco Board, and in particular its chairman, who has over seen a considerable diminution of the group's earnings, a failed strategy in the UK and now a potentially calamitous internal finance issue," Clive Black, analysts at Shore Capital, told The Grocer.
"Succession planning at Tesco has been non-existent and a lop-sided board needs restructuring. It is for shareholders to decide who does what but we believe that the chairman's position is untenable from our side of the fence.
"There is a need for some leadership and accountability otherwise this circus maybe perpetuated."
Bruno Monteyne, senior analyst of European food retail at Bernstein, also felt Broadbent would come under pressure to step down.
"There has clearly not been sufficient oversight and the accounts have become overly stretched," said Monteyne. "This has all happened under the watch of Sir Richard Broadbent."
David Gray, analysts at Planet Retail, added that he believed the chairman's position was "untenable" and that today's events indicated Broadbent had "not being doing his job properly".
Broadbent denied that today's revelation had been the result of administrative blundering at the top at Tesco, although analysts have said the decision to hand the the investigatory work to Deloitte, not auditors PWC, could be significant.
Broadbent said today: "Clearly something has happened which the normal procedure even when done very vigorously has failed to pick up."
Broadbent also denied that the bombshell events were proof that Tesco had mishandled the departure of former CEO Philip Clarke's prolonged departure, or that of former CFO Laurie McIlwee.
Analysts have accused Broadbent of allowing a power vacuum to develop at Tesco, despite the decision to parachute Dave Lewis in a month earlier than expected.
"There have to be huge question marks about the handling of the business right at the very top," said one source.
"Such an announcement [as today's] is not the stuff of a well operated FTSE-100 organisation," added Shore Cap's Black.