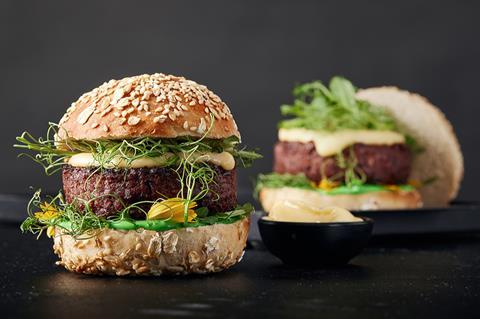 Israeli food tech company Redefine Meat has confirmed it will launch its range of 3D printed vegan meat alternatives in the UK before the end of the year.
The alt-meat business – which launched its range into selected Israeli restaurants and hotels today – said its lineup would hit the same channels in the UK, Germany and the Netherlands by the fourth quarter of 2021. A second phase rollout into retail and DTC was planned for 2022, it added.
Using standard plant-based ingredients such as soya, pea protein and coconut oil, Redefine Meat's products vary from traditional meat alternatives by using the ingredients to replicate the molecular make-up of standard meat, which are then produced, dot-by-dot, by its proprietary 3D printing technology.
The Tel Aviv-based company's range includes what it is describing as the "world's first" 3D-printed premium restaurant-style burger; an artisan sausage; a meaty puff pastry cigar; a ground-beef-style product developed for open flame grilling; and finally, developed over two years "in stealth mode" – a lamb kebab product.
Redefine Meat said it was also planning to launch its first "whole cut" of 3D-printed meat by the end of the year "providing meat lovers and chefs high-quality new-meat alternatives for the entire cow for the first time".
It said the range "goes beyond today's alt-meat products" and delivered "unparalleled taste and texture".
"Launching our first product portfolio represents a big step in our mission to become the world's largest meat company and accelerates our ability to bring to market our further innovation later this year," said Redefine Meat CEO and co-founder Eshchar Ben-Shitrit.
"Each product in the range and the ones to follow are born from our understanding of meat at the molecular level, extensive R&D and technological innovation, which combined provides us the ability to create any meat product that exists today.
"This has been critical to achieving a superiority in taste that honestly, we did not even expect, and the technological versatility to do what no other has done – replace every part of the cow with tasty plant-based meat."