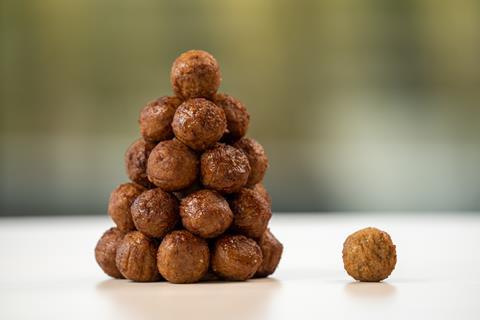 Ikea has announced it will introduce a plant-based version of its famous meatballs from August.
The vegan Plant Balls will be available to buy from the frozen aisles of the flat-pack furniture giant's Swedish Food Markets (rsp: £2.75/500g) and bistros (£1.50/per portion) from 3 August.
Made from yellow pea protein, oats, potatoes, onion and apple, Ikea claims the Plant Balls will offer consumers the same taste, look and bite as their current meatballs but will have just 4% of the 'climate footprint'.
Ikea said the term was "wider and more comprehensive" as it includes the emissions of seven greenhouse gases, including CO2, as well as the impact of deforestation and change in land use.
The move comes as the company seeks to become 'climate positive' by 2030, a target which includes the aim of making a fifth of its food sales plant-based by 2022.
"We are committed to having a positive impact on people and the planet," said Ikea UK & Ireland country sustainability manager Hege Sæbjørnsen.
"In order to reduce the climate footprint of the total Ikea business, including our food business, and make climate friendly, delicious food available for everyone, we are making sure meat alternatives are an easy, desirable and affordable choice."
The plans to become 'climate positive' would also see it reduce greenhouse emissions by more than it emits through its supply chain and involve the adoption of a circular model in its design processes.
At the beginning of July, it was one of 20 major retailers to sign up to the BRC's Climate Roadmap – a declaration aimed at finding ways to tackle the causes of climate change.