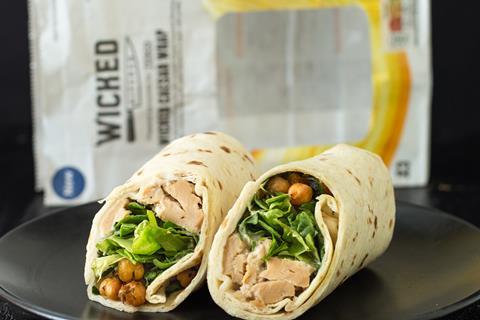 Tesco has added a first pea protein-based product to its plant-based Wicked Kitchen range.

The retailer rolled its Wicked Caesar Wrap, containing pulled pea protein tenders, a caesar dressing, chickpea croutons and salad greens, into more than 1,000 stores last week (rsp: £3).

The product would be the first of many containing pea protein to go on sale over the coming months, said Tesco director of plant-based innovation Derek Sarno.

He added that Good Catch, the pea protein-based fish alternative brand launched by Sarno and his brother Chad in the US in February, would also go on sale in Tesco by the start of next year.

Pea Protein is the key ingredient in a range of vegan products such as Beyond Meat's Beyond Burger and Birds Eye's new Green Cuisine brand.

The ingredient's popularity as an alternative to soya means sales are expected to quadruple by 2025, according to a Bloomberg report in May, with most of that increase stemming from more consumption of plant-based meat alternatives.

"The things we can do with pea and legume proteins these days is incredible for the plant space," Sarno told The Grocer. "We can create quality taste and textures similar to the look and feel of meats and seafood with as much or more protein," he said, while "removing animals from the equation".

It comes as the brand has launched a new Wicked Kitchen series on YouTube, which sees Sarno share new plant-based recipes to follow at home.

The Wicked Kitchen range now numbers some 24 SKUs on the Tesco website, down from 40 lines before Christmas. Sarno stressed the range was "in constant development", adding not all of the brand's products were listed online.