The fishing industry looks set to come under particular scrutiny this World Oceans Day (8 June), following claims by Netflix's Seaspiracy documentary that there is no such thing as sustainable fishing. This controversy is leading some environment-conscious consumers to cut down on fish in their diets and turn to vegan alternatives instead. Here are the 'fishless' products looking to take the place of the real thing.
Birds Eye Green Cuisine Fishless Fingers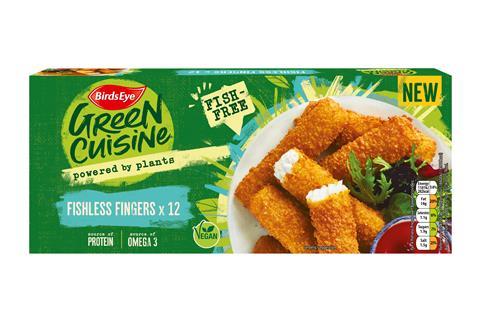 A brand famous for its "iconic" fish fingers, Birds Eye is moving into fish alternatives for the first time with its latest NPD. Touted as a source of protein and omega-3, Fishless Fingers (rsp: £2.50/12-pack) are the first product in the Green Cuisine range to use rice protein. Landing in Sainsbury's at the end of June, the product is "an important addition to our plant-based offering", according to Birds Eye's senior marketing manager Jess Ali. "We're hopeful they will be as popular with family members as our beloved fish-based products," Ali added.
Finnebrogue No Fish Goujons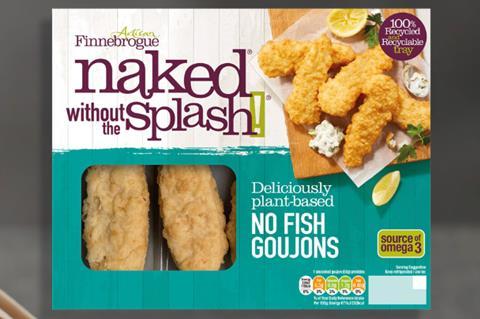 Almost a year after first expanding into plant-based, Finnebrogue Artisan has made its debut in vegan seafood-style products. Launched under a new brand called Naked without the Splash, its battered No Fish Goujons are made from potato flakes, rice flour, vegetable fibre and lemon juice and are said to be a source of omega-3. The product went on sale in Sainsbury's and Morrisons in April (rsp: £3/250g).
Vegan Zeastar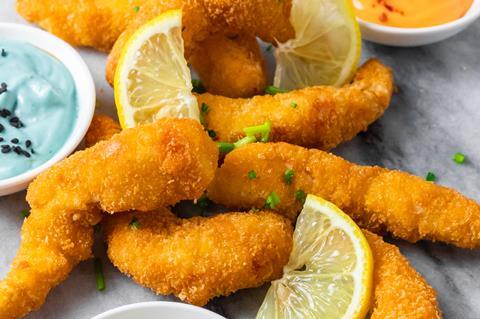 According to Netherlands-based brand owner Vegan Finest Foods, Vegan Zeastar makes fishless products that are "mind bogglingly realistic and ocean friendly", with "tastes and textures that perfectly mimic their fishy counterparts". Its UK range features alternatives to sashimi salmon and tuna, which can be found at online store Vegetarian Express (rsp: £9.29/310g), as well as Kalamariz and Shrimpz, which are stocked in Ocado (rsp: £4.95/250g).
Strong Roots Veg Fingers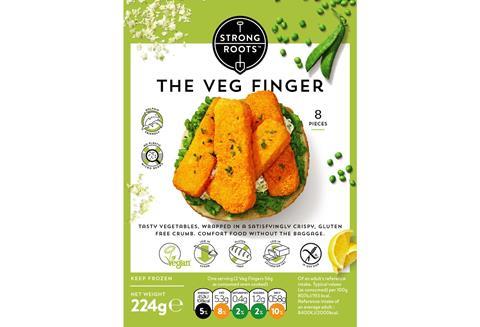 Frozen veggie brand Strong Roots is encouraging shoppers to "give fish the finger" with the help of its new Veg Fingers, which it unveiled in May. It said the product was aimed at a growing number of shoppers who have become disillusioned with the fishing industry, and are therefore looking to cut down on fish in their diets. The fingers are made from a mix of vegetables, including cauliflower, parsnips and onions, coated in gluten-free crumbs. They are stocked in Planet Organic, Waitrose and Sainsbury's. ⁠
Moving Mountains Plant-Based Fingers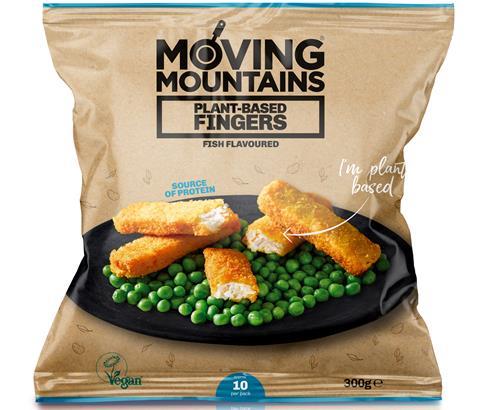 "Our tagline is there is not enough fish in the ocean," said Moving Mountains founder Simeon Van der Molen at the end of last year, when the brand made its first move into fish-style products. Billed as not only tasting just like fish but also mimicking its flaky texture, the brand's Plant-Based Fingers are made using white soy, which achieves the colour and texture of fish without the need for whitening. They are available in Waitrose's frozen aisle (rsp: £3.60/300g).
Fry's Fish-Style Fillets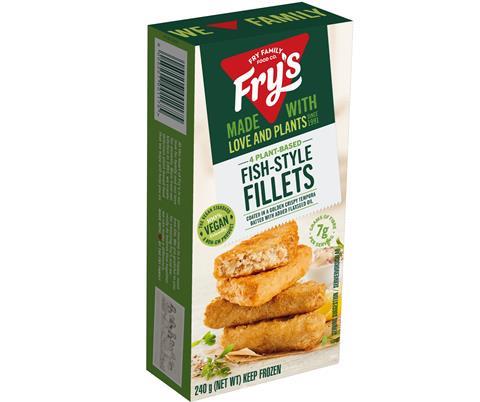 Claiming to contain more omega-3 than tuna, Fry's Fish-Style Fillets landed in Iceland earlier this year (rsp: £2.50/240g). The vegan brand's range also includes Battered Prawn-Style Pieces, which are made from soy protein and flavoured with lemon zest and nori.
Quorn Fishless range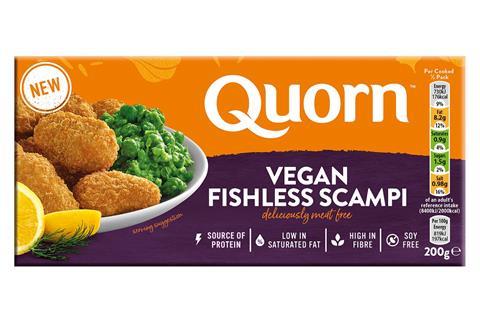 After five years of development, meat-free giant Quorn launched a duo of fishless fillets in 2019. The vegan fillets, available in Salt & Vinegar Batter and Lemon Pepper Breadcrumb variants, are joined in supermarket freezers by the brand's Fishless Fingers and Fishless Scampi. All four lines are soy-free and made from mycoprotein.
Good Catch
US plant-based brand Good Catch first landed on UK shores last year, when its trio of tuna alternatives went on sale in Tesco. The fish alternative, which is made from a blend of peas, chickpeas, lentils, soy and beans, is available in Naked in Water, Oil & Herbs and Mediterranean variants (rsp: £2.50/94g). The brand has also revealed plans to significantly expand in the UK, after three new products went on sale across the pond. Good Catch hoped its new breaded fishless fish Sticks, Fillets and Crab Cakes would launch on the UK market "before the end of 2021".