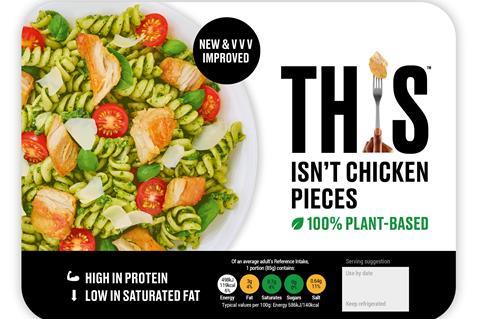 This has reformulated its chicken alternative line and cut the number of ingredients in the product by 50%.
This Isn't Chicken Pieces (rsp: £3.30) has been revamped over the past 18 months to create what it said was its "chicken-iest tasting pieces yet".
The meat-free brand has simplified the product's recipe using fewer ingredients, with the product now primarily made of soya and fava protein, removing pea protein and other additives.
Using its extrusion technology, This claims to have created its most fibrous texture yet, high in protein and fibre but low in saturated fat and lower in salt than competitor products.
"This recipe is now so similar to chicken, I wouldn't be surprised if Mel Gibson wanted to do its voiceover," said co-founder and co-CEO of This, Andy Shovel – referring to animated film Chicken Run.
The new product will be rolling out from 10 November in Waitrose, Sainsbury's, Morrisons, Tesco and Asda as well as online in Ocado.
This continues to see steady growth: the brand expects to hit £20m in revenue this year, over 50% up versus the previous year's performance.