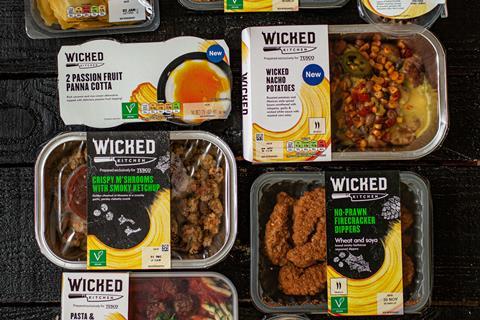 Plant-based supplier Wicked Foods has unveiled a tranche of NPD for Christmas, Veganuary and beyond, alongside a plan to expand internationally.
The supplier's Wicked Kitchen and the Tesco Plant Chef brand developed by its co-founder Derek Sarno have had a total of 22 new products listed exclusively in the retailer's stores across its chilled, frozen and ambient aisles.
Most of the products have been designed for the festive season, with party dishes such as the wheat and protein-based Wicked No-Prawn Firecracker Dippers (rsp: £4/240g) and Plant Chef's No Moo-zzerella Sticks (rsp: £3/200g) going on sale this week.
Accompanying them were 10 new 'all-year-round' products from both ranges, including a trio of Wicked Mayonnaises (rsp: £1.40/265g) and the brand's first move into ice cream with three lupin bean protein and coconut oil-based variants (rsp: £2/500ml).
"These Christmas party food favourites and plant-based centre pieces are the stars of the show," said Wicked's co-founder Derek Sarno.
"We have taken the Christmas classics and added our wicked twist [and] we also have our Plant Chef range to help make easy and simple swaps into plant. We work hard to deliver the best quality plant-based products with absolutely no compromise."
It comes as Wicked Foods prepares for an international rollout over the next year, starting with the Wicked Kitchen brand's launch in Sarno's native USA.
Conversations with retailers were already taking place, he said, adding Wicked Kitchen was also seeking a presence in European supermarkets as sought to become a "global plant-based lifestyle brand".
"We will offer some shared and dedicated SKUs by region and retailer and will tailor our strategy with each retailer [to ensure] the same consumer excitement," Sarno said.
Earlier this year, Wicked launched eight meal kits into Tesco which has exclusively stocked its products since the beginning of 2018.