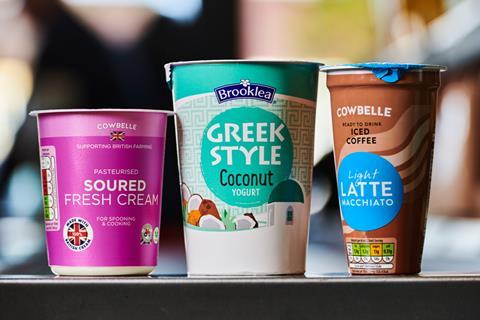 Aldi is removing plastic lids from own-label fresh cream and ready-to-drink coffee in a move it says will eliminate 34 million pieces of plastic a year.

From next month, the discounter will sell the products without the "unnecessary plastic lids" in 780 stores across England and Wales.

It will also trial removing the plastic lids from its large Greek-style flavoured yoghurt pots. If successful, it will do the same for 500g yoghurt pots, saving another 34 million pieces of plastic, it said.

The steps are part of Aldi's work to cut down on plastic packaging by 25% by the end of 2023.

"We are committed to cutting the amount of plastic that Aldi and our customers use, particularly unnecessary, single-use plastic like secondary lids," said Fritz Walleczek, Aldi MD of corporate responsibility.

"Every step like this brings us closer to our target of reducing the amount of plastic we use in packaging by 25%."

Aldi has committed to making all own-label packaging recyclable, reusable or compostable by 2022. So far it claims to have removed more than 2,200 tonnes of plastic and replaced almost 3,000 tonnes of unrecyclable material with recyclable alternatives since 2018.

The supermarket has also heaped pressure on suppliers over plastic. Earlier this month, The Grocer revealed Aldi UK CEO Giles Hurley had written to suppliers warning future buying decisions would be based on their ability to keep up.