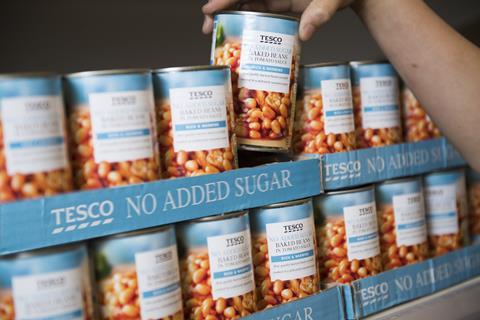 Tesco has announced it hit its target of removing a billion pieces of plastic from its UK business in 2020 after working with suppliers to ditch unnecessary packaging.
The move follows meetings Tesco held with suppliers under its 'four Rs' – remove, reduce, reuse & recycle – strategy, which resulted in a raft of plastic packaging being blacklisted by the supermarket.
Packaging removed during the year included plastic shrink wrap in branded and own-label tinned multipacks such as soup, tinned tomatoes and sweetcorn; secondary lids from yoghurts, fresh cream, picnic salads and baby wipes; and plastic wraps from branded and own-label greetings cards.
The retailer also scrapped small plastic bags used to pack loose fruit, vegetables and bakery items.
Tesco said its move to become the first UK retailer to remove plastic wrapped multipacks from its stores and sell loose cans at the same had saved 67 million pieces of plastic annually.
Since the launch of the four Rs strategy in August 2019, Tesco said it had reduced the size of its annual packaging footprint by 3,480 tonnes.
"Our own-label and branded suppliers have had a lot to contend with in 2020 so removing a billion pieces of plastic is fantastic progress," said Tesco quality director Sarah Bradbury.
"Our work to remove, reduce, reuse and recycle will continue into 2021 – there is no place for unnecessary or non-recyclable packaging in our business."
Paula Chin, sustainable materials specialist at the WWF, said: "Plastic pollution continues to be one of the most visible symptoms of the environmental crisis we're currently facing.
"Businesses, governments and households have all got an important part to play, so it's encouraging to see Tesco delivering against their commitments to significantly reduce the amount of plastic we use. We look forward to welcoming further initiatives of this scale in 2021 and beyond."