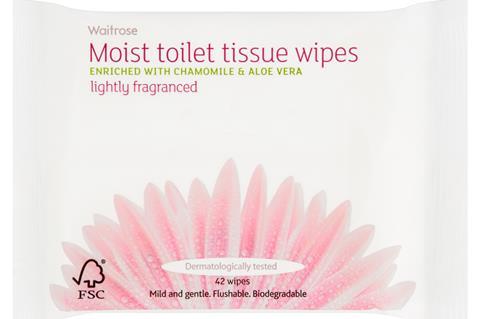 Waitrose has achieved 'Fine to Flush' certification for its own-label wet wipes, which is says makes it the first UK supermarket to do so.

Its Waitrose fragrance-free moist toilet tissue refills and own-label lightly fragranced moist toilet tissues will now carry the standard, which Water UK introduced in January.

The two plastic-free products are available from today and will soon carry the certification scheme's logo as proof that they break down quickly and easily in sewers.

Waitrose said it continued to work towards meeting guidelines to ensure the rest of its own-label flushable wipes met the new specification.

Wipes not designed to be flushed are already clearly labelled 'do not flush'.

"Wet wipes have become increasingly commonplace in UK households so it's an issue we have to tackle and have been working on with our suppliers for some time," said Waitrose head of corporate social responsibility Tor Harris.

"We know we still have more work to do, but this is a big step forward and gives us a platform to build on for the rest of our range."

Dr Laura Foster, head of clean seas at the Marine Conservation Society, urged other retailers to follow suit, as well as major international brands.

"Customers need to know that when they are instructed to flush, the product really is safe for UK sewers and won't contribute to blockages and fatbergs," she added.