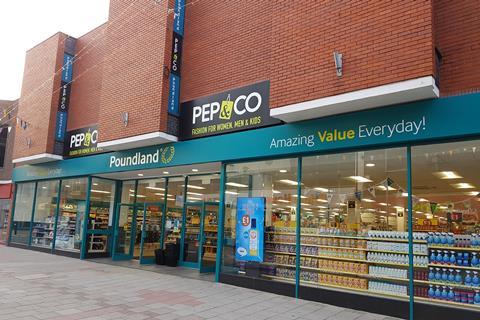 Poundland hopes to shave €20m (£17.1m) off its rent costs over five years, having already squeezed 36% savings from landlords in talks so far.
Poundland has been driving hard for better rent deals in the pandemic, pushing for more favourable terms with every lease renewal.
Annual accounts from parent Pepco Group filed at Companies House have revealed the scale of savings for the high street discount chain.
Poundland successfully renegotiated 180 leases in the two years to 30 September 2020, "with an average reduction in excess of 36%", Pepco Group CEO Andy Bond said.
Poundland has about 750 stores in the UK and about 60 in Ireland under its sister brand Dealz.
Rent was Poundland's biggest operational cost at £101m a year, but the business was "confident there remains a significant opportunity to negotiate more favourable lease terms", Bond said.
"The majority of Poundland leases (55%) will experience a lease event in the five years ending 30 September 2024, reflecting the average remaining lease tenure of 3.1 years and representing a cost reduction opportunity of circa €20m," he said.
Shop vacancy rates and a ban on evictions and rent debt enforcement have tipped the balance of negotiating power to occupiers in the pandemic.
Poundland has been pushing for more favourable terms such as shorter leases, making it easier to leave should footfall decline or cheaper sites arise thanks to falling property values. The chain has resisted a trend towards rent based on a retailer's turnover, preferring instead fixed payments at more competitive rates.
"In all situations we will seek to maximise flexibility within the new lease with a short lease commitment and tenant-only break clause within the initial lease period," the accounts said.
The 36% reduction on 180 leases is likely to equate to ongoing annual saving of over £10m.
Poundland is in the process of rolling out frozen and chilled food ranges to hundreds of stores over two years, having acquired Fultons Foods in October.
The business would consider relocating at every lease expiry, dependent on whether the evolving offer still suited the site, the accounts said. "If the centre of gravity has shifted in the catchment, or the store is the wrong size to present our revised proposition, we will re-site the store within its catchment."
The Grocer revealed last month that a major landlord had criticised Poundland for not paying rent in the latest lockdown period. The retailer is classed as essential and permitted to remain open under lockdown, though 44 stores were closed temporarily from January as footfall declined. Rent arrears had built up on both open and closed stores, the landlord said.
However, a Pepco trading update also recently highlighted the impact to Poundland sales during last year's initial lockdown period. Poundland stores that stayed open saw sales plummet to 60% of normal levels over a period of four weeks.