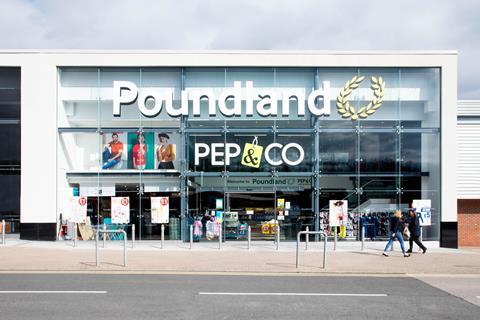 Poundland stores that stayed open in last year's initial lockdown period saw sales plummet to 60% of normal levels, according to newly filed full-year accounts.
In March, the variety discounter temporarily closed 130 stores in locations particularly affected by plummeting footfall, or near another branch. "The remaining circa 700 stores traded through significantly reduced visitor numbers, particularly in shopping centres and high street locations, at circa 60% of expected sales levels for a period of four weeks," according to accounts from parent Pepco Group for the year ending 30 September 2020.
Across the group, which includes Pepco and Dealz, sales nevertheless rose 3% to €3.5bn as store openings and strong trading in other periods helped offset the impact of lockdowns. The business opened 327 stores net in the period, taking the total across 15 countries to 3,021. Dealz – Poundland's sister brand in Europe – opened 43 stores, in Poland and Spain.
However, underlying EBITDA dropped 31% to €229m "primarily related to temporary Covid-related store closures, particularly in central Europe, from April to June 2020". Pepco, which sells clothing and homewares, did not qualify as an essential retailer, leading to closure of over 1,000 of its 1,930 stores during the final week of March.
Poundland and Dealz' operating costs were 2% higher than the previous year, while the chains continued to drive operating costs efficiencies "focusing principally on store rent and programmes to reduce logistics and head office costs". The increasing costs base offset government aid such as business rates relief.
Internationally, the group plans to open another 400 stores in the current financial year, while in the UK, the Poundland estate is being "refreshed" on a store-by-store basis. As well as gaining frozen and chilled food – an offer shown by research to be popular – stores are due to get more efficient layouts "for example reviewing the balance between manned and self-scan checkouts".
The rollout of frozen and chilled follows Poundland's acquisition of Fultons Foods in October. Some 400 Poundland stores are set for the refresh treatment within two years, the accounts said.
"We anticipate that the consumer backdrop will remain challenging in the short-term," said Pepco Group CEO Andy Bond.
"However, with our strong financial base and established growth strategy within a structurally advantaged discount retail segment, we remain confident about our long-term prospects for continued growth across Europe."
GlobalData analysist Jonathan Rock said: "They've mentioned refitting 400 stores over the next two years to sell chilled and frozen foods, claiming they identified this category is highly desired by Poundland consumers.
"Consumers could be more keen on purchasing groceries from value-focused retailers given the price matching going on from supermarkets currently, upcoming economic uncertainty, and many consumers turning to value-focused retailers for their groceries during the pandemic. Relocation to out-of-town retail parks may also be a part of this optimisation strategy."
The accounts do not mention Poundland's online launch, which the chain said last year would happen "early" in 2021, using a former Cannock store as a fulfilment centre. However, a Poundland spokesman said the plans were still on schedule and the online pilot would "launch as planned in due course".