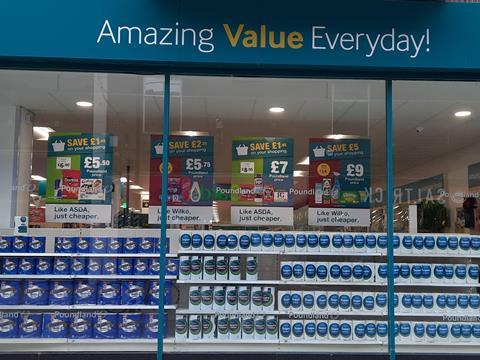 Poundland has launched a price comparison campaign as it continues to position itself as an alternative to the supermarkets.
The variety discounter has been comparing its prices to those of Asda, Morrisons and Wilko on in-store posters.
A spokesman told The Grocer there would "no doubt be more" retailers in the firing line of the campaign as Poundland aimed for more of the weekly grocery shop.
The posters claim a saving of £1.95 over Asda on a tin of Heinz tomato soup, an 80-bag box of PG Tips, a packet of five Cadbury Brunch Bars and a bottle of HP sauce.
A second comparison of branded product prices with Asda, including Red Bull and Doritos, claims a £1.40 saving at Poundland.
The comparisons with Wilko claim a £5 saving on a selection of branded cleaning products and a £2.35 saving on branded toiletries.
Poundland has been undergoing "range revolution", which has seen it introduce chilled & frozen food in hundreds of stores. The chilled & frozen offering is already in over 350 Poundland stores, and set to reach another 275-300 by autumn 2023, which will take it across nearly the whole estate.
"We're continuing to roll out an alternative [to supermarkets] through chilled & frozen food and fresh fruit & veg," said Poundland's spokesman.
The retailer also recently announced the "biggest transformation of its store estate in its 32-year history", with 50 new or relocated shops to be opened by September. The expansion drive is favouring larger units in retail parks to support the evolving full range.