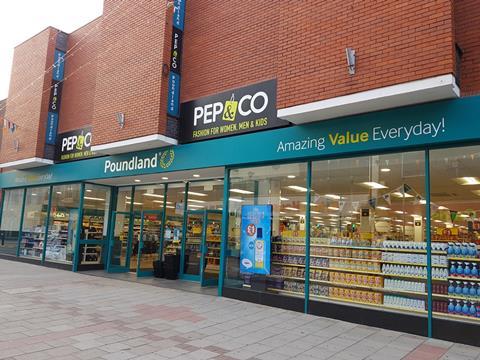 Poundland is gearing up to reopen over 60 stores that were temporarily closed under latest lockdowns across the UK, having already reopened 29 in February.
The stores were 'hibernated' in January as high street footfall plummeted under latest restrictions, leaving most of Poundland's roughly 900 branches still trading as essential shops.
Forty-three Poundlands and 12 standalone Pep&Co clothing branches would reopen across England and Wales as restrictions eased on neighbouring non-essential retailers next Monday (12 April), Poundland said. Six more are set to follow in Scotland, most likely as all non-essential retail is allowed to reopen on 26 April.
Poundland today said returning customers would find an extended grocery range that was launching across the estate from this week, featuring more "day-to-day brands such as Nutella, Marmite and Old El Paso that customers have asked us to stock at amazing value".
Frozen and chilled food ranges, which Poundland is in the process of rolling out after acquiring Fultons Foods in October, had reached 130 stores, the variety discounter said.
Poundland also said a store opening programme would see 25-30 new branches added in the UK and Ireland in the financial year to 30 September 2021. Expansion in the current financial year had already created 400 new jobs, with another 250 to follow, it said.
"It is fantastic news that our high street neighbours are preparing to get back to business – not just other retailers but the cafés, gyms and hairdressers who make our town centres the vibrant places people love," said Poundland MD Barry Williams. "We've missed you and are pleased you're coming back.
"We know too that many will be making their first tentative steps back into their town centres after being away for some time – we can't wait to welcome them and say hello. Come see how we've changed.
"We're cracking on with our transformation programme and our investment in new stores, refurbishments, new ranges and distribution. With the challenges faced by high streets, that's good news for our customers, our colleagues and our communities."