The key figures who have emerged to drive through not only their own interests, but in some cases those of the entire country
Bare shelves, panicked shoppers and angry supermarkets. That was the situation on 6 March, as industry bosses sat down with Defra officials for the first in a long line of emergency meetings.
It could hardly be described as a swift response. Panic-buying had started to take hold a week earlier and, though the UK was still 10 days from lockdown, supermarket shelves were already running on empty.
By this point, the majority of shoppers had started to fear genuine food shortages would emerge if a major coronavirus outbreak gripped the UK and despite health secretary Matt Hancock assuring Question Time viewers that the government was working closely with supermarkets to safeguard supplies for those who were self-isolating, this was far from the case.
The government's initial response was "non-existent", said Iceland MD Richard Walker at the time, and he was not alone. "Defra has been very slow to react," argued another supermarket source.
Defra was not the only department to seem sluggish during the initial stages of the crisis, with businesses left equally infuriated by Public Health England's continued failure to provide guidance on how they could best protect their staff from the virus. And it wasn't as if the outbreak had landed without warning. The government had seen panic-buying and outbreaks sweep across southern Europe for weeks beforehand.
But from that Friday on, the Whitehall machine sprang into action. Daily meetings sprung up between Defra secretary George Eustice, civil servants, and industry bosses to focus on what was needed to keep the nation fed: scrapping delivery curfews, pausing competition law to allow retailers to share data on stock levels, and handing over the official 'shield' list of those in most need of online delivery slots.
So amid all this upheaval, who have been the agents of power in the corridors of Whitehall in helping the food and drink industry cope with Covid? And who will help steer the ship as the industry faces yet another seismic challenge in the form of Brexit?
All the above measures to keep food supply going were introduced under the inclusive leadership of Defra secretary, George Eustice (2), supported by Defra's lead civil servant David Kennedy (3).
But the initial spate of panic-buying also led Defra to look for outside help. At the behest of two supermarket CEOs it recruited Chris Tyas, a former Nestlé executive, to act as an "industry trouble-shooter" (7).
His role is reflective of a new collaboration that has emerged between Whitehall and the food industry. Weekly 'war room' calls have sprung up to "triage immediate issues and focus the resources of the whole industry on their resolution," according to a memo sent out by Kennedy in March, while Eustice himself continues to lead on fortnightly calls with a select group of top trade associations.
"If we're going to survive in the big wide world outside Europe, industry and government need to work more closely"
It's a welcome change to the established way of doing things, which has often seen friction arise between the two camps. "There is still a psyche in this country that government doesn't really trust industry," says one trade body head. "And actually industry is a bit too quick to get exasperated with the processes that government has to go through.
"But if we're going to survive in the big wide world outside Europe, industry and government need to work a lot more closely together. If you watch the really successful trading nations – the New Zealanders, for instance – industry and government officials work hand in hand," the source says.
Cronyism
Still, many believe the government could do more to ensure industry representation. In his time as Defra secretary Michael Gove (1) received widespread praise for his effectiveness, but he was also accused of cronyism – creating a tight-knit network of officials that has driven concerns that the real voices of food supply are being excluded.
Gove's appointments of five non-executive board members in 2018 ignited a row over Whitehall impartiality, with Gove accused of turning supposedly independent directors into an extension of the network of political special advisers.
Many of the new faces did indeed have ties with Defra ministers. Henry Dimbleby, co-founder of restaurant chain Leon, was appointed to lead on a landmark review of the nation's food system "from field to fork", for example, and while his experience heading up Leon and The Sustainable Restaurant Association gave him strong credentials to devise an independent National Food Strategy, he was also a close friend of Michael Gove with their families having spent holidays together.
Gove also appointed Ben Goldsmith, a financier and brother of Defra minister Zac, who has unnerved farmers with his affirmed brand of environmentalism. Goldsmith has known Gove since he was 15, and donated significant sums to the MP himself. Ian Cheshire, meanwhile, a government non-executive and chairman of Goldsmith's company, sat on the selection panel.
"When you look at non-execs in Defra it's a pretty grubby business," says one senior farming source. "I can remember when the chairman of the [non-exec] committee was Iain Ferguson. You had people who were seen and not heard but were holding the permanent secretary to account in terms of business. Look now and the non-execs are either second rate or have an agenda. There isn't a mainstream voice of food supply anywhere on the Defra non-exec board."
However, there are signs the tide is turning and power is shifting. The Goldsmiths are no longer the political powerhouse they once were, leading one Labour source to brand Zac "yesterday's man".
Even Dimbleby is not yielding the influence he once was, despite only recently publishing the first part of his food strategy. "He's much less influential than he thought he was going to be, or than he might have been designed to be. He's being pretty much sidelined," observes one industry source.
Dimbleby remains close friends with Gove, but his relationships with other Conservative figures appear more strained. He is not thought to be particularly close to Eustice, while disagreements with trade secretary Liz Truss (6) over the possible impacts of trade deals on food, especially with the US, led the two to openly clash during a fringe event at the Conservative Party conference in October.
It's an issue that is particularly sensitive for Truss. "If so many of us can see that free trade is a force for good, why do some people treat it like the source of all evil?" she asked at a Chatham House event in October, presumably in recognition that many of those so-called "doubters" lie within her own party.
The comments show just how split the Conservative Party is on the UK's trade policy and its consequent impact on food. Reports of Cabinet ructions have emerged on numerous occasions in the past year, with Truss allegedly clashing with both Gove and Eustice over the risk posed to food standards by a US trade deal.
Brexit leadership
The division has left many concerned over the UK's ability to prepare for its next big challenge: Brexit. "We're sadly rudderless. There isn't a captain anywhere," laments Tim Lang, professor of food policy at City University. "It seems the plan is to have no plan. The plan comes later and is framed by trade, framed by whatever deal we've done with Europe, framed by ad hoc responses like to Marcus Rashford (10)."
Indeed, there is still a lack of clarity over whether a genuinely free-trading 'Global Britain' will be put ahead of the quality of overseas food imports. Either way, it will be a fundamental factor in determining the architecture of the UK's future food system.
So far, Boris Johnson has sought to keep all options open, not definitively ruling out the option of importing foods produced to lower standards, while simultaneously reassuring the public there is no intention to do so.
Many saw the recent passing of the Agriculture Bill without legal protections for food imports as victory for Liz Truss, but not all are so sure. Others see her influence starting to wane while the environmental concerns of Boris Johnson's fiancée Carrie Symonds, Ben Goldsmith, and even George Eustice have increasingly come to the fore.
Notably, the move to put the Trade and Agriculture Commission on a statutory footing, announced by Truss herself in November, was hailed as a "victory for British farming" by the NFU's Minette Batters (3). The body will produce a report on the impact of any future trade deals that will be laid before Parliament before a deal is ratified.
James Kane, an associate at the Institute for Government, believes this indicates the direction of travel. "You don't see the government talking as much as it did, even around this time last year, about the freedom to do great trade deals with US," he says.
If the government is to water down food standards, it risks coming up against the most powerful force in food – the supermarkets. In July, then-CEO of Tesco Dave Lewis wrote in the FT that it was crucial to "uphold robust UK quality and welfare standards through trade negotiations", arguing that "the UK's food strategy cannot be left to the market." That view is likely to be shared by his successor Ken Murphy (5).
The question is whether supermarkets still hold the same clout they did at the start of pandemic. "They were absolutely at their peak in March, April time," says one supermarket source. "No 10 wanted to talk to them all the time," although that influence is now "slipping back to where they normally are".
Supermarkets are "still incredibly powerful", they stressed, and their role in keeping the nation fed through a crisis has elevated the profile of food and drink in the corridors of Whitehall. That alone has given industry bodies even greater clout on the big issues, while prominent work by trade bodies like the FDF and the BRC on the impact of Brexit has captured the attention of the media and made it harder for their concerns to be ignored.
Ultimately, it seems the perpetual crisis mode of 2020 has democratised power more than ever, with small trade bodies and businesses now getting access they could once only dream of. But to come out of that crisis mode, strong political leadership and direction will be crucial and for now at least, that's suffering from some supply issues.
Tim Murray
Partner, Newton
Whatever the outcome of the current EU exit negotiations, there's no doubt there will be disruption at the borders come January. Despite the many rounds of scenario planning over the past four years, even the best prepared businesses will need to adapt once the reality becomes clear. The retailers, manufacturers and suppliers that can change tack quickly will gain the competitive edge.
Clearly, the changes will present acute logistical challenges that must be addressed swiftly. But the real question is: what can we change across the end-to-end supply chain to better serve the end consumer?
The answer lies in identifying and challenging the unnecessary complexity inherent within all supply chains and then stripping out any preventable costs. For example, retailers need to look again at range and remove any products that don't add incremental value to the consumer. Suppliers can take a similarly value-focused approach.
For example, by working with one of Europe's largest produce businesses, we eradicated yield losses along the supply chain and reduced transportation times. Shoppers benefited from better shelf life – increasing sales – while simultaneously millions of pounds of waste was saved.
This year, the grocery sector has demonstrated its remarkable resilience and perhaps its sternest test yet is still to come. Barring the odd short-term blip, major retailers should be able to keep the shelves well stocked. Therefore, with the consumer purse increasingly squeezed, the grocer that manages to keep prices lowest will likely come out on top.
Power list: Whitehall
The twin challenges of the coronavirus and Brexit have put the industry under enormous stress. But some key figures have emerged to drive through not only their own interests but in some cases those of the entire country
Michael Gove
Minister for the Cabinet Office
If anyone has an idea of the post-Brexit strategy for food, it's Michael Gove. His position as one of the most senior ministers in the Cabinet embeds him deeply in the Brexit process. The Whitehall veteran is co-chairing the UK-EU joint committee overseeing Northern Ireland and leading on border readiness with the EU for next year. "The power and the influence undoubtedly sit with the Cabinet Office," observes one industry source, "and therefore, with Michael Gove."
Gove has made his influence felt at every department he has sat in, not least in Defra, which continues to dance to his strategic tune to this day. "The direction of travel was all set by Gove and Eustice is implementing that now," says one industry source.
Gove was not only involved in policy, however. He appointed all members of the department's non-executive board in 2018, selected from what seemed to be a close circle of advisors. The move was, and still is, controversial, attracting accusations of "chumocracy" long before the most recent claims shrouding Whitehall.
But Gove's time at Defra left him well versed on the key issues facing the industry, not least the ongoing furore over food standards. "Gove knows you can't engage in the massive compromise around food standards and environmental standards that comes with doing a quick and dirty trade deal with the US," the source adds.
Now within the Cabinet Office, Gove is overseeing cross-Whitehall responses to both Covid and Brexit. Given much of the food's industry responses will be determined by policies set by the Treasury, the business and even health departments, the strategy emanating out from Downing Street is likely to continue to be more important than anything set by Defra.
When it comes to Brexit, Gove is supported by Emma Churchill of the Cabinet Office's Border & Protocol Delivery Group, heading up the efforts to prepare the borders for next year. While Gove is not always seen to be fully engaged, Churchill is picking up the slack, running an effective and comprehensive engagement network.
George Eustice
Secretary of State for Environment, Food and Rural Affairs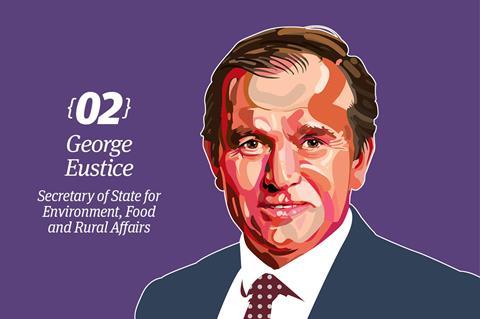 George Eustice has spent a decade working on food policy. And although he's not as close to the PM as Gove, he is a trusted Cabinet member. An arch Brexiter, on related issues such as temporary food shortages and the ongoing fight over chlorinated chicken, Downing Street is understood to see him as a safe pair of hands. "He won't rock the boat or cause any trouble. He'll toe the line and that's what he's there for," concludes one source.
"He knows the issues very, very well," says another source, although recent comments over the impacts of Brexit on EU trade has raised certain doubts over his potential efficacy in tackling some of the more complex and strategic policy decisions, and has resulted in clashes with the farming fraternity.
But particularly during Covid he has been welcomed as a strong advocate and engaged facilitator in the crisis, initially hosting many of the virtual gatherings personally and taking an active role in steps to ramp up supermarket deliveries.
"The one person who really stands out over the last six to seven months is actually George Eustice," says one supermarket source. "He has really galvanised and gone out of his way to bring trade associations that represent not just the bigger players, but everybody into the loop."
Nine months down the line, he still maintains fortnightly 'F4' calls with the industry's top four trade associations: the FDF, BRC, NFU and UK Hospitality.
David Kennedy
Director general for Food, Farming, Animal and Plant Health at Defra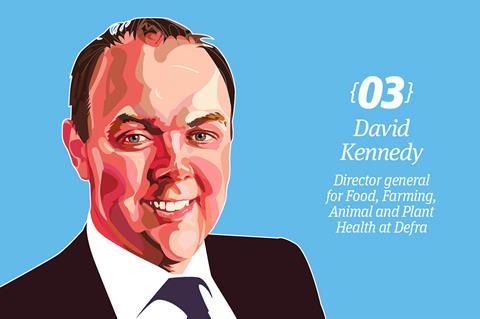 Throughout the pandemic, Defra's lead civil servant has led the food industry's 'war room'. There, he is truly the "driving force behind all things food," according to one attendee.
"The fact that we've managed to keep the nation fed is considerably down to his energy and his determination," adds a trade body head. "And I don't praise civil servants easily."
Adds another. "He's set out his stall of 'we are going to keep the food supply chain running' and has been pretty fearless in who he takes on to make sure that happens."
More recently, 'war room' discussions have moved on from Covid to Brexit. On the latter front, Kennedy's influence has perhaps been somewhat limited given its political indulgences, but some believe this will change. "We're going to have a car crash in January and I'm quite convinced someone like David Kennedy will come to the fore because they're going to turn to him and say, 'We're in a bit of a mess here, can you sort it out?'"
Kennedy's only perceived flaw is his "occasional issues tonally", which have left many frustrated. "Sometimes it's a little bit like he's going through the motions, relying on his playbook. He'll say, oh, that's a really interesting point, I'll take that away. And I think he feels it's a bit of a burden."
Minette Batters
NFU president
When it comes to protecting UK food standards, no one has done more than Minette Batters. As NFU president, she led efforts to gain more than one million signatures on a petition against lower-standard imports, acquiring support from groups ranging from celebrity chefs to the Mail on Sunday.
That's resulted in the trade and agriculture commission being enshrined as a statutory body last month, enabling it to formally present its views to Parliament before any trade deal involving food is agreed.
Batters even managed to badger her way into No 10 for a private meeting with the prime minister in October. "She's the politician," says one senior farming source. "She's the one who got it over the line."
Credit also goes to NFU director of trade Nick von Westenholz, the architect and technical expertise behind the NFU's campaign.
"But where [Batters] scores is in her relationship with backbenchers," says the farming source. It was Batters, for example, who "marshalled the troops" to ensure every MP was contacted by a constituent on the topic of food standards early this year.
Whether those efforts will have any material difference on government policy is yet to be seen, but when it comes to pushing an issue up the agenda, her impact is unrivalled.
Ken Murphy
Tesco CEO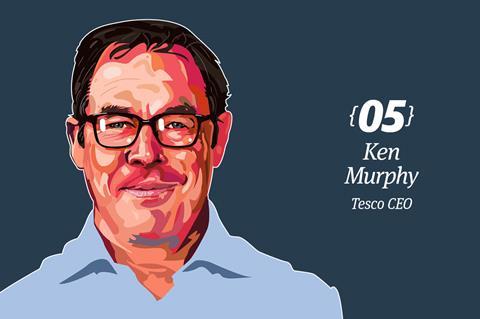 If ex-CEO Dave Lewis were still in the role, most sources agree he would have featured higher in this list. Lewis was highly active, influential and effective in raising the industry's profile within Whitehall, and promoting Tesco's cause – even before the pandemic hit.
Still, occupying the top office at the nation's biggest supermarket, Murphy won't find it too hard to get noticed in Whitehall. "Michael Gove will know Ken Murphy," says one supermarket source. "This guy's running a business with a quarter of a million employees and all of these stores. [Gove] is going to listen if that guy says something."
Murphy's status will only have increased after he returned the £585m business rates relief Tesco had accrued during the pandemic, triggering a chain reaction among its rivals that has already returned more than £2bn to the Treasury's coffers.
Tesco's lobbying efforts under Lewis dwarfed those of rivals, ranging from business rates to food standards, from food waste to trade agreements. At times he was frustrated that trade associations could not speak with a single voice for the food industry. Others believe "the supermarkets are not as powerful as they could be because they are so competitive with one another. They rarely join up to lobby as a group."
Still, this individualistic approach may work in Murphy's favour. As the only major supermarket that's not a member of the BRC, arguably Tesco has more autonomy to pursue its own agenda. While all the top supermarket CEOs will have private calls with ministers on occasion, some believe Murphy's ability to work independently may be liberating.
Plus, some claim the government is loath to go against the economic power of Tesco. "They used to say 'what's good for General Motors is good for America'. Well I think you could have a British equivalent. The feeling within Whitehall that 'What's good for Tesco is good for the UK.'"
Liz Truss
Secretary of State for International Trade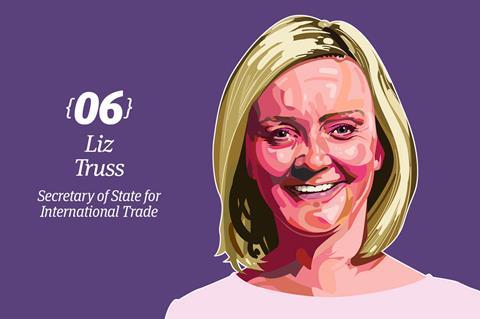 Yes, Truss still carries the scars of her much-mocked cheese rant of 2014. And arguably, her most significant achievement so far has been the effective rollover of a Japanese trade deal. But her impact on the food industry is likely to become ever more significant as the UK turns its eyes to greater prizes around the world, sources believe.
Truss is stridently in favour of a US trade deal, viewing free trade as a "lean, green, value-creating machine" according to a recent Chatham House speech. While regularly addressing concerns over how that will impact food standards, she is noticeably more reserved on that point than some Cabinet members – reportedly causing ructions with Michael Gove and George Eustice.
Truss's ability to convince Johnson to ignore the public furore over chlorinated chicken will be the ultimate test of her influence. Yet so far, her promises are certainly seen by some to be landing. "The trade policy tail is wagging the dog on the food policy side at the moment."
Chris Tyas
Director of food supply, Defra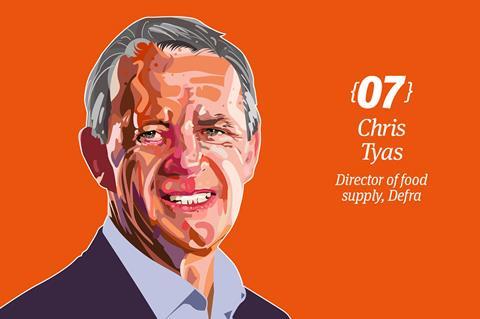 A former Nestlé supply chain executive, Tyas joined Defra in March as director of food supply. He oversees the 'war room' that continues to this day. "He's like Mr Industry," says one regular attendee. "[The appointment] was billed as the industry marrying Whitehall."
Tyas's understanding of the sector and contacts in the industry have garnered significant trust among those attending the 'war room' calls. "He'll get people to do things or, if you approach him and say 'I'd like to raise this issue', he makes sure it happens," says another source.
His impact has been material. For example, Tyas worked with Michael Gove and Henry Dimbleby to bring wholesalers Brakes and Bidfood into a government initiative to deliver weekly food and essential supply boxes to many of the 1.5 million extremely vulnerable people in isolation.
But having been brought in specifically to manage Covid, the question is: how much longer will he be around?
Ian Wright
Food & Drink Federation CEO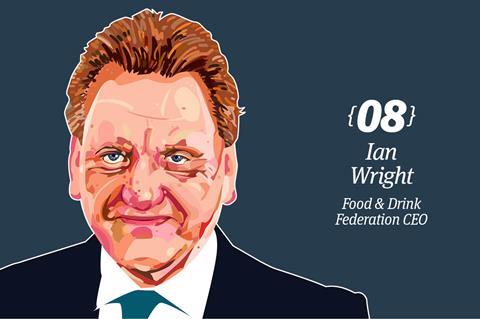 "The most significant person in the world of trade associations is definitely Ian," claims one colleague. "He's head and shoulders above any other industry leader in terms of influence and his ability to bring people together." Indeed, Wright has two key advantages in Whitehall. First, he is immensely well plugged in – "getting places even water can't", according to one source. His circles even extend to the current governor of the Bank of England, Andrew Bailey, with whom he studied history at Cambridge.
Second, he often goes far beyond the assumed boundaries of his role at the FDF to become a "sort of doyen" of the entire sector, bringing industry figures together to present a unified front to government (joint industry letters are invariably headed by Wright).
"Ian is further towards the end of his career than a lot of us," says one trade body head. "So he's not particularly worried about keeping people happy within his membership. He just does pretty much what he believes is the right thing and doesn't really worry too much about the consequences for him personally."
Tim Leunig
Economic adviser to the chancellor, HM Treasury
A Cummings-eque maverick and radical thinker, Tim Leunig is one of Rishi Sunak's most influential advisors. Reportedly the brains behind the furlough scheme, he not only holds an advisory position in the Treasury, but in Defra and Education too, and is reportedly close to Michael Gove.
His cross-departmental influence is what makes him important here. While Defra works on its post-Brexit farming vision, the Treasury will be the ultimate arbiter on British agriculture's fortunes. If Whitehall matches the level of support offered by EU subsidies, many otherwise financially unviable farms will continue to survive. If it doesn't, many will fail.
When it comes to food and farming, Leunig has controversial views. In emails seen by the Mail on Sunday, Leunig said the food sector was "not critically important" to the country's economy and agriculture and fisheries "certainly isn't", arguing the UK could follow the example of Singapore, which is "rich without having its own agricultural sector".
Marcus Rashford
Footballer and campaigner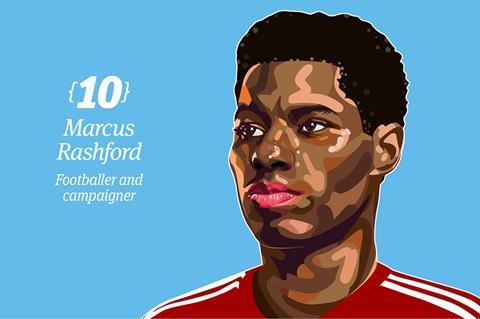 The 23-year-old England striker's passionate campaigning on homelessness and child hunger has forced Boris Johnson into two dramatic u-turns. In June, the government rowed back on plans to stop providing free school meals to vulnerable children during the summer holidays, while in November it pledged more than £400m to support poor families in England, in an acknowledgement that Universal Credit may not be enough alone.
Rashford has also brought together major UK food brands including Tesco, Kellogg's and Deliveroo to form a taskforce to reduce child food poverty. It's a level of influence many campaigners could only dream of.