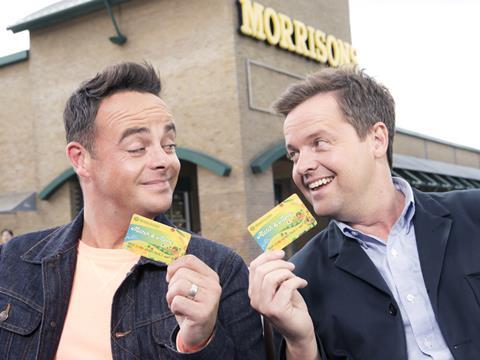 With confirmation today that Morrisons is set to abandon the price-matching element of its Match & More loyalty scheme, it would be easy to view this as a further dismantling of the Dalton Philips era by current CEO David Potts.
Philips launched the scheme almost exactly a year ago with much fanfare – and to be fair the idea of comparing prices against not just its traditional rivals but Aldi and Lidl as well was generally new and exciting.
It is hard not to think that, because of the comparison with Aldi and Lidl, the scheme was simply costing too much money in terms of the refunds to customers via the Match points – our own Grocer 33 mystery shoppers regularly receive thousands of points, even when the total cost of the shop wasn't significantly more expensive than at its traditional rivals such as Asda and Tesco.
However Morrisons insists it was comfortable with the cost and claims that customers simply didn't understand the concept and therefore it wasn't working.
I am inclined to agree with Morrisons on the point that the scheme was difficult to understand, beyond the basic premise it was nigh on impossible for the regular customer to work out exactly which products were being compared, and against which retailer.
While customers may have welcomed getting the £5 discount upon accruing 5,000 points, the wider message being reinforced was that shopping elsewhere would be cheaper.
The key question thrown up today therefore is 'are we nearing the end of the road for price-matching?' For me, the answer is yes. In recent times we have seen Sainsbury's water down its Brand Match scheme, which now only compares the price of brands against Asda, while Tesco Ireland is also now ditching Price Promise in a move that could prove a signal of intent for the UK business.
When Asda launched the Asda Price Guarantee in 2010, then CEO Andy Bond said it would "put an end to phoney price wars". In reality it did nothing of the sort.
Rather than spending tonnes of money trying to convince shoppers they are competitive on price, and if they aren't, they will pay you the difference for staying loyal, retailers have simply become more competitive on price and, more importantly, give shoppers better rewards to stay loyal – better quality products, appropriate ranging, more personalisation and excitement.
Supermarkets bosses know better than most about shelf lives and so they should surely be able to see that price-matching schemes appear to be well and truly past their sell-by dates.