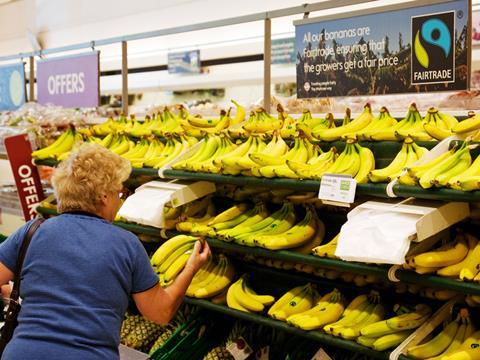 Brexit-linked inflation has hit bananas again, with surging import prices prompting Waitrose to increase the price of a kilo from 72p to 75p.
Waitrose said it had hiked the price of 1kg of loose bananas – an important battleground in the supermarket price war – because of an increase in costs.
The depreciation of sterling since the Brexit vote and adverse weather in key growing regions across South and Central America have resulted in a sharp increase in import prices to the UK, up 17.7% to an average of £810/tonne [Mintec 52 w/e 21 March 2017].
Waitrose could also have been affected by heavy flooding in the Dominican Republic last November, said Alistair Smith, international co-ordinator for NGO Banana Link, which has been campaigning for an increase in retail prices for several years, arguing low supermarket prices put too much pressure on banana supply chains.
"The flooding destroyed about a third of the crop in the Dominican Republic. Waitrose sources its bananas from here and Costa Rica, so this could also have been a contributing factor," Smith said.
Supermarket discounting meant a kilo of bananas was available at the controversial price point of just 68p across the mults for more than two years until Asda, Sainsbury's, Lidl and Aldi all increased their prices to 72p last November.
Tesco and Waitrose followed at the start of December, with Tesco citing an increase in export costs caused by the weak pound.
"This price increase is a second good step in the right direction, and means growers will lose less money per box," Smith added. "But costs for growers are rising much faster than retail prices in the UK, and I would urge other retailers to follow Waitrose's example."
A kilo of loose bananas in Aldi, Lidl, Sainsbury's, Tesco and Asda remained at 72p at the time of writing. Morrisons sells only bagged bananas, at £1 for a bag of five.