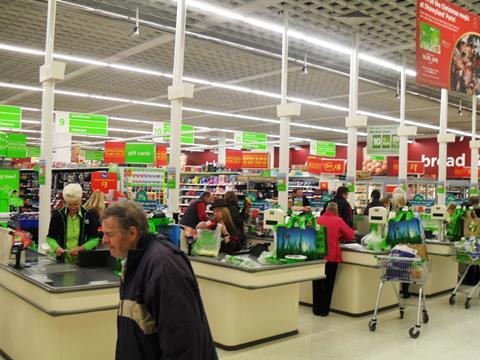 Asda has now racked up a dozen Grocer 33 pricing wins in a row, amid growing evidence that it is finally closing the pricing gap on the discounters.

In our latest shop, carried out on Friday 15 December, Asda's £51.67 total was £3.46 cheaper than second-placed Morrisons. Once again, Asda was consistently cheaper than its rivals across the store. It offered the cheapest price for 20 of the 33 items on our list, with 12 of these exclusively so.

The shop was carried out on the same day analysts at Bernstein published a note suggesting Asda had significantly reduced the price gap with the discounters. Bernstein said the big four had all made inroads against Aldi and Lidl but Asda had been most successful in becoming more competitive. Asda was now just 6% more expensive than Lidl, compared with 16% a year ago, Bernstein's analysis showed.

After this shop, Asda also provided our shopper with a £1.21 Price Guarantee voucher as it was not 10% cheaper than Morrisons. Morrisons offered the lowest price for 12 items, seven exclusively so.

Third-placed Tesco was more than a fiver more expensive than Asda at £56.98. However, our shopper received an instant £2.44 Brand Guarantee discount at the till. This took Tesco's total down to £54.54, enough to undercut Morrisons - but still £2.87 more expensive than Asda.

Sainsbury's struggled to remain competitive with its big four rivals, though it did manage to come out cheapest for the Original Source shower gel and Heinz ravioli. Its £58.96 total was a hefty £7.29 more expensive than Asda.

Waitrose, meanwhile, was almost a tenner more expensive than Asda at £61.12. It offered the lowest price for five lines and was exclusively cheapest for the runner beans.