In the wake of Covid-19 shoppers are looking at their grocery purchases differently, and their newly formed habits will require food and drink businesses to completely reimagine the customer experience. In so doing there are three key pillars that marketers should pay close attention to, says Facebook.
The last 18 months for UK grocery have been transformative. From grappling with panic buying at the earliest stages of the pandemic, to navigating through three national lockdowns and, more recently, easing anxious shoppers into a 'new normal,' the level of change has been breathtaking.
Looking ahead, the legacy of Covid-19 is one that will continue to bring both huge upheaval, but also brand new opportunities for the industry as consumers browse and buy in brand new ways.
After all, not only did consumers significantly increase their average spend on groceries over the course of the pandemic but, born from a desire to limit social contact, they also familiarised themselves with how to do so digitally, in many cases for the first time. In 2019, only £7.40 of every £100 spent on groceries in the UK was bought online, according to Kantar data (October 2020). By February this year, it had shot up to £15.40. That's a generation of change squeezed into one year.
A shift to e-commerce isn't the only change though. More experimental and confident, shoppers are being inspired and motivated to buy in brand new ways. Spend is fragmented across supermarkets, independents, pure play online services and food delivery operators. They are newly aware of purchasing responsibly and ethically too.
In short, to connect with them in an increasingly digital-first landscape will require food service brands to completely reimagine the customer experience.
In so doing there are three key pillars that Facebook believes marketers should pay close attention to: community, ease and joy.
Community
Covid provided shoppers with a brand new lens through which to examine their grocery purchases. Yes, the staples of price, quality and functionality remain hugely important. But post-pandemic, so too do the values, impact and ethos of these same products. Or in other words, their role within the community, both at a local and global level. "It put a spotlight on buying based on views and values, focusing on what we are buying into, not just who you are buying from," says Zehra Chatoo, head of connection planning, retail & ecomm, EMEA at Facebook.
According to research by KPMG, from February 2021, an overwhelming 90% of consumers are now willing to pay more to an ethical retailer or brand that is giving back to society. Two-thirds are also more likely to shop in their local communities than they were a year ago. This can be a dealbreaker too. According to the Facebook and YouGov Future Proofing Grocers study from April 2021, a fifth (21%) of consumers say environmental and social responsibility is a factor in choosing one supermarket over another.
Even at the height of the pandemic, this was a new awareness that grocers looked to cultivate. As chief customer officer at Ocado Retail, Laura Harricks, says: "During the pandemic, there was a newfound appreciation for frontline workers who delivered groceries and I'm hopeful that this shift in attitude is here to stay." This sense of togetherness even saw the retailer's donation match scheme raise £8m in food and cash donated to local food banks and charities.
Going forward, food service businesses need to ensure two things: one, that they continue to reflect back to shoppers this new sense of responsibility, openly sharing their values and ethics; and two, that they represent the wider community, ensuring that people feel they and their community experience are reflected back at them in all communications.
In many cases, this is already playing out in brand behaviour. When Sainsbury's found itself criticised for its portrayal of a black British family in its Christmas advert in 2020, for example, not only was its marketing championed by consumers, but it was joined by other leading UK supermarkets in pushing back against the racist backlash. "This shift in coming together as a collective, standing up for the community is hugely important and powerful," says Chatoo.
"We've seen a sense of community grow across our platforms," says Facebook's head of industry for grocery, Katy Clark. "Over the last year, local groups on Facebook grew their membership threefold. The Trussell Trust is a great example of this. As the network of food banks found itself under greater pressure during 2020, it partnered with Facebook to raise awareness of this 'hunger pandemic'. Working with the social channel, it successfully reached 13 million UK adults, driving awareness via polling, filters and video ads. Awareness of the campaign was elevated by 4.1%, and action intention by 2.4% as a result, data from Facebook shows.
Ease
Online shopping looks set to be one of the major legacies of the Covid-19 pandemic for UK grocery. Though the initial spike was driven by concerns around safety, shoppers have quickly realised that the channel also provides far greater ease, convenience and efficiency. Ninety percent of British shoppers currently buying their groceries online plan to keep doing so in the future, according to Mintel (May 2021).
This familiarity with e-commerce has changed expectations around how easy shopping should be in all channels too. Nearly two-thirds (60%) of shoppers cite convenience and proximity to their home as a major deciding factor in where they buy groceries, according to the Facebook and YouGov Future Proofing Grocers study (April 2021), ranking this above both affordability and range.
The challenge for marketers is that ordering via a website or mobile app is often far more transactional. That creates a need for brands and retailers to proactively use digital platforms in order to encourage the discovery of new products, promotions or recipe ideas.
Already consumers are finding meal ideas on Facebook. "When kitchen fatigue creeps in, even the most adventurous home chefs need some culinary inspiration," says Clark. "And, as the world's biggest discovery engine, people are coming to Facebook and Instagram to discover new products, recipes and food options."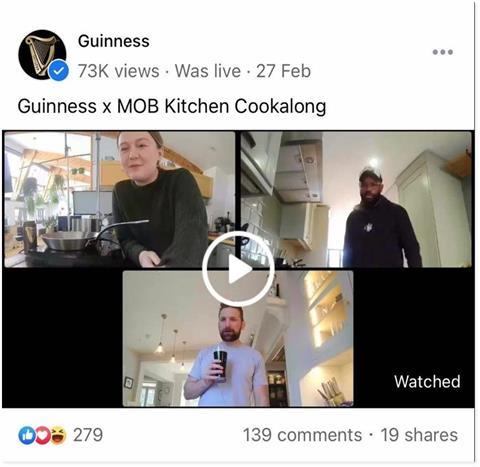 And brands can leverage these platforms in all sorts of creative ways to fuel this same sense of discovery. During the Six Nations rugby championships in 2021, for example, Guinness teamed up with the online cooking platform MOB Kitchen to create a live cook-a-long experience for fans. Delivered via Messenger Rooms, the broadcast combined an interactive recipe for Guinness Welsh Rarebit burgers with rugby legends discussing their pre-match predictions.
Lidl too saw the value of digitising its print communications on these same platforms. The grocer reimagined its print flyers and promotional materials as personalised digital experiences, with a tenfold return on ad spend, according to Facebook data..
Joy
Last, but by no means least, is the final pillar: joy. The pandemic significantly amplified the emotional connection that consumers shared with their food. Carefully cultivating sourdough starters became a national obsession, demand for the reassurance of nostalgic food and drink brands surged, and 91% of Brits reconnected with the enjoyment of home cooking, according to a YouGov survey.
"Lockdown may be over but that doesn't mean the industry shouldn't seek to keep the momentum going on this link between food and joy," says Clark. "Digital platforms can provide a great way to do so, and we've seen hugely successful examples of food and drink brands cleverly building associations between their brand, and moments of culinary joy." Particularly given 48% of 2020's most loved brands were within the food and drink category, according to market research firm Morning Consult (July 2020).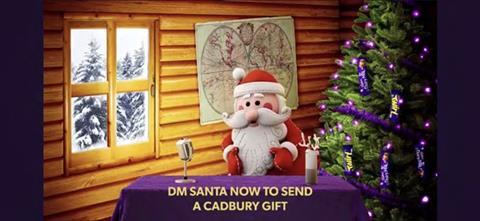 At Cadbury, for instance, a brand most often linked to Easter, the team used the latest technology to capture all the joy of Christmas, with a Facebook Live hosted by none other than Santa himself, delivered virtually using the same tech deployed by Hollywood, and leverage Facebook, Instagram, and REELs much as a 'real' influencer would.
Community, ease and joy: the pillars of the 'new normal' shopper
The events of the last 18 months have catalysed decades of change in UK grocery. The new post-pandemic shopper is less loyal to one store, more confident and comfortable with digital platforms, and more aware of the broader impact of their purchases on the global community.
It's by future-proofing through community, ease and joy that grocery brands can adapt to these changes, maximise the opportunity for growth and win new audiences. "Rearranging the store around you means rearranging the store around what matters to consumers," explains Chatoo. "It's driving that sense of community, making it easy to shop and injecting joy along the way."
For more about Future Proofing Food Services, see Facebook's video here.
To download a pdf with all case studies, please click below.