Hot off the heels of dark kitchens fulfilling quick-delivery takeaway orders comes the explosive growth in online grocery alternatives called dark stores. Lowe Rental looks at how these are transforming the UK retail market.
Dark stores are warehouse-style distribution centres acting as the bridge between online orders and fulfilment. They look a lot like supermarkets and convenience stores, minus the trolleys and front-of-house customers.
The dark store concept isn't exactly new. Tesco coined the term back in 2009 when it delivered just under half a million orders a week from its Croydon and Aylesford retail branches. Unfortunately, Tesco quickly saw that retail shoppers got increasingly frustrated about sharing aisle space with an army of corporate-clad product pickers. So, Tesco and others looked to their existing distribution centres for online fulfilment, providing pre-booked delivery slots up to a week in advance.
However, the 2020 pandemic forced a paradigm shift in consumer needs when online demand skyrocketed due to social distancing. The supermarkets stayed open during the lockdowns. But footfall restrictions, one in-one out policies, one-way traffic flows, and a general sense that we shouldn't be mixing forced mounting numbers of shoppers to move online. And according to Lowe Rental's global head of dark kitchen and dark store delivery divisions Charlie Farr, the demand arrived with expectations:
"We'd already grown as a major dark kitchen equipment provider by the time grocery e-commerce took off," states Farr. "We'd learnt about consumer demand for takeaways delivered at speed. And we knew that grocery shoppers also had the idea that anything ordered online meant delivery in minutes, not days."

So online sales multiplied and the industry embraced dark stores as a fulfilment strategy, but what about future demand?
Is the online trend for grocery deliveries set to continue?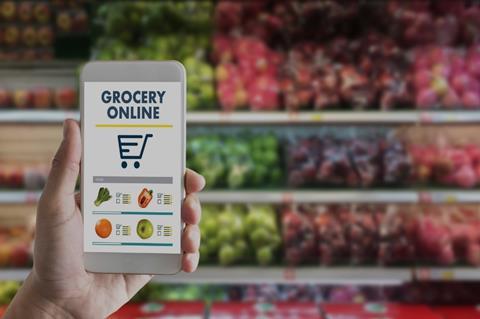 According to the Office of National Statistics (ONS), the UK's online share of grocery shopping was 5.4% in 2020 and a hefty 14.7% by February 2021. The growth came as 67% of consumers used dark store formats for online order deliveries or click-and-collect during the pandemic. And this wasn't just for everyday essentials either. Consumers ordered everything, from ice-cold beer to fruit and veg, pharmacy supplies and ice cream.
While many analysts expect online grocery demand to soften as retail returns to normal, the overall trend is definitely up. Mintel, the global research and market analysis firm, believes the UK market will hit £22.4bn by 2025. However, growing a sector that is already working on squeaky-tight margins is challenging, forcing companies to think in ways that are smart and agile.
Dark store expansion challenges
The traditional fulfilment model for online grocery sales joins the distribution dots with a hub and spoke. A large centralised out-of-town warehouse holds the main stock, while smaller distribution centres at the spokes take care of the last-mile delivery. However, hub and spoke expansion relies on access to facilities. And this isn't easy, with warehousing at a premium in urban areas.
High bricks and mortar rents put inevitable pressure on margins. But, at the same time, the trend for customers expecting deliveries in as little as 15-20 minutes makes location vital. "Supermarkets may have stores in the right locations, but they use storage space to hold palletised goods for a minimum amount of time," explains Farr. "Fulfilling online orders needs groceries picked from shelf space and refrigeration units. In a traditional supermarket or grocery outlet, that's store-side — and not ideal."
On the other hand, dark stores are built especially for pick, pack and delivery at speed, without the interruption of retail footfall. But where can the industry find the space to expand?
Farr believes: "We'll undoubtedly see more supermarkets turn excess warehouse space into a dark store format where they can. We'll likely see underperforming convenience outlets change to dedicated dark stores. The margins are similar, but It takes fewer people to operate a dark store than a retail store.
"Office and retail space is also an option, as are pop-up storage units on vacant land and unused parking structures."
All of this is possible thanks to developments in food storage systems technology, he adds. Integral refrigeration and cold room concepts are much more of a turnkey offer now. Services cover design, project management, auditing, cost management, inspection and testing.
At Lowe, the company also used the experience gained in modular dark kitchen design to create modular dark store systems. "We now deliver plug and play cold store and refrigeration units to create dark store environments closer to customer end-points," explains Farr. "In addition, inclusive rental options cut upfront capital expenditure while reducing exposure to downtime and maintenance costs. And SMART technology means our systems use the Internet of Things (IoT) for built-in remote monitoring."
How dark store business models are evolving
According to a recent future-gazing report, every billion pounds in online retail sales needs 320,000sq ft of urban logistics space for fulfilment.
Fulfilment centres also need staff to pick and pack, plus delivery armies to get the goods into consumers' hands. So, emerging players and dark store start-ups are thinking creatively about expansion challenges. That includes partnerships, utilising existing space, agile space acquisition, how they source equipment, and the role of smart tech.
As a result, the industry is seeing the emergence of three distinct dark store business models:
● Existing dark store operators with a delivery workforce, such as Gorillas, Zapp, Jiffy, JOKR and Getir.
● Grocery stores and supermarkets partnering with dark store operators, including Carrefour and Cajoo in France, Kroger and DoorDash (Dmarts).
● Takeaway delivery apps pivoting into grocery deliveries, such as Deliveroo, DoorDash, Delivery Hero (Dmarts) and Gopuff.
Dark store operators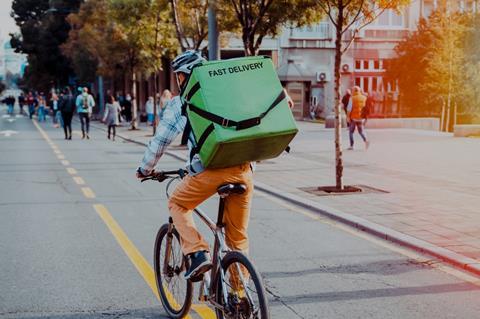 Dark store start-ups Getir, Gorillas, Dija (Now Gopuff) and Weezy (now Getir), are at the centre of the home-delivery revolution.
Dija and Weezy grew at breakneck speed in 2021, but quickly came under the ownership of more prominent players: the $7.7bn unicorn Getir bought Weezy in 2021, while US monolith Gopuff acquired UK-based companies Dija and Fancy to provide itself with a European footprint.
According to Getir co-founder Nazim Salur, the dark store idea is that "groceries could be delivered as quickly as a taxi could be hailed".
All operators take orders via apps but fulfil them differently. For example, Getir partners with existing stores like One Stop through a franchise model. In contrast, Gorillas operates its own macro fulfilment centres with around 2,500sq ft of space.
However, the market is expanding so quickly we are already seeing niche players enter the fray by catering for specific requirements. For example:
● London-based UK start-up Zapp promises to deliver groceries 24-7, which is perfect if you run out of nappies at 2am. The company launched with $100m of funding in 2020, then raised a further $200m for expansion in January 2022. Zapp operates with an eco-ethic, delivering goods in recyclable bags on e-bikes and e-mopeds.
● Dark store rapid grocer Jiffy started life early in 2021 with $34.6m of seed funding, according to Crunchbase. And the company recently announced the launch of in-store bakeries in three of its east London dark stores. Jiffy's USP is artisan goods baked to order, including croissants, Danish pastries, fresh bread, baguettes and rolls.
Supermarket partnerships
Supermarkets saw significant challenges early on, pivoting to the dark store format. But their geographical penetration means they'll inevitably evolve to meet online demand.
Tesco's 'Whoosh' service, rolled out in 2021, uses 50 existing Express stores to deliver groceries in 60 minutes. The concept works well for top-up shopping, and Tesco plans to expand its offer to 100 stores in 2022. However, while 60-minute delivery is less operationally demanding than fulfilment in 10 or 15 minutes, Tesco also acknowledges the 'food-for-now' sector matters. So the supermarket chain upped the game at the end of last year by announcing a partnership with rapid-delivery pioneer Gorillas.
Tesco plans to turn excess warehouse space into micro-fulfilment sites where orders are picked and put out for delivery as soon as they come in. The retailer claims that, by using this model, it will deliver goods in 10 minutes.
Takeaway delivery apps
While supermarkets look for new ways to support online fulfilment, the takeaway delivery companies are already breaking into the grocery market space.
Deliveroo uses its existing delivery app and 50,000 delivery riders to fulfil orders, in collaboration with 4,600 grocery store partners. The company moved at pace in September last year with the announcement of 'Deliveroo Hop'. This new initiative sees it expand its partnership with Morrisons to fulfil delivery-only groceries in as little as 10 minutes.
Deliveroo also plans to open 50 new dark stores by repurposing some of its existing Deliveroo Editions dark kitchen locations.
In short…
● The UK online grocery market value may reach £22.4bn by 2025.
● The market segments cater to weekly, top-up, and emergency purchases.
● Expect more dark store, supermarket, and delivery app partnerships.
● Expansion remains cash-intensive. So the need to consolidate space may see larger delivery apps and supermarkets acquire or invest in smaller businesses.
● Niche operators will emerge to cater for specific customer needs.
● Consumers expect deliveries in as little as 10 minutes.
● Every billion pounds in online grocery sales needs 320,000sq ft of urban logistics space for fulfilment.
● Micro-fulfilment in the last mile remains the most significant growth challenge.
● Space for expansion is at a premium.
● Plug and play cold rooms and refrigeration systems can quickly turn excess warehouse space, shop and office space into dark stores.
● Customised rental options, like Lowe's Rental+, reduce capital expenditure and provide inclusive maintenance and support.
● Modular dark stores can be set up quickly on vacant land and parking lots.
● European operators JOKR, Gorillas and Turkey-based Getir expand to the US – taking on delivery apps DoorDash and Go Puff in a bold move.
● US company DoorDash has acquired Germany based Flink to expand into Europe, while Go Puff acquired UK based Fancy and Dija.
Charlie Farr is the global head of dark kitchen and dark store delivery at Lowe Rental. The company provides SMART enabled cold rooms and refrigeration systems for plug-and-play installation in any space under a fully managed Rental+ plan. Lowe also offers modular dark store units for use on vacant land.
Read more about Lowe Rental and dark stores here.