Maple syrup is emerging as a hero flavour in supermarket NPD. Once confined to a pancake topping, it's breaking out of breakfast as a go-to ingredient for adding a sweet twist to products across a wealth of categories, from prepared meat and fish to nuts and snacks.
Just look at Tesco's Easy Carve Duck with a Maple & Orange Glaze, Aldi's Specially Selected Maple and Cinnamon Parfait, M&S' Maple Bacon Tortilla Rolls and Asda's Special Bacon & Maple Syrup Sausages.
It's no secret that Canada, and Québec in particular, is a world leader when it comes to pure maple syrup. Over 70% of the global market is supplied by the province. Now, exports to the UK are rising fast as more Brits than ever seek out the country's speciality, spurring on chefs and NPD teams to experiment and innovate with the ingredient.
This increased demand caused the annual value of exports to soar from CA$13.1m in 2009 to $21.2m last year (see graph). Stats for January to July this year – which revealed exports valued at $14.5m compared to $11.4m in January to June 2019 – suggest those records are set to be smashed once more.
So why is Canadian maple syrup proving so appealing to a nation brought up on honey?
Food provenance is a key driver behind its success in the UK, says Mylène Denicolai, director of promotions at Maple from Canada.
Some foods are simply synonymous with particular regions and countries – so much so in this instance that the maple leaf is famously emblazoned on the country's red and white flag. And there are few things as quintessentially Canadian as maple syrup. It's this history, Denicolai claims, which can make consumers feel like they are consuming a premium product.
"Across the world, consumers are wanting to buy more local food, but what we see with maple syrup is that it's not perceived as being against that trend because it can't be produced in their own countries," she explains.
"Canadian maple syrup is 100% natural, no additional ingredients are added, and Québec is the only place in the world where quality checks are carried out by an independent third party.
"We have strict regulations and approximately 300,000 barrels of maple syrup are inspected and tasted every year to make sure it achieves the necessary classification. Producers are also taking care of the trees as they respect laws regarding the maple forest in Quebec, which captures a substantial amount of carbon. So there is definitely a respect for nature."
Let nature take its course
The production process undertaken to make the perfect bottle of maple syrup has been finessed and modernised since maple water was first discovered centuries ago – but the basic principles remain the same.
In short, sap is gathered from maple trees during the springtime as the weather alternates between night-time frost and daytime thaw. It is later boiled until the water has evaporated and officially becomes maple syrup when it reaches a sugar content of 66%.
And it's arguably this simplicity, and straight-from-nature method, which gives maple syrup an edge over many rival condiments used by consumers to indulge a sweet tooth.
Take sugar, which is a key target for reduction of the soon-to-be-defunct Public Health England. Many maple syrup brands have used such UK government health initiatives to promote their '100% natural' credentials, insisting their products can often be a healthier alternative to other sweeteners.
Brands point to the fact that maple syrup is high in essential vitamins and minerals, such as manganese and riboflavin, as well as being a source of copper and potassium.
"Sugar is becoming the evil we need to beat, but everybody needs sugar in their daily diet to be able to function normally," Denicolai continues.
"In this empty sugar vacuum, there is room for better sugar and that's where maple syrup can come in.
"We're not suggesting people eat more maple syrup or eat more sugar, we're simply saying that instead of white sugar, what about a healthier option? What about an option that respects the environment and ensures people are treated well?"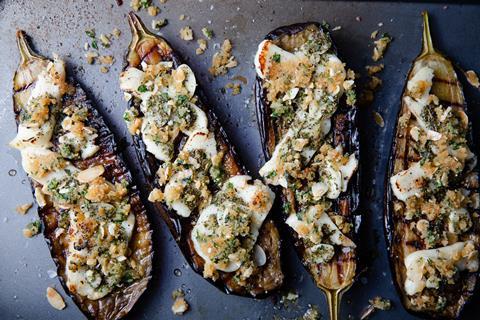 Plant power
It seems the British public is buying into this too. In fact, 54% of Brits say they would pay more for pure maple syrup than maple-flavoured sugar syrup because of its nutritional qualities, history and taste, according to a study last year.
Health benefits were also highlighted by market research firm Technavio as a key reason for the projected growth of the global maple syrup market.
And Canadian syrup has an additional ace up its sleeve. Not only is it 100% natural, but unlike honey, it is not derived from animals and is thus primed to tap into the growing plant-based trend, which has seen the number of vegans in Great Britain quadruple from 150,000 in 2014 to 600,000 last year.
Yet maple syrup has arguably only just scratched the surface of its potential, with much still left to be understood about its versatility as an ingredient and as a nutritional source. After all, it was only a few years ago that a molecule unique to maple syrup – called Quebecol and named after Québec – was discovered and has since been found to have anti-inflammatory qualities.
With regards to flavour, a surge in scratch-cooking during lockdown also gave rise to greater experimentation with maple syrup – and the aforementioned sales figures show how it has grown in popularity during the Covid-19 pandemic.
But even here there is still a long way to go as few Brits are even aware that there are four different grades of maple syrup, each with its own unique colour and flavour profile, which changes throughout the spring harvest.
Although amber, with its rich taste, remains the most prevalent in the market, golden (delicate taste), dark (robust taste) and very dark (strong taste) are also available.
It seems that, from marinades to barbecue to baking, maple syrup could well be a key area for experimentation and NPD for some time to come.