The UK's iced and ready-to-drink (RTD) coffee market has expanded by 20% over the last year alone. Extracts and ingredients manufacturer Treatt shares why great, authentic flavour is key to future success.
The UK and the US may have different coffee markets, but consumers in both countries agree that coffee products need great, authentic flavour.
While there are different ways to achieve this, minimal processing is a key factor in capturing the freshly-brewed coffee flavour in RTD coffee options. Given the recent expansion of the British iced and RTD coffee market, coffee producers who take this approach could reap big rewards.
Most of the British RTD coffee market is made up of powdered, soluble coffee products, subject to varying levels of processing. While more convenient and cheaper than ground coffee, it is also less flavoursome.
This fact is not lost on consumers, who are becoming increasingly sophisticated with their tastes and demanding more from their instant coffee. Perhaps influenced by the limited entertainment during the pandemic, consumers have been willing to pay more for premium RTD varieties that offer a more genuine ground coffee flavour, replicating their chosen drink from their favourite coffee house.
Inspiration comes from the US, which has been exploring more ambitious applications for coffee for many years. Influenced by the warmer climate, RTD coffee has been available in cold brew form since the 1920s, with can and on tap options now well-established in food service and supermarket settings.
Cold brew has made its way onto UK refrigerated shelves too, most notably under well-known coffee house brand names and in can form. While the US market is pursuing innovative alternatives that capture nuanced coffee flavour typically lost through processing, the UK is following close behind.
In fact, the iced and RTD coffee market is currently the fastest growing segment within the UK's soft drinks market today. MAT value growth has reached 28.4%, with a predicted minimum CAGR of 15% over the next three years1.
Nitro boost
Nitro coffee is the latest star of the category in the US, embodying the enhanced, favourable characteristics of coffee without the bitterness. Dairy is redundant in this range, as the mouthfeel and creaminess of milk is created through the nitrogen boost.
This innovative approach to coffee cleverly delivers on flavour while meeting a key consumer demand around health and wellbeing. It also bypasses the need to provide the dairy replacement that coffee producers have determined necessary elsewhere in RTD coffee, where health requirements are largely met through oat milk.
In the UK the decline in dairy consumption experienced across the market makes Nitro coffee an appealing option as well, with certain coffee houses already offering a nitro coffee tap. A government family food survey in 2019 found that per capita consumption of dairy across the UK has dropped by just under 50% since 19742.
The time is therefore ripe for a more mainstream dairy-free RTD coffee option that replicates the dairy experience in the UK.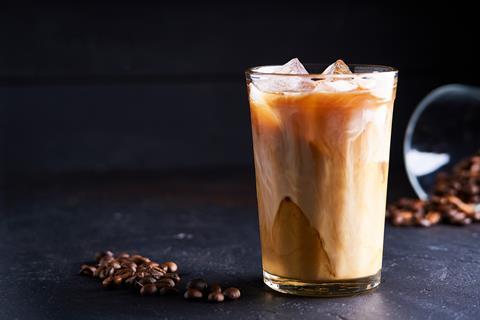 With coffee and water the only ingredients in this latest nitro coffee development, premiumisation now rests firmly in the lap of the coffee bean itself. Delivering a more genuine coffee profile within the concentrate from which the drink is formed is the current challenge for any premium coffee brand.
Reducing processing or at least reducing the harshness of the processing is where small but mighty wins can be found. "By combining cutting edge technology with the keen expertise of our flavourists, we are able to capture highly nuanced notes from the coffee bean that meet the demands of a sophisticated coffee drinker," explains Grant Cates, tea and coffee category manager for Treatt.
The company has designed and developed proprietary technology that extracts the essence of coffee from the bean in a gentle and efficient way. "Our unique method has been independently tested and proven to deliver some of the finest flavours in the market today," Cates says. "But we won't stop here, we are constantly innovating in the arena of ingredients and extracts so that we can help our customers deliver the best, standout products on the market."
Premium innovation
Coupled with a focus on flavour, premium RTD coffee brands across both UK and US markets are also setting their sights on other key consumer trends: sustainability and transparency. Single origin claims are increasingly important for the conscientious consumer who wants to be certain that their quality coffee has been farmed and traded fairly.
Fairtrade Organic is a key marque that the increasingly cultured coffee drinker now expects to see. By identifying provenance, the consumer can also select the nuanced coffee flavour they desire by specifying the bean, be it from Colombia, East Africa or beyond.
The challenge for the RTD coffee producer is in conveying the messages related to the product's journey and authenticity. This will become more creative as marketing expands into augmented reality and blockchain track and trace technologies.
This increasingly experiential and interactive approach to packaging is likely to become mirrored by the producer through a more adventurous approach to applications and a heightened responsibility for delivering an at home experience.
As the hard seltzer craze continues apace in the US, in which tea is already featuring, RTD coffee brands are looking for ways to be incorporated there too. In the same vein, the insurgence of espresso martinis in the UK is seeing premium coffee take to new areas here as well.
These trends aside, premiumisation for the RTD coffee sector is highly focused on increasingly authentic, nuanced flavour delivered through minimal processing. A drive towards greater innovation in application and customer experience is starting to carry equal significance.
It's an interesting time for the premium beverages market. RTD coffee is holding its own as it seeks to meet the challenges and opportunities posed.
Sources:
1 Mintel
2 Defra family food datasets, 2019