What is HFSS and why are these regulations coming into force? Henry Dimbleby, leader of the Government's National Food Strategy and co-founder of Leon Restaurants provides some background on the upcoming HFSS taxes and restrictions.
"Poor diet is the single largest preventable cause of ill health and early death in our population, and of cost to the NHS. It is responsible for over 20% of the deaths in the UK this year – that's 150k people and says nothing about the years of misery caused by diet-related disease"

– Henry Dimbleby
According to Henry Dimbleby, food is by far the largest source of environmental destruction, as the single biggest cause of water pollution and the main source of deforestation.
Yet, the nation continues to prioritise high in fat, salt and sugar foods over healthier options. Companies desperately need help to end this cycle. And that's why the UK government has decided to financially incentivise these businesses to help them make the transition over to healthier foods.
Enter, HFSS
The HFSS legislation refers to a series of restrictions that will be imposed on foods that are high in fat, salt and sugar. These range from financial taxes to limits on pack sizes and rules around targeting in advertising.
Some of these laws are further along in the process and are close to being finalised, whereas others are still in the early stages with much to be decided on.
To help retailers and brands get ahead of this HFSS legislation, they should look into three key areas that are most at risk of being impacted:
● Product
● In-store activations
● Advertising and communications

What's going on with product?
HFSS will be defined on a product level by a 'Nutrient Profile Score'. Every product will be rated with negative points for calorie density, saturated fat, sugar and sodium, and positive points for protein, fibre, fruit, veg and nuts. Combining these points will give brands an overall nutrient score – and a score of over 4 will mean a product is defined as HFSS.
From a product perspective, brands are facing difficult questions about how to evolve in this new universe. This is harder for indulgent brands, like chocolate, crisps and treats, as brand owners must now decide whether to innovate and risk sacrificing on taste or stay the same and deliver on what their customers originally bought into.
This is made even more uncertain because the impact of these changes is still not decided. So, brands are having to make big decisions without visibility into the full consequences.
There are three key considerations to make when deciding whether to innovate:
1. Is reformulation the right strategic decision from a brand-building perspective?
2. Could reformulation unlock new audiences?
3. Will this affect how your current audience engages with your brand?
Reformulation doesn't need to be a defensive strategy
Brands are embracing forward-looking technologies to navigate these changing times. AI-powered brand management platform, ProQuo, is one such technology, where marketers can generate brand strategies, test creative assets and monitor brand performance, in one place, in real-time.
ProQuo's AI analyses data from real consumer interactions, generating a customised action plan that helps brands to achieve their goals – whether that's converting non-users, finding your whitespace or growing market share.
On the ProQuo AI platform, brands are approaching HFSS as an opportunity to unlock new audiences, using ProQuo's creative testing solution to try out different product claims to see which has a higher impact.
One brand tested a product with a sugar-free claim against a product with no claim. On ProQuo, they saw the same openness to trying the product, but the response was different between users and non-users.
Current users scored the brand highly in emotional factors, such as 'innovation' and 'integrity' after seeing the claim, whereas new users scored the brand highest on 'relevancy'. This shows how taking a step towards HFSS-compliance has actually helped the brand – deepening its connection with its existing audience and also giving non-users a clear motive to encourage them to try out its products.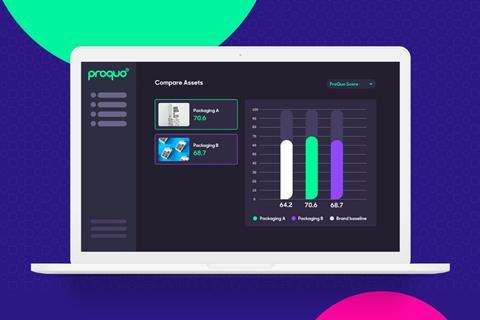 How can brands expect in-store activations to change?
In-store activation laws have been passed and are set to begin in October 2022. You can expect to see restrictions on volume and price promotions for HFSS foods. A discount, such as 'free refills of fizzy drinks' will be something that is impacted. Brands will also need to rethink their product positioning – not selling HFSS products at store entrances or aisle ends.
These rules will be governed by retailers who will face the challenge of trying to generate revenue while complying with new restrictions. However, there is still a lot of ambiguity in this area, as terms like 'front of store' are yet to be defined and no specific plans have been set in supermarkets.
To get ahead, brands should ensure they have a clear promotional strategy and a clear idea of how they will monitor the impact of this strategy.
Will brands need to adapt advertising and communications?
In January 2023, TV and online advertising bans are proposed to come into effect. For TV, there will be a watershed from 9pm – 5:30am every night for brands that advertise HFSS products. And online, there has been an outright ban of advertising these products during these hours. There are also tighter rules on targeting, with brands on social platforms unable to target more than 25% of their audience at under 16's.
However, this legislation still hasn't been confirmed and companies are continuing to fight against these restrictions.
There are two key considerations to make when deciding how to approach your advertising and comms:
1. Which media channels will help you land your messages?
2. What changes to your communication will feel authentic to your brand?
On ProQuo AI's brand management platform, brands are currently working hard to determine the best channels to use for future communications and the best types of advertising. Those who typically spent a large proportion of their budget on TV will now have to adapt, considering other media as well.
Some brands are worried messages won't land as effectively as before. Others are moving towards brand-focused advertising over product and are testing this out on the platform to see how audiences react.
The best way to experiment with new messaging and concepts is to keep an open dialogue with your consumers and be open to feedback. ProQuo is seeing brands interact more with their audiences, asking custom questions to see how consumers feel about new messaging in real-time.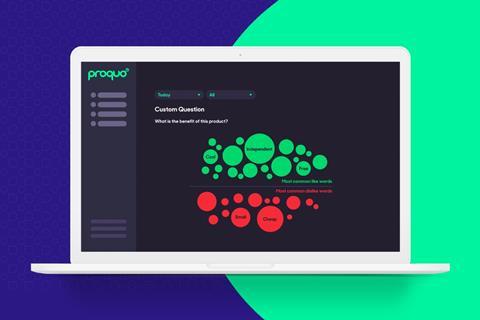 How will brands stay on top of changing consumer expectations from their category?
What consumers want, need and expect from categories impacted by HFSS will continue to shift drastically with little to no warning.
And as more HFSS laws come into effect, what consumers need to build relationships with brands may change completely – alongside opportunities to disrupt the category and gain market share.
That's why it has never been more important to not only monitor how people feel about your category, but also to monitor where your brand stands versus your competition when it comes to those feelings.
Because of how quickly consumer expectations and category trends will change alongside these new HFSS regulations, it's critical that brands monitor how their brand and their competitors are performing every day in real time.
Brands on ProQuo are staying on top of these trends, category changes and competitor movements via the platform's real-time monitor. Because the platform identifies shifting needs within categories as they happen and alerts brands when they need to take action, marketers always know what to do to make the out of every opportunity.
This makes strategising for an event like HFSS a cinch, says ProQuo.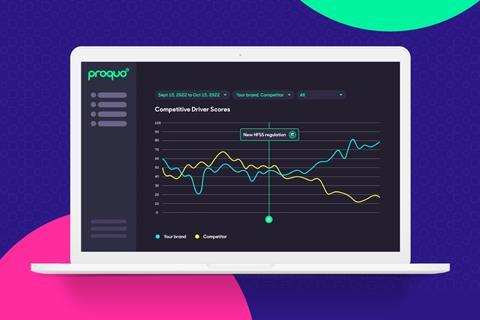 To navigate the incoming HFSS storm, you'll need to keep on top of people's needs within your category. Only by staying alert to these needs will you be able to ensure all of your products, strategies and communications are hitting the mark.
To recap, you can do this by:
● Optimising your ads, communications and concepts before you launch via creative testing
● Staying on top of trends and movements in your category by keeping a close eye on your brand's daily performance against its competitors
● Keep an open dialogue with your consumers to ensure any strategy you create is in line with their latest needs
All of which you can do on ProQuo AI…
Change is coming.
People's relationships with brands and categories are certainly going to change.
But as long as you have an AI-Powered system to keep you alert to these movements, you'll always be one step ahead.
To see a summary of everything you need to know, download our 1-page HFSS survival guide

ProQuo is the first and only brand management platform that harnesses the power of AI to give marketers certainty about the decisions they're making. On ProQuo, you can feel confident about the marketing investments you're making, knowing each and every one will result in positive outcomes for your brand.