With frozen food management traditionally an obstacle to efficiency and a drain on costs, AutoStore has recently launched a new frozen food automation solution available to UK grocery retailers. So what benefits will this bring? Strongpoint CEO Jacob Tveraabak explains.
The cost-of-living crisis has put renewed pressure on household disposable income. When it comes to grocery retail one of the trends is for customers to opt for cheaper options or switch to discounters. For e-groceries, to be able to sustain and grow market share, grocery retailers need to find further efficiency savings to reduce fulfilment costs.
Automation is a tool that can be used to cut fulfilment costs. In the UK, the birthplace of Ocado, automated grocery fulfilment solutions are nothing new, but Ocado's traditional model of large fulfilment services may not be appropriate for many brick-and-mortar grocery retailers.
Another example is Oda, an online-only grocery retailer founded in Norway that has attracted hundreds of millions in funding and is now expanding to Finland and Germany. It has used automation too and boast that its operations are more efficient than Ocado's.
However, automation for groceries is far different to any other industry. It's more complex and you have the additional obstacle of three temperature-zones.
In just a few years we have seen a complete revolution in the way a lot of our grocery retail customers have understood the possibilities of automation. There are two big issues which I believe have completely changed the automation landscape in recent years: size and efficiency.
Firstly, on size
A few years ago the main focus for automation was in relatively large facilities, located far away from customers (sometimes known as 'customer fulfilment centres' or 'CFCs' for short).
According to our insights, grocery retailers have been less interested in this, preferring instead to look at smaller solutions, sometimes known as 'micro-fulfilment' centres' (or 'MFCs' for short). (For transparency, StrongPoint is the first grocery-focused distributor of AutoStore cube storage solutions, one of the micro-fulfilment solution providers available to grocery retailers, in the UK & Ireland.)
For grocery retailers, such solutions bring multiple advantages against the 'online only' competitors. Because they are smaller, they can be placed close to, or even inside, existing stores or warehouses. This means that a grocery retailer can leverage its existing store network to its advantage, as well as expand the catchment area of the automated facility. In addition, because they are smaller, they can be placed in locations where space is more expensive, for example in cities, drastically reducing the distance to lots of prospective customers whilst still being highly efficient as larger automated facilities (CFCs).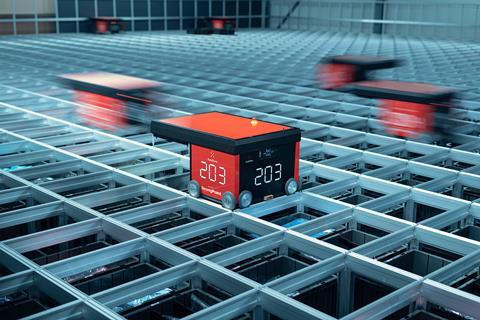 Secondly, on efficiency – especially frozen food automation
In grocery retail, frozen-food management has been an obstacle to efficiency and a drain on costs of operation. Even in some of the most advanced automated facilities used by grocery retailers (including online-only ones), frozen items are usually picked manually.
This has a negative impact on efficiency and sometimes entails the building of cold storage rooms. The cost of keeping that space cold is extremely high, and only getting higher with energy costs soaring. In addition, staff have to wear extensive protection and can obviously only work for very limited amounts of time.
In October, AutoStore, the cube storage automation solution provider, launched a new solution that allows for the automation of frozen foods via a multi-temperature grid. (StrongPoint is to install the world's first for a grocery distribution company.)
This means that the overall efficiency of picking via an automated solution can be far higher.
In addition, it can mean a substantial cut in running costs. In the world's first installation managed by StrongPoint, we expect to see at least a 30-40% reduction in energy costs as the space needed to be kept at sub-zero temperatures is drastically reduced as we add the frozen foodstuffs to the AutoStore grid.
But that doesn't mean that all manual picking is eliminated. A grocery retailer can't just add a new three-temperature AutoStore grid and it does everything. Manual picking of some items, for example items that are almost always chosen, makes sense. Known as 'ultra fast movers' these can be picked manually directly from pallets rather than being stored in the automation grid.
Anyone with an excel sheet calculating the ROI of an automated solution should be looking to update their figures.
But perhaps more importantly, brick-and-mortar grocery retailers now have access to solutions that can really give them a competitive edge in terms of efficiency and leverage their existing store and warehouse assets.
That is a compelling future scenario for customers and retailers alike.
Author: Jacob Tveraabak, StrongPoint CEO
Jacob Tveraabak has over 20 years' experience in the grocery retail industry, including more than a decade as a retail specialist at McKinsey, and has headed up business development at one of the biggest grocery retailers in the Nordics. In addition, he co-founded a P2P car sharing platform company and was a board member of the international online grocery retailer Oda.
To find out more about AutoStore, contact Strongpoint on https://www.strongpoint.com/ or send an email to our head of UK sales Tim Wheeler on tim.wheeler@strongpoint.com
StrongPoint is a grocery retail technology company that provides solutions to make shops smarter, shopping experiences better and online grocery shopping more efficient. StrongPoint provides in-store cash management and payment solutions, electronic shelf labels, self-checkouts, task and labor management software, click & collect temperature-controlled grocery lockers, in-store and drive-thru grocery pickup solutions and grocery order picking solutions, both manual and automated. StrongPoint is has offices in the UK, Ireland and many other European countries.
View full Profile